By Kate Scriven

It's hard to believe, but summer is looming large in just over a month.  Those of us with kids are ready for the switch from the daily grind of lunch boxes and tri-fold boards, but also are planning for the prospect of days on end with no organized activities.  And, for working parents, the search for fun, and enriching, activities for your kids throughout the summer is no easy task.
To help the bewildered parents overwhelmed by the choices, or simply unsure where to look, we have compiled a list of sure-fire options for summer camps around Thurston County.  While the list is by no means exhaustive of all options that are out there, we've tried to include a little something for everyone – from robotics and inventing to horses and farms, from sports and adventure to sewing and art.  We think you'll find something on our list that will spark the imagination and fun in your child, and give you a bit of kid-free summer fun as well.
Hands On Children's Museum – Camps are themed around a variety of topics including pets, chemistry, archeology, movie making, Legos and more.  Half and full-day camps available for kids ages three through grade five.  Combine half-day camps for a full day of educational fun.
South Sound YMCA – The two branches of our local Y never fail to provide quality, safe, enriching activities for our kids.  This year's summer camp offerings are no exception with experiences including Farm to Table, Lego Robotics, Theater, Marine Biology, and so much more.  Camps hours stretch from 7:00 a.m. to 6:00 p.m. making them a good choice for working parents. One day excursion camps and a weeklong visit to Camp Bishop are also among the choices.  The Y accepts DSHS payments, making them budget friendly for all families.
YWCA of Olympia Girls Without Limits! – The popular camp makes a return this summer with two, two-week sessions.  Aimed at girls aged 10 – 14, the first session (July 7-18) camp includes building your own laptop, coding, and fieldtrips to meet women leaders in technology.  July 28 – August 8 is a two week session on robotics with hands-on building and fieldtrips to Boeing and UW's Robotics Technology Department.
Boys and Girls Clubs of Thurston County – With branches in Olympia, Tumwater, Lacey, and Rochester, there is bound to be a location near you.  With working parent friendly hours, these all day experiences are great for longer-term summer care.  Field trips and special experiences are sprinkled throughout the summer months.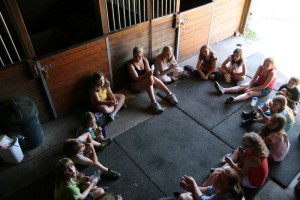 Camp Invention – This inquiry based camp is being held at South Bay Elementary in June with a second session at NOVA School in July.  Hands-on, real-world problem solving coupled with recycled materials get the inventor in all kids excited.  Read a full article on the camp here.
Nature Nurtures Farm – For the animal lover in your family, Nature Nurtures offers farm camps including animal care and gardening as well as horse camps for the budding rider.  This Delphi Road non-profit uses all proceeds from camp to fund its teen mentoring program.  Read more here.
(re)Fabulous Creative KIDS Camp – These four-day camps for kids ages 6.5 – 11 are a calm respite in an often active summer.  Kids will stitch and create fabric animals and treasures during the 9:30 a.m. – 1:30 p.m. classes.  This was my daughter's favorite last summer.
Olympia Parks and Recreation  – The sheer number and variety of offerings from Oly Parks and Rec could be overwhelming, but the website is well organized by category (multimedia, outdoor, teen, art, etc) making it easy to find just the right camp for your kiddo, whether it's sailing camp or Manga art.  Full and half day camps available.
Lacey Parks and Recreation – Field trips are the highlight, and set the theme, for these fun, full day camps.  Register weekly for the theme your camper is most jazzed about.  Camps meet at Lydia Hawk and Mountain View Elementary.  Hot lunch included.
Tumwater Parks and Recreation – Based at Peter G. Schmidt Elementary, Tumwater's day camps are themed around a geographic locations and run weekly June 16 – August 15.  Each week includes a fun field trip such as NW Trek, Ocean Shores and Wild Waves.
Yenney Music Summer Music Program – This Olympia staple for music lessons and instrument rentals offers a two week summer program starting July 21.  Instrumental music classes for students ranging from beginners with no experience to those with up to two years under their belt.  The program is geared for children entering grades four through six.
Seattle Sounders FC Summer Camp – For the soccer player, this professional level soccer camp is for one week only, July 7 – 11 at Pioneer Park in Olympia.  Full and half-day options for kids ages 4 – 15.
Challenger Sports British Soccer Camp – Offered also at Pioneer park for one week, July 14 – 18, this reputable soccer camp offers concentrated soccer skills, combined with summer fun, for kids ages 6 – 14.  Camps are half day with one session in the morning and another in the afternoon.  Combine for a full day of soccer training.
Live.Learn.Hoop Summer Camp – Kids who want to hit the hardwood this summer will love this local basketball skills camp.  Kids in grades five through eight will learn excellent skills in gender specific groups.
Geoduck Sports Camps – Basketball, Volleyball, Soccer and Swimming are some of the choices at this camp based at The Evergreen State College.  Can't decide?  Choose the general "Recreation" camp for all day fun.  Ages 8 to 15 for most camps.
Junior Novice Rowing Camps – Olympia Area Rowing offers two, four and six week sessions for teens ages 13 – 18.  The focus is on teamwork, fitness, rowing technique and fun.  Not sure rowing is for you?  Come to the June 7 "Learn to Row" day at the Swantown Boathouse from 10 a.m. to 3 p.m. to try it out for free.
Discovery Camps at NOVA School – For two weeks, the NOVA School hosts engaging camps for kids entering grades 4 – 6.  Camps run from 9 a.m. – noon and again from 1 p.m. to 4 p.m. and you can register for topics in morning and/or afternoon sessions.  July 14 – 18 and August 4 – 8.
Olympia Family Theater – This professional group offers theater experiences for kids ages 5 – 13 including staging a full production in a week.  Check the site's calendar for full details on topics and dates.
Johansen Olympia Dance Center's Creative Dance Workshops – Two offerings for your little ballerina this summer include Swan Lake (4 – 7 year olds) and Angelina Ballerina (3 – 6 year olds).  Classical ballet movement is combined with storytelling, crafts and snacks with the week concluding in a performance for families.
Environmental Connections Outdoor School – For the budding naturalist in the family, this camp is a perfect fit.  Based out of Priest Point Park, the camp runs four weekly sessions from June 30 – July 25 with varied themes including plants, animals and ecology.
Campfire Day and Overnight Camps – This is the summer camp you remember.  Campers stay overnight for a week enjoying archery, boating, campfires – the works.  Summit Lake near Olympia is the site for weeklong Camp Orca for third through twelfth graders.  Day camp is held July 21 – 25 at Cochrane Park in Yelm and includes nature awareness, outdoor cooking, crafts and games.
Olympia Waldorf School's Summer Camp – The Waldorf School is known for it's unique approach to educating the whole child and they apply this to their summer camp program.  Running half and full days June 16 – August 22, the camp is open to all 3 to 12 year old area kids, not just Waldorf students, and you can pick and choose days, weeks or months to register.
4-H Creativity Festivity Day Camp – This art themed day camp is open to youth grades Kindergarten through 5.  Sponsored by the WSU Thurston County Extension 4-H Youth Development program it is designed to engage kids in creative endeavors such as paper crafts, gardening, drawing, painting, sewing and much more.  July 14 – 18 with drop off between 7:30 and 9 a.m. and pick up between 5 and 5:30 p.m. at the Thurston County Fairgrounds.
BlackHills Gymnastics Camps –  With two camps open this summer, July 21-25 and August 25-29, Black Hills gymnastics camp has a variety of fun themed days planned. Campers enjoy lots of gymnastics along with arts and crafts, games and more. Open to ages 3 to 12 and gymnastics experience needed. A Dance Workshops for ages 6 to 16 will also be held July 14-17 including Jazz and Hip Hop workshops with a final performance for the parents to watch on Thursday, July 17.
There's bound to be the perfect camp for your families schedule, age group, budget, and interests in this list.  Pick one or two or sign up for the whole summer.  But hurry….many camps fill quickly and several offer early-bird discounts before June 1.
Did we miss your favorite camp?  Send us a note at submit@thurstontalk.com.