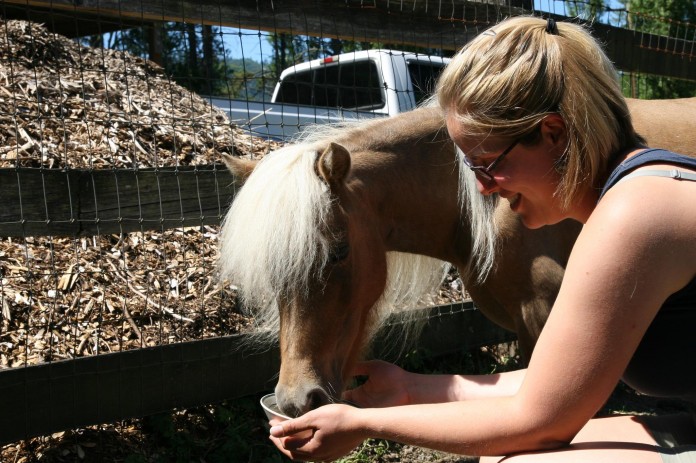 By Kate Scriven
Located on a gentle curve on Delphi Road sits an unassuming farm.  Their sign isn't flashy nor is the cozy home situated on the 23 acre property.  But what is impressive about Nature Nurtures Farm is the work they are doing for local area youth, creating positive experiences that are at a minimum loads of fun, but for many, are life changing.
"Our mission is to bring young people and animals together to build empathy, teach responsibility, and inspire hope," shares owner Nicole Peters.  "Our most mission-oriented program is our mentoring program where we match at-risk kids, one-on-one, with adult or older teen mentors.  They spend time once a week, for about two hours, at the farm doing fun things, but mostly taking care of the animals."
Nature Nurtures has over 100 animals, most of them rescues, and the program is dependent on participant's individual needs.  Some spend much more time interacting with the animals while others find connection to the property's woods and salmon stream.
Peters explained the importance of the Farm's unique name.  "When planning the farm, we had so many names we tried, but none ever felt right.  'Nature Nurtures' means that contact with nature and the natural world is a nurturing experience – that being in the peaceful, natural world is replenishing to the soul.  That experience is often missing from the kid's lives that we want to serve, and we hope this is a place they can come to have that experience.  We think Nature really does Nurture you."
The farm also offers horse and farm camps for area kids, feeding the insatiable love of horses that so many kids (ok, girls) have at a young age as well as connecting them to the joy that comes from caring for a living creature.  Day camps are offered throughout the summer as well as during spring break.  Farm camps include hikes, wildlife education, and care of all types of animals on the farm while horse camps focus on riding skills, equine care, and learning breeds and tack care.
Nature Nurtures Farm is Peter's longtime dream.  The idea began to form when she was very young.  At fourteen, Peters began volunteering at a residential facility for kids with emotional and behavioral challenges.  It was here she first witnessed the impact of animals on students.
"I realized that the farm visit was the highlight of their week," shares Peters. "This was what they lived for."  As she continued her studies, she saw time and again the positive influence animals had on emotionally challenged children.  Working with world-renowned Green Chimneys School in New York, a leader in animal-assisted therapy, Peters began to hone her idea for her own programs.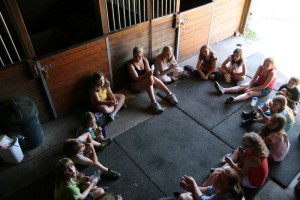 The mentoring program at Nature Nurtures is the first building block toward the long-term goal of the 501(c)3 non-profit farm with a school building on-site to serve Thurston County's emotionally and behaviorally challenged students who are not succeeding in a traditional classroom.  Animal-assisted therapy and nature-based education will be at the heart of the school.  The hope is to have the school open in three to seven years and planning is well underway to reach their goal.
However, the farm has hit a bit of a stumbling block in their long-term plan.  The farm and horse camps, initially started to help pay daily expenses on the farm, have become wildly popular.  Due to the increased numbers of campers served, the county is requiring them to initiate significant infrastructure upgrades now, instead of 3 years down the road as they had planned, when they were close to opening their school.  Financially, Nature Nurtures is in a tight spot, needing to raise a whopping $29,000 to cover the cost of the permits and upgrades.
Of course, as a non-profit, Nature Nurtures welcomes in-kind donations from those who support their mission and they also have begun an online donation drive.  You can see their progress and donate directly here.   They have also planned some great events coming up to help raise awareness and funds for the farm.  October 12 will see the farm transformed into a Harvest Festival from 10 am to 3 pm complete with professional photography on a vintage tractor, animal interactions, and the Oly Mountain Boys playing live music.  Your $10 entry fee will go a long way towards their fundraising efforts.
A second event, planned on October 19 at the Coach House in downtown Olympia, will be an adult focused evening including drinks, appetizers and an auction to help support the farm.
And be sure to include the Second Annual Nature Nurtures Holiday Festival on the calendar for December 7 from 10 am to 3 pm.  Professional Santa photos, holiday treats, live music and of course time with the animals will be included.
All of this doesn't happen easily and the farm depends on a significant number of volunteers to run its programs.  Volunteering as a mentor to an at-risk youth, animal care, fundraising and event help, and landscaping are all areas where you can help.  If you are interested, attend the upcoming Volunteer Orientation on September 14 from 10am to noon at Nature Nurtures Farm.  Contact the farm if interested.
It is hard to not be inspired by Peters and the work she is doing at Nature Nurtures Farm.  Whether its adding joy to kid's lives through fun and engaging camps or impacting an entire family by providing a safe, nurturing place for their child to grow and learn, Nature Nurtures Farm is a Thurston County gem we hope to have in our community for years to come.
For more information on Nature Nurtures Farm programs or volunteering, please visit their website.  Fundraising information can be found here.