By Kate Scriven

This is not your mother's summer camp.  This is twenty-first century fun that builds creative problem solving skills for the real world.  This is Camp Invention.
Camp Invention was founded in 1990 by the National Inventors Hall of Fame in partnership with the U.S. Patent and Trademark Office.  The group knew that every child is inherently an inventor, creating new things every day.  With that in mind, they asked their inductees to share activities they engaged in as children that got them excited about science and inventing.  The founders took these ideas and created a week-long experience full of hands-on discovery, tinkering, creating, and "ah-ha!" moments.
The program started small, on-site at the Hall of Fame, and has grown to include 1,500 schools in 49 states.  The curriculum is new each year, reaching an estimated 83,000 students with hands-on, inquiry based challenges engaging children deeply in real world problem solving.  STEM (Science, Technology, Engineering, and Math) based challenges are presented in four "modules" throughout the day.  Children work in teams to solve the challenge presented.
Thurston County has been home to Camp Invention since 2002 when the North Thurston Public Schools began hosting the summer camp.  This year, it will be held at South Bay Elementary on June 23-27 for students entering first through sixth grade.  Another camp session has been added at the NOVA School in Olympia on July 21 – 25 for students entering third through sixth grades only.
Both camps are directed and taught by local teachers who know the value of engaging students in learning throughout the summer.  Carly Wimer is in her second year as director for the South Bay Elementary camp.  The kindergarten teacher knows the value, and need, for STEM based learning for kids entering an increasingly technology based world.
"Camp Invention gets kids thinking at higher, critical levels," shares Wimer. "They are presented with a real-world problem such as last year's challenge around pollution and littering.  The kids had to work together to come up with an invention that could help clean up the Earth.  It had to meet certain criteria and kids had to use collaborative problem solving strategies to be successful."
The team based approach teaches more than just how to work together.  It helps children understand that you may not always be in charge.  The goal is to find successful outcomes and solutions as a team.  "Kids are working in teams, respecting each other's ideas, and learning that even though they have good ideas, their idea may not always get picked," explains Wimer.  "Working together, without getting your feelings hurt, is a valuable skill that needs to be taught and practiced."
The day is scheduled into four modules, or units of exploration.  Students are grouped by age and the teacher to student ratio stays right around 13 or 14 students per teacher, enabling a high level of guidance and assistance when needed.  Families are asked to send in old electronics and recyclable materials such as egg cartons and bottle caps, providing the creative materials to fuel the kid's imaginations.  This year, the four modules are:
Amplified – Students are challenged to develop bionic gadgets to amplify the five senses.  Using STEM skills, kids will explore the five senses and how to heighten them using technology.
Design Studio: Morphed! – Tinker with circuits and designs in nature-based challenges.  Students take the lead in designing an invention and preparing to bring it "to market" in activities designed to mimic real world research and development settings.
I Can Invent: Pinbug – A favorite of the children each year, according to Wimer, the Pinbug module allows kids to dismantle electronics brought from home and re-assemble the parts to create an insect-themed pinball machine.  Have a child who wants to take apart the phone or coffee maker to "see how it works"?  This is the module for them.
Super Go – Campers build vehicles that can morph to drive on land, in the air or underwater.  Ideas of energy, fuel, and movement are explored.  The week ends with the Super Go Road Rally, pitting team's vehicles against a high-speed series of ramps, tunnels and obstacles.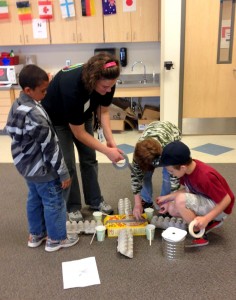 Sound fun?  You bet it is.  Kids hardly know that they are meeting state standards for learning in math and science while engaged in the creative challenges each day.  Parents are invited to join the fun for the Friday Showcase to see what students have invented during the week.
South Bay parent Audrey Marshall is enrolling her fourth grade daughter and first grade son for a second year at Camp Invention.  "I've enrolled my kids because Camp Invention really inspires kids to think outside the box in a way that is exciting and supportive of all ideas," she shares.  "Many camps have fun activities but lack the in-depth thinking they get here."
The activities will engage kids well beyond the one week of camp, too.  "The kids really enjoyed taking apart the electronic items that they brought in, to see the inner workings of CD, DVD players and coffee makers," says Marshall.  "My son continues to take apart any electronic item I have in the house that no longer works. It is amazing to watch a seven-year-old remain focused for hours. He has now decided he wants to be a scientist, electrical engineer or an inventor, or maybe all three!"
Marshall sites the high level of engagement and fun at the camp, knowing all the time that her children are gaining valuable skills that will aid them in school come fall, and life down the road.  "Our future scientists, engineers, inventors are in our schools right now, including my kids," explains Marshall.  "I think we should be inspiring them to dream big. Camp Invention does just that."
Wimer agrees.   "Seeing the exploration happening at Camp Invention is a good reminder that learning doesn't always have to be so structured.  When you let them go, their imaginations soar."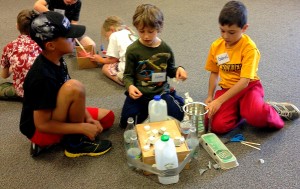 For more information on Camp Invention or to enroll, visit www.campinvention.org.  Registration is open now.
South Bay Elementary Camp Invention
Grades 1 – 6
June 23 – 27, 9:00 a.m. – 3:30 p.m.
NOVA School Camp Invention
July 21 – 25, 9:00 a.m. – 3:30 p.m.
Both camps cost $220 per week with discounts and scholarships available.