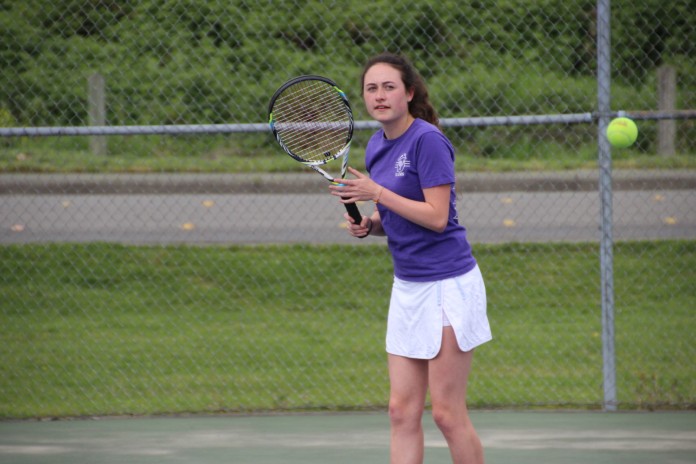 By Tom Rohrer
When Sidney Smith stepped onto the court for her first North Thurston High School tennis practice, Cheri Campbell knew success would follow.
Campbell, the Rams head coach and co-owner at Capitol City Tennis & Athletic Center, saw a physically and mentally strong freshman capable of playing four years of varsity tennis.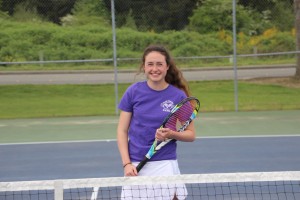 "It was pretty obvious her skills and abilities were very developed," said Campbell.  "I knew that we had a special player."
Nearly four years later, it appears Campbell's premonitions have all come true.
Smith will earn her fourth varsity letter this season, serves as the team's captain for the second consecutive season and will likely earn Team MVP for the third consecutive season.
Last year, Smith competed in the WIAA 3A Singles Tournament following a third place finish at the West Central District Tournament and a runner-up posting at the Narrows Sub-District Tournament.  Smith's performance at the West Central District Tournament helped the Rams clinch their first district championship in school history.
The three-time First Team All Narrows League performer has been named Most Inspirational Teammate the past two seasons and earned the coaches award as a freshman.
Now nearing the end of her high school career, Smith has continued to serve as a leader for Campbell and the entire Rams team, a role she enjoys as much as winning matches.
"It feels great to be able to know what I'm talking about and direct girls while our coach is busy," said Smith, an instructor at Capitol City Tennis Center. "They can come to me.  When I was younger, Mary McCarty was that leader to me.  She had a lot of poise and was always helping us out.  I want to be that type of leader for these girls."
Smith began playing tennis at age seven when her parents enrolled her in lessons at the Valley Athletic Club.  Prior to her freshman year at North Thurston, Smith played on the USTA tournament circuit, traveling around the region and country to compete in nerve-racking singles matches.
"Singles matches are always intense," said Smith, a three-time All-Academic performer. "There's a lot of pressure, especially at a young age.  When high school came around, I decided to focus on academics and being a high school student."
Practicing at Capitol City Tennis Center under Coach Michael Schuster in the offseason, Smith continued to improve her skills, leading to success when the spring season began.  This constant training has given Smith several advantages over her opposition.
"She separates herself from a lot of girls with the work she does all year," said Campbell.  "She's always working on improving."
"The other main thing, though, is her ability to fight on the court," Campbell continued.  "She can out-play some girls who might have a better forehand or backhand because she figures out how to win. Her ability to use a lot of different shots helps her out against some girls who may do one or two things well. (Smith) can do everything well."
Smith's work on her net play and volleys has paid off this year, especially since Campbell moved her star singles player into the number one doubles slot with sophomore Mallory Wood.  The Rams currently sit in second place in the 3A Narrows League team standings and are hoping to reach their peak performance heading into the sub-regional and West Central District Tournaments.
Though she will still have a chance to qualify for a spot in the state singles tournament, Smith is focused on her new role and hopes to advance in the doubles tournaments, as well.
"I like singles because I have more experience in that setting, but doubles has helped me focus on other areas of the court," Smith said. "I'm coming up to the net a lot more and I've had to improve my communication on the court."
The willingness of Campbell's most accomplished player to switch to doubles has not surprised the Rams head coach.  Over the last four years, Campbell has witnessed the example Smith has set for others.
"You can't put into words how helpful she has been to the other girls," said Campbell, who played volleyball for Tacoma Community College and Saint Martin's University. "She's a mentor on and off the court.  (Smith) takes AP classes, volunteers and is in leadership courses.  Everything we're looking for in a student athlete, she epitomizes it."
Smith's relationship with Campbell stretches far beyond the white court lines into a family-like bond.
"She's a second mom to me really," said Smith of her head coach.  "She helps me, talks to me, and coaches me.  Not just in tennis, but in everything going on in my life."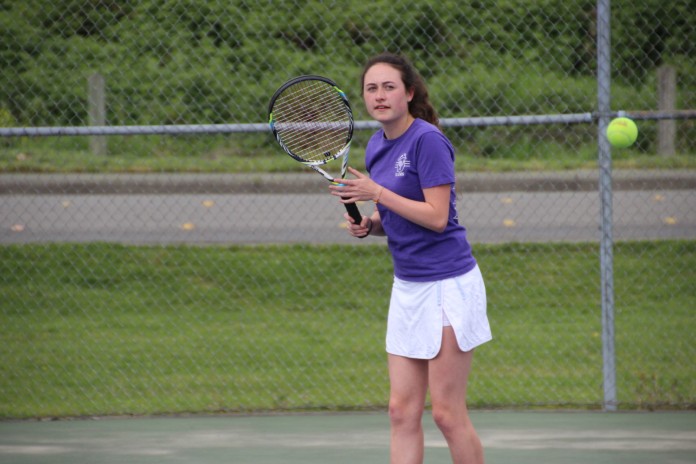 Following her graduation in June, Smith will attend Pacific University in Forest Grove, OR.  There she will continue playing tennis, whether on the college team or recreationally.
"I don't know which one yet," Smith said. "I do know that I will play my entire life."
Even if her tennis career concluded following the end of the 2014 season, Smith would have plenty of memories in the sport to reflect and smile upon.  This is certainly the case for Campbell, who cites an instance following Smith's third place finish in the West Central District singles tournament last year.
"Her teammate Ainsley (Winterrowd) was playing for first place, and Sidney had just won her match to take third.  Immediately after (Smith) won, she said to all the girls around her, 'let's go cheer on Ainsley,'" said Campbell.  "In some ways, this was Sidney's day.  She was a junior, had been trying to get to state and she finally got there.  And the first thing she could think of was to turn her attention to Ainsley.  She's just always looking to help other kids."