By Kate Scriven

"What do you like best about the Olympia Farmers Market?" I asked local children last week during the opening days of the Market.  I was curious to know what it was about the Market that makes them beg to go, smile from ear to ear while there, and never tire of visiting this local gem.
"I like the food," most of them said in answer to my opening question. Well, this one wasn't a surprise.  Most parents know the power of a perfect snack.  Just as my mouth watered for a visit to my favorite food stand (Los Tulenos spicy pork tacos are my favorite), all the local children I spoke with had a favorite eat or treat.
San Francisco Street Bakery's cookies, specifically the gingerbread people and dinosaurs ranked high on the list for most of the kids I talked to.  The wholesome, locally baked treats are under two dollars and bring a smile worth quite a bit more.  No sweet tooth?  One of my children opts for a peperoni stick from Johnson's Smokehouse instead.
An Olympia Farmer's Market secret (that apparently isn't so secret) is each child receives a free apple from the fruit vendor's bins.  All the children sited choosing their own special apple as a highlight, sampling different types each time they came.  "I always get an apple," shared four-year-old Henry. "I like the really shiny ones."  This healthier choice is a great first stop when you visit, keeping your little one busy as you browse and sating their appetite, quieting the begging for their promised cookie.
Lunch at the Market is a family affair.  Four-year-old, Hannah, was thrilled with the re-opening of the market, enjoying her favorite vegetarian curry from Curry in a Hurry with her mom, grandmother, and baby sister.  In fact, she was far too busy eating up her delicious lunch while it was hot to really say too much, but the smile she gave when I asked if she liked it was worth a thousand words.
Alea Collett, a six-year-old first grader at Olympia's ORLA Academy's favorite lunch is clam chowder from Dingey's.  "I love that they have good food," she shared.  "My favorite is the chowder!" Her bowl was nestled close to her half-finished apple and a Carmen cookie from San Francisco Street Bakery, awaiting the end of lunch for its turn.
Diner's enjoy lunch while listening to live music presented on the market stage.  Children marvel at the unique instruments being played or the clear, beautiful voice of a woman singing ("Mom, she sounds just like Elsa!" exclaimed my daughter.)  Toes tap and little ones often can be seen dancing between the tables.
While the littles all seem to have their favorite lunch or treat, they unanimously exclaimed, "I love the balloon man!"  Yes, the balloon man.  A wizard of inflated sculpture, this man can seemingly create anything your child's heart desires.
From simple flowers and swords to elaborate, wearable art and favorite cartoon characters, he seems to be able to do it all. While I sometimes balk (being the thrifty mom that I am) at paying for something that I know will pop or deflate within days, the requested donation of $1 per balloon used seems small compared to the joy brought by this simply art form.  I think of the joy a $3 latte sometimes brings me and give in easily.
Don't miss the Gallacci Gardens, a Thurston County Demonstration Garden at the east end of the Market, originally planted with items donated by market vendors.  The paths, benches and arbors provide a secret world where fairies and gnomes might inhabit the nooks and crannies.  With Thurston County Master Gardener volunteers often on-site, the garden can also be a place of learning and inquiry for nature minded youngsters wanting to know "Why?" about all the interesting things in the natural world.
Mallory Gilbert's inaugural 2014 visit to the market was a special trip with her grandparents.  The Rochester first grader loved sitting in the garden (with her cookie and balloon of course) and shared, "The Market is just fun.  You get to look at so much stuff – there's so much to see."
And Mallory is right.  The Olympia Farmers Market presents a world of wonder just waiting to be explored by you and your child.  It's so much more than a shopping trip or lunch pit stop.  The wide variety of vendors selling produce, seafood, metal goods, crafts, soap, honey, and much more are an opportunity to help your child understand where things come from and the work needed to create the things we use and consume each day.
Listen to the questions your child asks, encourage them to engage with the artisans and farmers, take the time to explain why the same booth selling honey is selling candles.  These are opportunities to shape your child's understanding of the world and it's available for free, Thursday through Sunday from 10:00 a.m. to 3:00 p.m.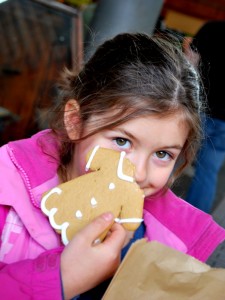 Of course they want a cookie.  Of course they want a balloon.  But be sure to explore beyond the delicious treats and silly gifts of the Market to find what is truly nourishing to your child.  Creating connections, deepening understanding, and developing an appreciation for our community and those who work hard each day to shape it.
Olympia Farmers Market
700 Capitol Way North
Olympia, WA 98501
360-352-9096
Thursday through Saturday from 10:00 a.m. – 3:00 p.m.
Thrifty Thurston highlights inexpensive family fun in Thurston County.  The weekly series focuses on family-friendly activities throughout our community.  If you have a suggestion for a post, send us a note at submit@thurstontalk.com.  For more events and to learn what's happening in Olympia and the surrounding area, click here.