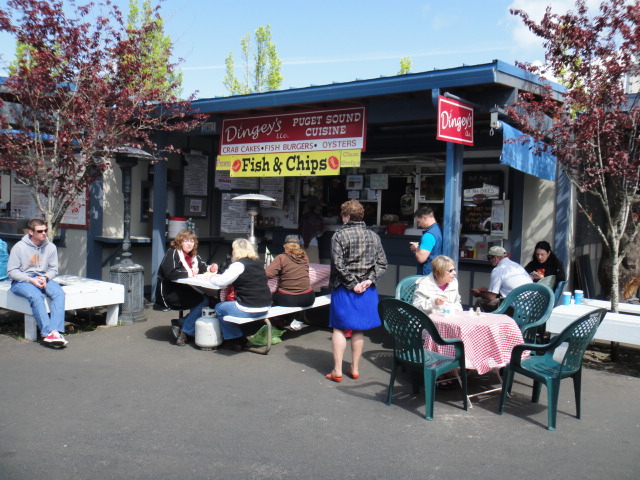 By Mary Ellen Psaltis
It's all in the family at Dingey's, a place to find not only Puget Sound Cuisine but three generations of Ricklicks. Craig and his wife Teresa Ricklick have been serving up their popular crab cakes at this location for eleven years. Now their son Dan and their grandson Calvin are also working there. You've surely seen Craig walking around the market with a pair of cherries hanging over one of his ears – he's usually smiling and heading somewhere. When cherries are out of season, he has a unique cherry lei – be sure to look for it. His wife Teresa will likely take your order.
One of the most fun aspects of living in Thurston County for many years is reconnecting with people you knew from other circumstances in another time. I call them past lives. Do you remember The Prime Connection restaurant in Lacey? The Ricklicks used to own it. It's the building on Lacey Boulevard near the Post Office that has never been the same since they left. Fortunately, they resurfaced at the market.
By moving to their current location, the Ricklicks were able to take the parts of the restaurant business they liked – serving great food to nice people while leaving behind the parts they didn't like as much – endless hours and no time off. Well, they still work plenty, but the Market is not open all year round and when it is open – it is Thursday – Sunday.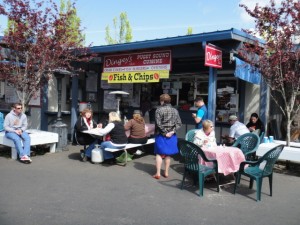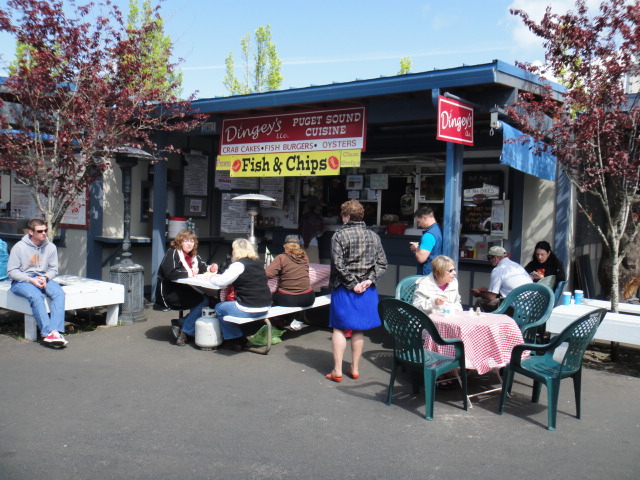 Dingey's sells a lot of crab cakes. A friend of mine commented, "Lots of places make crab cakes, but theirs are the best." You can test that yourself. Teresa passed along an easy to make coleslaw, a popular summer dish, which is great for barbeques and potlucks. Son Dan Ricklick shared his smoked salmon corn chowder recipe. I am a person who does not usually gravitate toward chowder, but this recipe hit just the right spot for me. Maybe I didn't like it in a past life…
Eat Well – Be Well.
Dan's Smoked Salmon Corn Chowder for home use
4 ounces smoked salmon, flaked
2-3 tablespoons butter or margarine
2-3 stalks celery, thinly sliced
2-3 large potatoes, peeled and diced
2 carrots, sliced
1 small onion, diced
2-3 cups corn, fresh kernels or frozen niblets
1-pint half-and-half or milk
2 quarts of chicken stock
5-6 tablespoons chicken soup base (optional)
Salt and pepper to taste
In a large pot, melt butter or margarine and add the celery, carrot and onion. Sauté slowly until the vegetables are soft, but not brown. Add chicken stock to sautéed vegetables and add diced potatoes. Simmer these together until the vegetables are tender, about 30 minutes. To avoid curdling, slowly add in milk or half-and-half. Add in corn kernels and flaked smoked salmon. Add the chicken soup base, if using the half and half. Using a roux, thicken your chowder to the consistency you prefer.
Roux: Mix equal amounts of flour and butter or margarine together into a paste, and then stir a bit at a time into the chowder until it is melted and the desired thickness is reached.
Dingey's Coleslaw
1 cup mayonnaise
¼ cup sugar
1 ½ tablespoons vinegar (to taste)
1 medium head of cabbage, shredded
1 carrot
Mix shredded cabbage with mayo, sugar and vinegar. The carrot, along with a little shredded purple cabbage, will add color. The salad may seem too dry at first, but let is rest in the frig for a while before adding any more dressing.