By Emily Van Marter, Northwest Christian High School Intern to ThurstonTalk
At Eighth Grade Promotion, most schools have the students stand based on the number of years they have been enrolled in the school. It is a way of honoring not only the students that have been there as little as a year, but also the students that have been there from the beginning, some since preschool.
Jessica Griffin was one of those students standing for her attendance since day one, and though she is now a senior in high school, she has kept the Foundation Campus as her choice for academics.
Griffin has attended the Foundation Campus' school programs since preschool. As a senior at Northwest Christian High School, she is in her thirteenth year with the program. Though this may seem like a long time in one place for some, Griffin has loved every second of it. "I never wanted to transfer schools, or move somewhere else. I loved the place where I was. It was small enough where the people I went to school with weren't just my friends, they were like my family."
Griffin's involvement in the Foundation Campus program stretches outside of the classroom as well. For many years, Griffin and her family also attended the church connected to the school. "We started going there when I was young. The church moved a couple of different places on the school grounds. My family and I continued to go there until the church got its own building of campus, and then we moved somewhere else," she recalls. Even though her family no longer attended the campus-based church, Griffin found meaningful ways to get involved in leadership outside the classroom.
Griffin demonstrates her leadership in multiple ways on the Foundation Campus. Since middle school, she has played sports, a leader on her team, setting examples of hard work and perseverance for her teammates. Griffin is also the secretary for the ASB at Northwest Christian. Through this, she has been able to plan events, lead activities at the school, and ultimately help in making positive decisions impacting students she may not otherwise interact with.
"I think that going to this school, and coming through this program for so many years has really helped me come out of my comfort zone," shares Griffin. "Because our school is so small, it has really given me the opportunity to get to know the people here on a deeper level. I feel more confident in myself as a person, and my abilities to lead because I know I have people that will stand beside me." Though Griffin doesn't know many people outside of her own school, it doesn't bother her. "I would rather know everyone in my school than not know everyone in just my own class."
Though Jessica sets an example for the school and its students, she hasn't been alone in her journey. "The teacher that has influenced me the most would be Mrs. Ketchum," she says, referring to the English teacher at Northwest Christian. "I had her for seventh and eighth grade, and also my junior and senior year, but she has been a very present person in my life in between those years as well," she explains.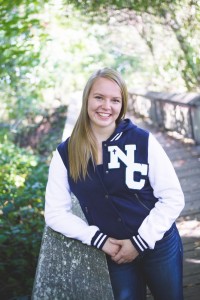 "(Ketchum) is someone who not only teaches you a subject, but also teaches you life skills," Griffin adds.  "She cares so much for her students, and I know I could go to her for anything. She never lets us forget that we have the power to change the world, and that we can do great things with the power we have been given."
Griffin feels that all of the teachers, not only Ketchum, show this same level of care. "My favorite part about this school is the involvement of the teachers and faculty. You can tell with how hard they work that they really do care about the students and their well-being, not just in school, but also in life."
Griffin has been able to use this encouragement from her teachers, and also friends, to grow as a person over the years. "I honestly love all of my friends so much, and I wouldn't change anything about my school career. The people in my life have really made me the person I am today, and I am so lucky I got the opportunity to become as close with all of them as I did."
Jessica will be graduating with the 2014 senior class of Northwest Christian High School, ending her thirteen year career on the Foundation Campus and heading off to college. "I'm excited and nervous, all at once," she confides. "But I know I'm prepared because of the people I knew here."