By Natasha Ashenhurst

The New York Times recently published an article asking, "Is Music the Key to Success?" Around the same time Psychology Today summarized research from the 2013 Neuroscience Conference showing that early music training optimizes brain function and has numerous benefits far beyond the simple joy of knowing how to play an instrument.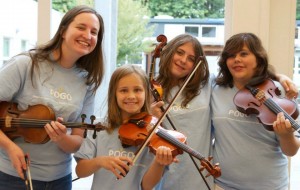 As a parent of two children studying piano and saxophone, I decided to ask Thurston County's incredibly talented pool of local music teachers and students their opinion on these headlines. Is music really a key to success? Does music training have benefits beyond simply learning how to play an instrument? Finally, as parents should we make our children attend music lessons?
Here is the short, simple and unanimous answer to all questions: A resounding "Yes!" For the long answer, continue reading.
Linda Pyle is a violin teacher and plays for the Olympia Symphony Orchestra. She talked about the value of music education, beyond simply learning how to play an instrument. "I know that most of my students won't play music their whole lives, but they learn discipline, and that discipline carries over to other functions. Music also teaches kids the value of doing difficult things, to take on challenges, as well as the skill of performance, through which kids build self-esteem," Pyle said.
"These skills transfer into other areas, and when you give kids these skills, especially when they are very young, it is comes much easier to them, and then it applies to their school work, their social life and that is why you see these kids become very successful, not just in music, but in life."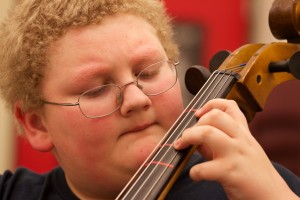 We agreed on the value of music, but parents in the trenches want advice on instilling the discipline to practice in their children. She said, "So much is about the parent and our culture of busyness. It is a rare child that will just go to his room and practice on his own. Parents have to be willing to provide the discipline for those kids to practice, and skilled parents know how to do it using carrots rather than sticks. When I see kids quit it is because their parents have let it become a war," commented Pyle.
Greg Allison, band director of Washington Middle School as well as the director of Play on Greater Olympia (POGO) an after school program that offers music education to under-privileged students, agreed.  "The volume of research showing the long-term positive impacts of music study is compelling. Kids at Washington Middle School, who study music or attend POGO will often say, 'Hey look. I'm doing better on tests. I am able to focus better and even my handwriting is better.' The biggest improvement is in their ability to focus. They can stay on task longer. What they learn is persistence and longevity in a skill development area. It is about staying the course," he said.
Next, I reached Art Peterson, who teaches piano and music theory at Saint Martin's University and teaches classical piano at The Olympia Studio and out of his home. He has experienced first-hand the value of music, and he sees it daily with his students. "From an early age, you must memorize a piece of music, then get up and play the piece in front of audience. This process instills confidence. Recitals teach the skill of preparing for something, and no matter what happens you keep on going. If you do that often enough you get comfortable speaking and performing in front of groups, thinking on your feet, and carrying on in ways that most other people would approach with fear and trepidation," he said.
I also had the chance to talk with two music students. The first, Theo Ragan, is an 18-year-old student at Capital High School and has been studying classical piano since third grade. As if that isn't enough, he accidentally joined band in 8th grade due to a scheduling error. He ended up as a wind ensemble percussionist and enjoyed it so much that he stayed with it. Today he is drum major and leads the marching band at Capital.
We talked about the impact that music has had on his life. "I never get stage fright. I did when I was young, but not anymore. I can talk in front of a class or perform and it doesn't bother me," Ragan said.
He also sees a difference between students who play music and students who don't. He said, "Musicians are different. They go about life differently. Musicians seem to be able to concentrate better and they really apply themselves. For me, music has improved my life, and I wish that for everyone."
The second student I talked with is Naomi Yamamoto, a junior at Capitol High School. Naomi began playing piano when she was six. In fifth grade, she started playing the clarinet as well. She also said music has had a huge impact on her life, beyond simply learning to play. "Piano has given me a way to incorporate different schools of thought such as math, logic and theory into my life. Playing in the wind ensemble at school allows me to collaborate with other musicians to create something beautiful."
Finally, I spoke Richelle Peterson. Richelle received a rigorous musical education as a child, and could have pursued a career in piano performance, but instead she studied nursing and is now in management at Group Health. She credits a lot of her professional success to her music education.
She says she learned to play music before she began to read books. Her parents drove her from Seattle to Lynwood so she would receive the best piano instruction available in the region. "There was never a time when I was allowed to take time off from piano. This was life, and it was more difficult than school. Piano lessons involved rigid discipline, memorization, daily practice, as well as the notion that you stay with something until you have mastered it. That focus is something I have taken into my professional life."
She also has advice for teachers and parents. She said, "Never ever give the indication that quitting is an option. The study of music should be part of life like going to school and brushing your teeth. Saying it is 'too hard' is like saying breathing is too hard or walking is too hard. It is hard today, but you do the work and it is not too hard tomorrow. You always have that goal of what you are going to overcome. And you do overcome it, and at the end you have something beautiful to show for all your hard work."