By Tom Rohrer

Adversity, challenging opponents and team unity can all be ingredients of a successful team season.
These ingredients, combined with a talented roster, have helped the Olympia High School girls' soccer team advance to the WIAA 4A State semi-final match, which will be held at 8:00 p.m. on Friday, Nov. 22, at Sparks Stadium in Puyallup.  The Bears semi-final opponent will be Issaquah High School and the winner will advance to the State Championship game on Saturday at 4 p.m. at the same location.
The Bears moved on to the final four following a hard-fought and dramatic 2 – 1 shootout victory over Inglemoor last Saturday at Ingersoll Stadium.
Close matches have been a theme for the Bears during their grueling league schedule and postseason run.   Including regular and post-season play, Saturday's match was the 11th contest decided by one goal or a tie and their seventh victory in such games.
"We don't give up until the last second and we get most of our goals in the last half of the second half," said junior Brooklynn Hooper, a 2nd Team All Narrows League performer this season. "We will keep grinding."
Throughout the regular season, Olympia went head-to-head with the physically tough and skilled teams that spread across the Narrows League.  The Bears had one tie and loss apiece in two matches against South Kitsap, posted a victory and a draw against Bellarmine, and fell twice to league champion Gig Harbor, who was defeated by Issaquah in the state quarterfinals last weekend.  This experience against high-level teams should be beneficial when the Bears take on the equally physical Eagles.
"Close games have brought us together and made us a better team," said junior defense player Megan Spataro, the 4A Narrows League MVP.  "We know Friday will be tough, but we've played against those types of teams all season long."
An appearance in the state semi-finals seemed far away on October 22, a night where the Bears fell to Gig Harbor 1-0.  The defeat came two days after a 2-0 loss at the hands of South Kitsap, dealing the Bears another blow to their postseason aspirations.  The Bears had already lost offensive threat Sarah Snodgrass and were approaching a tough slate of league games.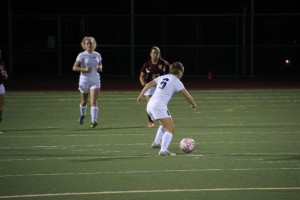 Thanks in part to the steadying influence of longtime head coach Tessa Effland, the Bears were able to win their next three games against Yelm, Stadium and Bellarmine Prep and qualify for post-season play.
"Stadium was the defining moment of our season, I think," says Effland, the 2013 Narrows League Co-Coach of the Year. "We had so many injuries to that point and I asked them to redefine what they wanted from the rest of the season before that game."
When the Bears were injury-free in September, Effland implemented an attacking strategy that would get the OHS playmakers in space.  Snodgrass' injury switched the Bears into a defensive 4-4-3 set that has since put the clenches on opposing offenses.  Anchored in the back by Spataro and sophomore goalie Sophie Kabel, another first team All-Narrows League Performer, the Bears use their defense to set up scoring opportunities.
"We have a strong back and we play back, but can counterattack right away," said senior Maggie DeBell, a second team All-Narrows Performer who had a goal in the Bears 2-0 win over Edmonds-Woodway in the first round of the state playoffs. "It applies pressure on the other team on both sides."
"Everyone has lots of confidence in Sophie and Sophie has confidence in everyone," says Effland, a former player for the Bears who advanced to the state semifinals during her playing days. "If we haven't scored, Sophie will just hold the shut-out.  She's one of the best goaltenders I've ever coached, and she's a true leader as a sophomore.  And the fact that Spataro was voted by the league coaches as MVP playing defense shows how great of a player she is.  She is a tone setter."
On offense, Effland noted that the Bears rely heavily on Jenna Kilman, a member of the All-Narrows first team, and Hooper.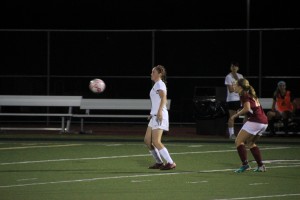 For the Bears to play their way through adversity to success, more than talent and strategy was needed.
"I could tell we were going to get along from the very beginning of the season," added DeBell. "I think that's a main difference from last year's team."
"It's the drive of this team too," Spataro quickly added.  "We will work hard no matter what. If someone got injured, we had girls step up. We're 22 strong, that's our motto."
Heading into the biggest high school game of their lives, the Bears are trying to move on from last weekend's unforgettable win while still maintaining focus on the task at hand.
"It still hasn't hit me that we get to play another game – that win was just crazy," Spataro told ThurstonTalk.com on Tuesday, Nov. 19. "But we still want to prove we can go all the way."
"To play, in the state championship, we need to win Friday. Period," added Hooper. "We're not focused on already finishing in the top four.  We want to win the whole thing."
Standing under the pouring rain at Ingersoll Stadium while her team practiced behind her, Effland was all smiles, even when talking about the injuries and close losses from earlier in the season.  The 13-year head coach of the Bears has used her tough, yet caring coaching style to push her team to new heights.  In turn, her players have not disappointed.
"I'm a tough coach, but I love these girls more than anything and they know that. I try to bring in a life lesson and show them to be positive and respond to any obstacles," Effland said. "This team reminds me of when I played – a group talented girls who are friends who will do anything for each other. It's like a dream."
Hopefully for Effland and the Bears, they won't wake up before Saturday night.