By Tom Rohrer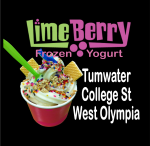 Too often in life people focus only on what's in front of them.  Jensyn McCoy does not have that option.
The senior libero (middle hitter) for the Black Hills High School volleyball team not only has to keep her focus forward, but also to the left, right and behind.
"Basically, I'm in control of the entire back row in the middle.  Then the wings, they have the duties of getting the short ball, but pretty much everything back row is mine," McCoy said. "I can see more of what's going on in the front row. I feel my court vision is better than most."
A three-year member of the Wolves varsity team, McCoy is one of the best players in the Thurston County area.  Not surprisingly, McCoy will continue her career collegiately.  She has verbally committed to play for the Wildcats of Central Washington University next year.
This season, with the loss of standout Hope Mortensen (who will play at Saint Martin's University) and longtime coach Kara Peterson (the new head coach at SMU), McCoy will have to take her game and leadership to new heights in order for BHHS to be successful under first year head coach Tika Chandler.
"I just have to keep progressing as a leader, on and off the court," said McCoy, who plays club volleyball for Lake Tapps Volleyball Club. "I've seen a lot, and it's tough every year when you lose seniors.  That's always a piece you need to rebuild back up."
"It's difficult," said McCoy of Coach Peterson leaving.  "But I've been around the program and have picked up things here and there.  I think (the coaching change) will help me become a better player and person all around."
What will also help McCoy's development on the court is her seemingly vast experience at the club level.  In the summer of 2012, her LTVC team qualified for nationals, and this past July, the team again traveled to the tournament, this time within a non-qualifying division.  Playing against the best in country is a way to find out what you need to work on, and what the competition looks like at the highest level.
"The competition was crazy there, really insane.  Everyone wants to win every single game, and it's just a little different from local tournaments," said McCoy who played club with players from both Olympia and Tumwater High School. "It's fun knowing that it's the best players, and you find out how to step your game up to the next level."
Along with her high school and club coaches, McCoy has been able to receive guidance and instruction in the sport from her mom, Kim Hartley.  Hartley played at Green River Community College and introduced Jensyn to volleyball at a very young age.
"I feel like I've been playing forever.  My mom and aunt were always getting me to play," said McCoy of her start in the sport. "I was in the YMCA league in second grade.  My mom was my coach a couple years during club.  If you don't cover everything in practice, I have her at home.  If I wanted to go outside and just hit the ball a bit, she could help me there.  She's a big asset to the player I am today."
Hartley also succeeded since McCoy is much than just an athlete.  McCoy will likely graduate near the top of her class, sporting a 3.9 cumulative GPA.  The work ethic that made her a successful volleyball player has helped her in the classroom as well.
"On my way to club practice I do my homework a lot of the time, during high school, I'll do it on the bus," said McCoy, who noted her favorite class is English and that she is planning to explore law in college.  "But I have a lot of nights where I'm staying up till midnight doing work, really it comes down to trying to balance your time as best as possible."
Along with balancing her time between school and volleyball, McCoy will have to balance a variety of roles on the Wolves team this year.
While she wants to help lead the Wolves as a hardworking example, she knows encouragement and guidance are important for the younger players.
"Yeah that's very important, showing the younger players the way to be successful," said McCoy. "It's my job.  I also want to show them what it takes to be a successful player, become first team all-area. I want to teach them, push them hard and be a good teammate."
A soon to be four-year member of the varsity team, McCoy has seen some of the team's best moments in school history.  In 2010, as a freshman, McCoy was part of a BHHS team that defeated rival Tumwater 3-2 to take home the district championship before falling in the quarterfinals of the 2A state tournament.  Now, entering her last season, McCoy is happy she can just focus on playing, as she's already made her collegiate choice.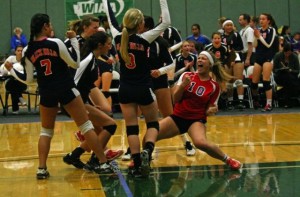 "First of all, I'm totally shocked at how fast time flew," said McCoy. "I just want to have fun, make it a good last year, and like I said, teach the girls all I know. It's bittersweet, but I know I have a next step to take (at CWU)."
At Central Washington, McCoy will play alongside former South Sound standouts Erika Waldner (Tumwater High) and Lauren Herseth (Olympia High).  The transition to the next level will be made easier thanks to her communication with Herseth.
"It's nice, I can ask her questions, get information," said McCoy.  "It's a good resource to have."
Central is certainly getting a great resource in McCoy, as she has already left an impact at Black Hills.  Going into this season, McCoy believes the Wolves can have a special season if younger players can quickly acclimate to the varsity level.
"We have team camp coming up and that's a great opportunity for girls to get varsity experience," said McCoy.  "We just need to work everything out, and put the right pieces into play.  It's a process, but I think with hard work, we can make some noise."