By Amy Riggs

Every family should have a go-to restaurant—a  choice that draws no argument from any family member, and where, ideally, the food is healthy, fresh, and well-priced. Safura's Mediterranean Cuisine in Lacey is our family preference. At Safura's, the atmosphere and food consistently and perfectly meet our needs.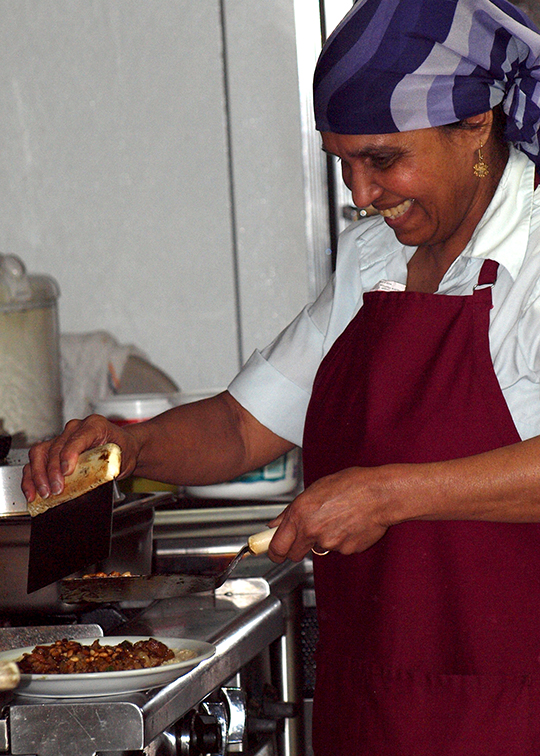 It is like the store launched just for us (it didn't), but we have been frequenting Safura's since our kids were barely walking, and that must have been around 2002, when the Feroze family originally opened their doors.
Located just south of Sleater-Kinney Road and across the street from the Lacey Office Depot, Safura's is a family-run business that is owned by Mohamed and Safura Feroze. In the 11 years since they have been in business, I have never visited the restaurant and not seen the two of them working side-by-side in the kitchen. But it is a true family effort, and over the years, we have been served by their children, grandchildren and other family members in addition to their prized staff.
Safura's is bright and clean, which immediately generates a welcome and promising environment for customers. Although we usually frequent the dinner hours, they also have a brisk eat-in and take-out lunch business. Ample windows allow plenty of natural light, and the open kitchen offers patrons the opportunity to watch meals being prepared.
This is complemented by polite and attentive staff, which includes their granddaughter, Mina, whose interest in the business is supported by her studies in restaurant management.
If one prong of a successful restaurant is atmosphere, certainly the more prominent aspect is the food. Safura's excels in both.
Simple salads of crisp cold lettuce and fresh tomatoes and cucumbers and red onions, savory beef and lamb gyro meat (also generally known as doner kebab or shawarma, although preparations can vary), smooth and light hummus, thick, refreshing tzatziki, warm, toasted pita, freshly squeezed juices – it would be hard to go wrong in ordering anything off this menu.
Despite Safura's large menu with an array of tempting options including vegetarian, seafood and chicken options, I nearly always get the same thing: the number 12—kind of a build-your-own gyro sandwich with salad, gyro meat, tzatziki, and pita. I am not sure that it is any different in size than their gyro sandwich options but I like to build my own. The gyro sandwich options, however, allow you to add fries and drink at a good price as well.
If I am feeling particularly hungry or want to showcase the restaurant to friends, I always add an order of Hummus Supreme to our meal. Not printed on the menu, this dish has a hummus base and is topped with a delicious combination of chopped gyro meat with cooked onions and peppers and toasted pine nuts—simply divine!
Other family favorites include the gyro salad (in which we lose the pita and tzatziki but gain olives and feta), and the chicken souvlaki—deliciously-seasoned chicken meets peppers, tomatoes and onions on a bed of rice.
My daughters transitioned from the kids menu a few years back but always enjoyed Safura's version of a grilled cheese: pita triangles and gyro meat with melted cheese. A large variety of Mediterranean desserts round out their offerings.
It is worth noting, finally, that Safura's is not a fast food restaurant. In fact, their menu emphasizes that point with the statement, "…we do not serve fast food, we serve fresh food as fast as we can. Your patience is appreciated." In the case of Safura's, a slightly longer wait for their fresh, delicious fare is well worth it.
Safura's Mediterranean Cuisine
4160 6th Ave SE # 103  Lacey, WA 98503
(360) 438-7898
Hours: Monday through Friday 11:00 a.m. – 8:30 p.m.
Saturday 11:30 a.m. – 7:30 p.m.
Closed Sundays