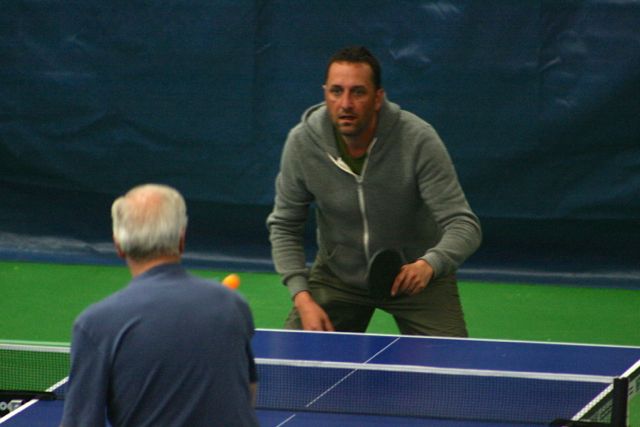 By Tom Rohrer

Are you aware there's a difference between ping pong and table tennis?
While one is played in grandma's basement, a college rec center, or an open garage, the other is highly organized and can only be played in appropriate facilities with the correct equipment.
Table tennis is for the players who "graduated" from grandmas' basement to go on to play in tournaments and specialized clubs with high level competition.
And now, Thurston County table tennis enthusiasts have a place to come together, thanks to the creation of the Olympia Table Tennis Club in November of 2012.  In the past, high level local players would have to travel to Seattle, Federal Way or Portland to find worthy competition.
"I got tired of driving up to Tacoma and Seattle to find good competition," said club founder and OTTC President Rob Preston.  "There was a group of other players who were doing the same thing, so for years I wanted to start our own facility here. It's worked out well so far and I think we've got a bright future."
In order to satisfy the demands of table tennis players, Preston knew he needed to find a facility that provided the right setting and the proper equipment to go along with it.  Capitol City Tennis and Athletic Center (CCTAC), located south of Tumwater High School on Center Street, is exactly such a facility, and the club meets there twice each week.
"It has a nice high ceiling, good lighting, great flooring," Preston said of CCTAC. "When we were looking to start a new club, we considered that players will look to complain about anything: bad surface, lighting, ceiling, really anything.  We have a lot of great, expensive tables, so this was the perfect place."
Since its inception, Preston estimates around 50 players have come to either a league play session on Tuesday nights or the open session on Sunday afternoons.
Like all table tennis clubs, a significant gap between the experienced players and the Ping-Pong "masters" exists.  According to Preston, it's important that the club welcome such players and help them acclimate to high-level play.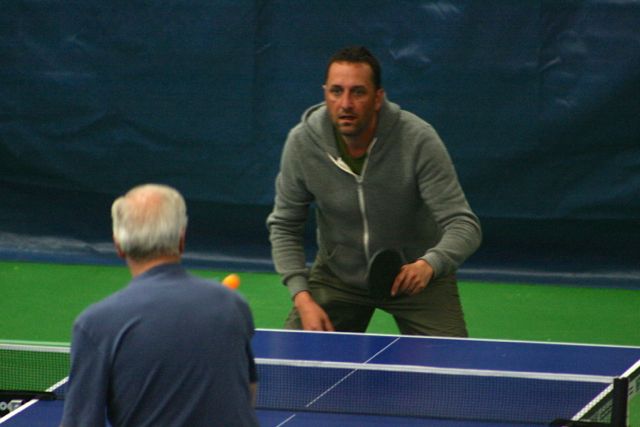 The Olympia Table Tennis Club follows the player rating system of USA Table Tennis, the sport's governing body.   Players earn a certain number of points for victory, or lose an amount after a defeat.  If a higher level player defeats a lower caliber opponent, the point gain would be marginal.  However, if the underdog were to win, the amount of points earned would be larger.  Higher ranked players will also "spot" points to a lower ranked player.  Such a rating system, especially in larger groups, allows players to face off against opponents of similar skills and work their way up the ratings ladder.
"It's hard because the gap between rec players and tournament players is huge, a lot bigger than most people would imagine," Preston said. "So people that are killing at the fire station, at the office, they come down, and it's an eye opener for them. They get beat easily. But we've been conscious of helping people bridge that gap.  I had to bridge that gap. I think everybody that plays has to go through that. It takes some time."
"We do a good job of reaching out to those players, hitting with those players if they come in," Preston said.  "I know it can be tough at first, because you think you're good at something and then you lose.  But we want to spread this sport in the community and that's how you build a strong talent base."
Another way of laying a foundation for the sport is to instruct and educate the area's youth.  Preston is doing exactly that, as he created and runs the Table Tennis Club at Washington Middle School.  The students provide Preston with a clean slate, as they have not built up bad tendencies such as pushing the ball with the backhand or not hitting with topspin.
"When you work with kids that age, you can really teach them proper technique because they haven't been creating bad habits for 20 years," said Preston.  "I just tell kids, (hit the ball) low to high, same with back hands, put topspin on the ball and curve it out on table.  That way you can put more power on ball."
Preston hopes the club will hold similar camps for beginning players, which in turn can open the door for more and more players.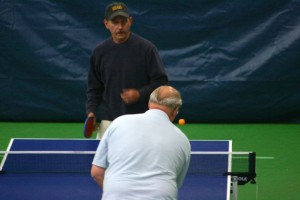 "We definitely want to grow, and we have a lot of ideas for events like tournaments or more open sessions," Preston said. "We've done a pretty good job at getting the word out.  Having a base of players, that's a big key, because other people will see those numbers and want to join.  At this point, I think we're moving along fine."
Unlike sports such as football, wrestling or even organized baseball, table tennis is a lifetime sport, as evidenced by the club's membership, which features athletes even near the age of retirement.  Preston hopes he can spread that message to generate participation in the world's most popular sport by numbers (thanks in large part to its popularity in China).
"People ask me if table tennis is a 'real sport,'" said Preston.  "I'll say yeah, it's in the Olympics.  People win gold medals for it."
"But it's something that you can play for many years without risk of damaging your body or getting hurt," Preston said.  "Also, just the majority of players out there are helpful.  They want to see people succeed, and will offer help, advice, strategy, whatever they can.  People still are competitive, but you don't find many sports with that camaraderie, and that's what we want to instill here."
The Olympia Table Tennis Club meets for league play on Tuesday nights at Capitol City Tennis and Athletic Center from 6 p.m. to 9:30 p.m.   There is an open-play/training session on Sunday's from 10 a.m. to 2 p.m.  The price to play is either $8 a session or $30 a month.
For more information on the Olympia Table Tennis Club, including a complete explanation of USATT rating systems, rules and regulations, and directions to Capitol City Tennis and Athletic Center, visit www.olyttc.com.