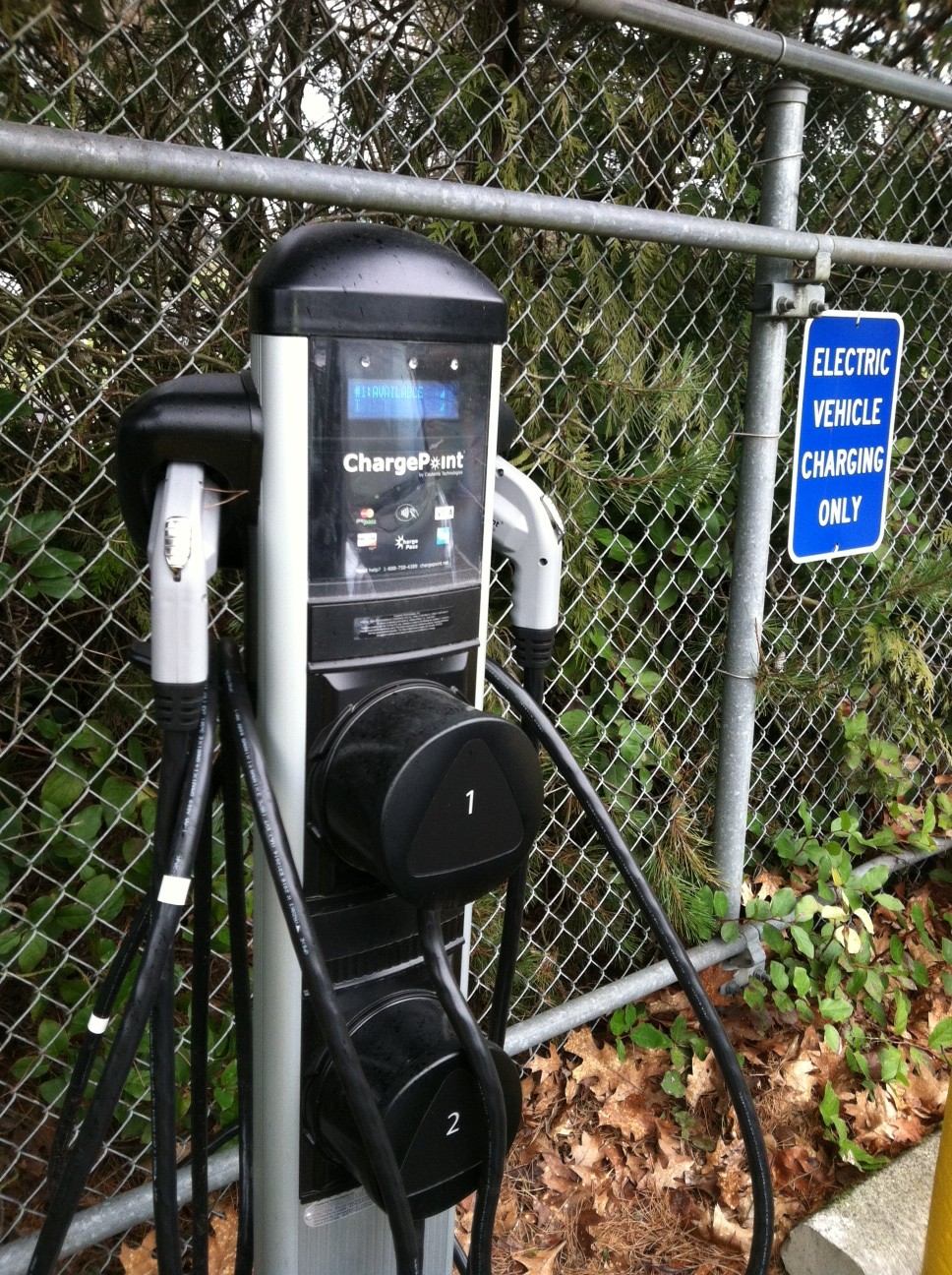 By Amy Rowley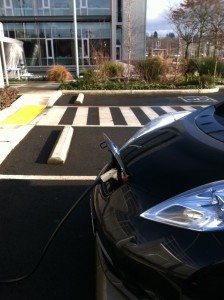 I have found the ideal parking spot in downtown Olympia.  It's a short walk to grab a cup of tea at the Bread Peddler.  I can easily get the kids to the front door of the Hands On Children's Museum or LOTT's WET Science Center on a rainy day.  When the Olympia Farmers Market is open, we can quickly scamper over to pick up fresh fruits and vegetables.
The best part – it's free  I don't have to dig around in the bottom of my purse for coins or risk aggravating my husband when he sees the yellow envelope from the City of Olympia parking crew.
The natural next question is "where, ThurstonTalk writer, is this glorious parking spot?"
Ask any owner of an electric vehicle and they will instantly know.  It's in LOTT's parking lot and it's reserved for us EV owners.  We can pull in, park and charge our vehicle while exploring downtown Olympia.
All-electric vehicles are popping up around town and as the cars become more affordable, we are all clamoring for time at local charging stations.
A quick education – there are three ways that electric vehicles are charged.  The slowest method is by plugging into any regular 120 volt outlet (Level 1).  From empty to full, this charge takes in excess of 15 hours.  Since that's certainly not feasible for daily driving, electric vehicle owners typically install a 240 volt charger at home.  This cuts the charging time down to a maximum of five hours.
These 240 volt chargers (Level 2) are what you see most frequently, including my favorite location at LOTT.  You still need to devote some time to charging, using the 240 volt charger.  Therefore, you need to plan on plugging in and then doing some other activity.  There is a row of three chargers in the Sears parking lot, just off I-5 on Sleater Kinney in Lacey – a great location to get some errands done while recharging.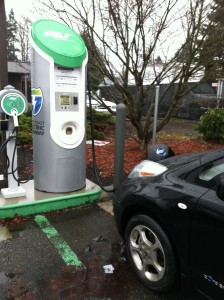 In Lacey, the new Providence Hawks Prairie medical complex and the Hogum Bay Park-n-Ride both house Level 2 charging outlets.
EV drivers also appreciate the Level 2 chargers at the State's General Administration Central Garage.  Commuters can plug in while they work and have a full battery at quitting time.
Finally, the third charging station type is what I simply call the "super fast charger."  (Technically, they are called a DC Quick Charge or a Level 3 charger.)  There is only one in Thurston County, located at the Shell station in Tumwater along Capitol Boulevard.
It's a little out of the way for my daily commute but if I know that I'll need some extra range then I'll pull over for 20 minutes.  During this charge, I can get about 60 – 70% of the range back.
Many factors impact the range of electric vehicles including outside temperature, driving speed, frequency of hills, and using the climate control.  Some advance planning including building in extra time to charge or avoiding the freeway can mean that I can drive the electric vehicle on all my daily shuttle stops.
Nothing prepared me for my devotion to our electric vehicle.  In fact, three other Steamboat Island families drive Nissan Leaf electric vehicles.  Our Leaf Pack share ways that we maximize our range and swap texts when we spot new charging stations.
Recently, I spotted one of my fellow Leaf Pack members parked at the Tumwater "super fast charger."  I gave her a little honk and then shot over a text saying "keep it warm for me, I'll be back in twenty minutes."
For more complete information on Thurston County charging stations, click here.