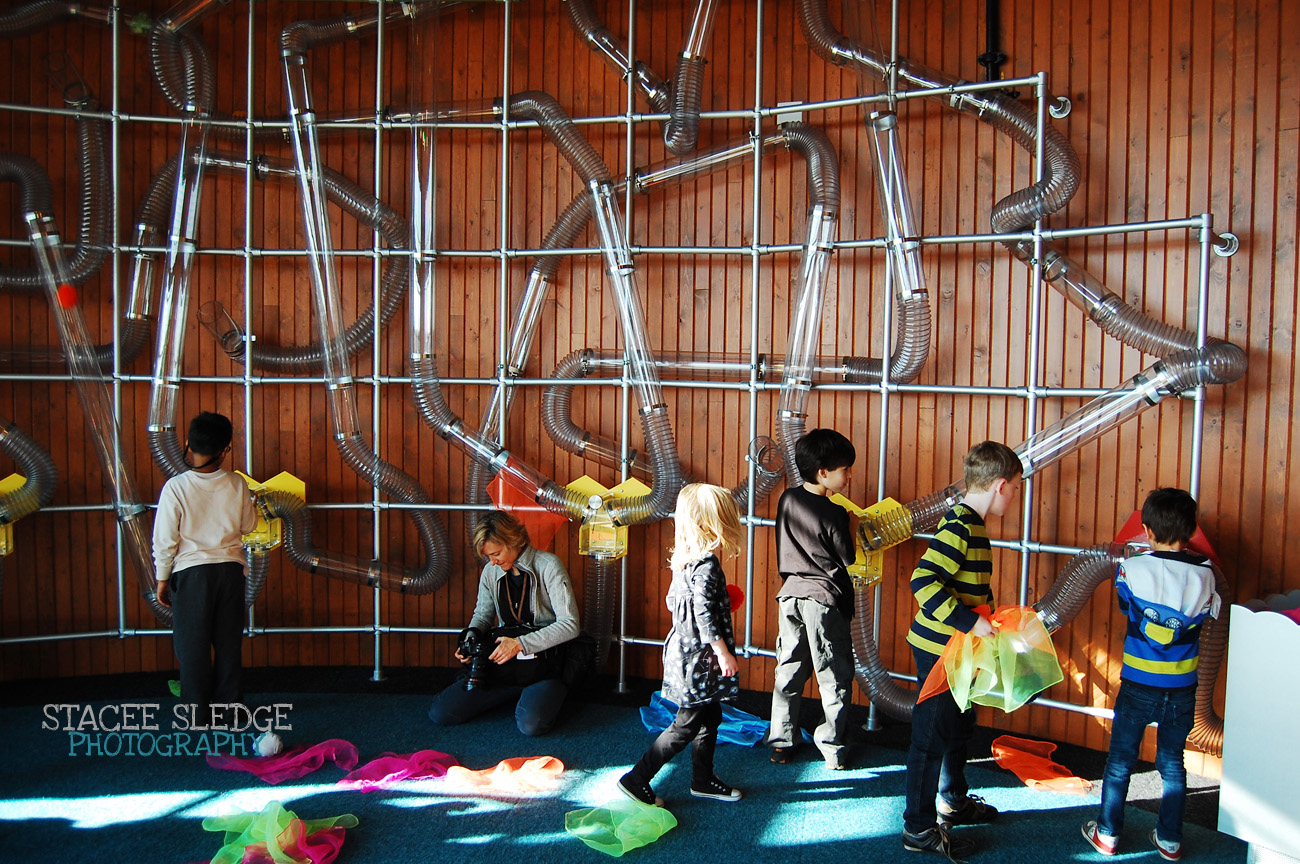 By Stacee Sledge

It's been a long wait, but judging by the reactions of my 8-year-old son, Xander, and 4-year-old daughter, Clare, it was well worth it. The new Hands On Children's Museum opened its doors to members on Saturday, November 10 and my family of four was one of hundreds who were eager to see – and experience – the astounding new space.  (A complete photo set can be found here.)
I've been fortunate to watch the progression of the new museum firsthand. In June, my kids joined me for a tour of the space. It was mostly empty yet still awe-inspiring – and chock full of potential.
I returned in September and saw glimpses of the exhibits, as the spaces slowly began to take shape.
I got another sneak peek just last month, as more exhibits were being constructed, yet still awaited all the finishing touches.
A myriad of in-progress photos from these visits can be found here and here.
And yet, even with all this exploration of the new museum's evolution, I still wasn't prepared for the enormity of the grand opening experience.
Thanks to careful planning and forethought from Executive Director Patty Belmonte and her dedicated staff, getting into the space during its grand opening weekend was a breeze. Tickets were available online that provided timed entry. We walked right in and directly to one of three staff members checking folks in at the front desk.
The museum was certainly bustling, but because of its new, enormous size – 28,000 square feet compared to the previous space's 10,000 square feet – it never felt uncomfortably tight or difficult to maneuver from space to space. It was challenging to keep tabs on the kids, as both ran excitedly in different directions each time they spied something new and extraordinary.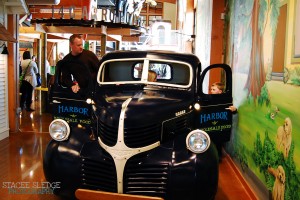 Our first stop was the Good For You gallery, a mix of exciting new exhibits and old favorites. A giant white clapboard house with a kitchen and eating area nestles in between a shed that's home to a life-size goat, perfect for little ones to climb on, and a vintage Dodge delivery truck. A white picket fence separates this space from the museum's entry, giving it a quaint country feel.
The kids were excited about all three structures but were also completely intrigued by glimpses of the new 14-Carrot Café and the familiar market stalls stocked with fruits, vegetables, bakery items, and more.
The next space – home to the Tides To Trees Climber – is arguably the most amazing in a gigantic museum full of fantastic hands-on delights. Both Xander and Clare agreed that it was their favorite thing in the entire museum.
The Whimsical Water Play area is incredible, with an eight-foot-tall water vortex and other get-your-hands-wet and blow-your-mind while learning through play opportunities. Soaring above this area is the intertwined stairway and two-story climber, where kids can ascend to the museum's second floor, and then zip back down via a spiral "stream slide."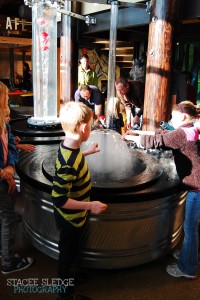 After a few glides down the slide, Xander and Clare headed to the neighboring Puget Sound gallery, complete with a new, even bigger and better crane and jaw-dropping three-story cargo ship. After exploring the ship, they crawled through the tunnel in its hull and took in the amazing underwater scenes captured so perfectly through statues of sea life and water-like moving lights.
A water table much like that at the previous museum was my daughter's next stop, while my son headed to the Emergency gallery. This space had seemed so huge on our earlier visits, but now it's crammed full of gigantic exhibits – a life-size police car and giant, elevated fire truck. This space will become home to a variety of visiting exhibits in coming years.
The inventive Scream Chamber is also found in the Emergency gallery, an enclosed space where kids can yell, shriek, and screech as loud as possible and see how high their hollers rate in decibels.
Both kids were eventually drawn back to the climber, but this time, instead of choosing to slide back down to the first floor, they explored the giant eagle's nest and pier dock climbing platform suspended above the first-floor and the second floor landing.
Our next stop was the Fabulous Forest gallery, home to a tree house, Woodland Animal Rescue Center, Squaxin Island Longhouse, campsite, nurse log, performance stage, and much more.
Clare promptly settled in at the longhouse to color a tribal mask with crayons, while Xander headed to the Build It! gallery right next door.  His sister eventually joined him and they played with the familiar construction toys from the previous museum. The old red dump truck has been given a new lease on life, painted a vibrant yellow.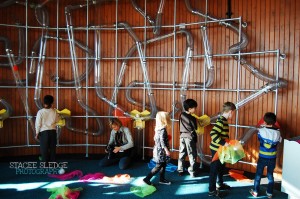 Our last stop was the Move It! gallery, the space that most impressed Xander and Clare when they toured the empty museum in June.
The Move It! gallery fills the second story of the building's enormous turret, so prominent in the museum's exterior architectural design. An elaborate 25-foot maze of vacuum-powered tubes shoot scarves and lightweight balls inserted by kids in one of several entry points up, around, and out the top. Xander and Clare were in fits of laughter the entire time.
To end our two-hour visit, we stopped at the café inside the museum's entrance and had juice and cookies. The expanded menu offerings mean a family can easily make a day of a visit, stopping for lunch, and then heading back into the museum to discover new ways to learn and play.
The only spaces we didn't explore on our inaugural Hands On Children's Museum visit were the Arts and Parts Studio, which was bustling with little Picassos, and the Snug Harbor gallery, reserved for the museum's smallest visitors, up to age four. Clare and I will explore both of these spaces soon on another trip while her big brother is in school.
Our grand opening visit clocked in at just under two hours, but we easily could have stayed much longer. As friends' photos started trickling onto Facebook, I saw that we missed several things, such as a comically oversized Adirondack chair outside and the new pin wall. There's so much to see at the new Hands On Children's Museum that it's easy to inadvertently overlook something.
Well, all the more reason to head back very soon.
Additional photos from opening day can be found here.  Grand opening events continue through Monday.  Advance purchase, timed entry tickets can be found here.