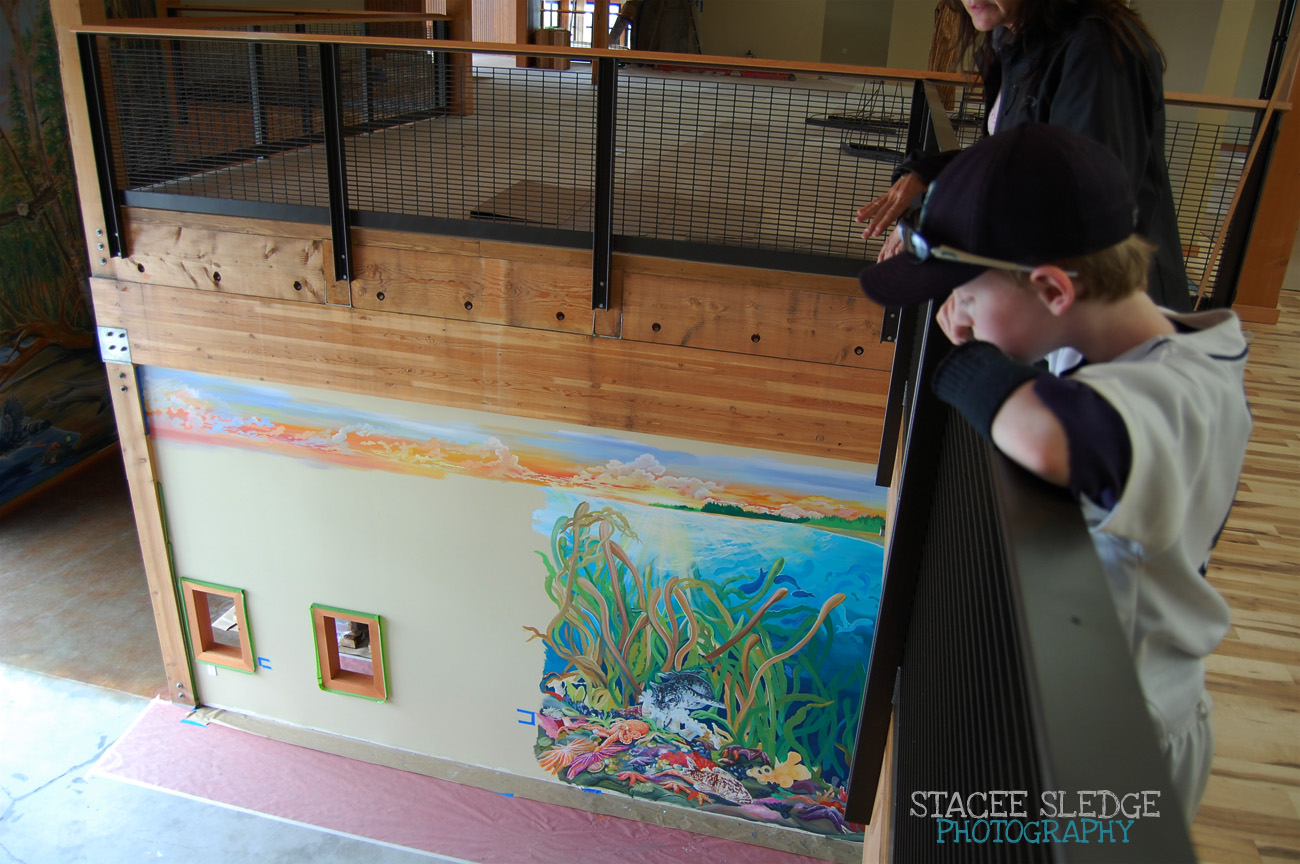 By Stacee Sledge

A recent afternoon found me touring the new, under-construction Hands On Children's Museum with my 7-year-old son and 4-year-old daughter in tow.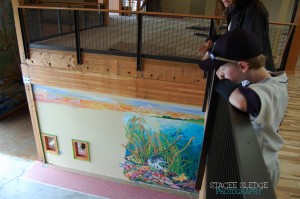 Kathy Irwin, who has been on staff at the Hands On Children's Museum since 1996, is charged with the enormous task of organizing the creation of all exhibits throughout the new, 28,000-square-foot space. She generously took a half hour out of her busy day to show us around.
Perfectly perched on downtown Olylmpia's East Bay waterfront, the shell of the building was constructed by the City of Olympia last year, the first phase of this massive – and highly anticipated – project.
Now the inside is being meticulously fashioned – with many favorite exhibits from the current museum getting upgrades and a long list of new, amazing exhibits being constructed and brought in. The new museum is slated to open on November 3rd.
Helping immensely with this final finishing phase of the new museum is a myriad of local tradespeople and businesses.
"The talent is so rich in our community, and it builds a stronger foundation for the museum, having them involved," says Irwin. "They have a sense of pride and are invested in our project. We have this deep woven network of community support and pride."
That's not to say all exhibits are being created locally. "We've hired some really big technical exhibits from Woodinville, Lynnwood, and other places outside the community – and the large fabrication houses are awesome. It's really neat to have a blend."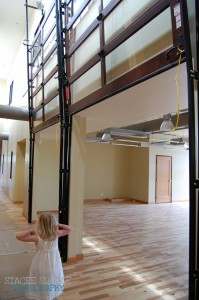 Irwin feels like so many components of the museum are getting such close attention by talented artisans that every component – from the building itself to each individual exhibit – is becoming a piece of art in and of itself.
"If we use people locally, our museum will have its own flavor and its own richness that you won't be able to duplicate somewhere else," she says.
Hung Right Doors
Rusty Ruiz, co-owner of Hung Right Doors, was happy to help secure two overhead sectional garage doors for use in the museum's art room.
"Our manufacturer, Clopay, donated two overhead doors and we donated the labor to install them," he says.
The wooden doors open as full-vertical doors, going straight up the wall. This gives Museum staff the freedom to open the art room to the hallway, effectively opening up the wall between the two areas.
Ruiz was happy to get involved. "The new Museum is a quick walk from our office and we think it's going to have a really positive impact on downtown," he says. "And it's just a great cause; anything to do with kids, you always feel comfortable donating to a cause like that."
Ketola-Targus Painting
John Ketola of Ketola-Targus Painting worked with Irwin when the new Museum was a stop on the South Sound Chapter of the Northwest EcoBuilding Guild's annual Green Tour this past April. Ketola is the Guild's president.
"We stained the wood for what I call the turret room, it's the second floor, the round area in the front that shows from the front of the building," explains Ketola, describing the interior of the water tower area.
His team took donated lumber to a warehouse space in Tumwater (also donated), and then stained it and advised the Museum on the best way to finish it after installation so it will withstand years of heavy use.
"I like giving something back to the community," says Ketola. "I don't have any children around, but I think they need to have a place to go like that. The Hands On Children's Museum is great, and so is the general contractor, Berschauer-Phillips."
Windfall Lumber
Scott Royer of Windfall Lumber was happy to donate a 30-foot-long bench to the museum, bent to line the windows inside the area known as the water tower.
"We're making a big, curved, live-edge bench, which leaves the wild side of the log original, so it's artful and woodsy," says Royer.
Like so many donors to the new museum, Scott's child has been going to the current Museum for years. "We just wanted to be supportive of the Museum," he says. "Gary Schneider (HOCM Vice President of Facilities) is a friend of mine and he asked if we'd consider donating a live-edge bench, and I said sure."
Christopherson Wood Floors
As you step off the elevator, one of the first things you notice as you walk out onto the open second floor is the gorgeous, rustic maple flooring.
A striking compass design is inlayed in the wood, containing the Museum's exact latitude and longitude points. Sprinkled sporadically throughout the floors are natural images, such as a leaf and snail. The company is also installing a stage in the second-floor space, and will be routering out a small fake creek to run throughout certain areas of the flooring.
"We got some materials at a reduced cost from our supplier and gave it to the Museum at cost, and then we donated some miscellaneous supplies and about 500 hours of labor," says John Christopherson, co-owner of Christopherson Wood Floors. "We're not a big company, so this has been a pretty big project for us."
"My wife is always looking for things to do to be involved and help people," says Christopherson of Lynette Fox, with whom he co-owns Christopherson Wood Floors. "She and I both felt that the Hands On Children's Museum is going to be a big benefit for our community and if we could help them be a better place, that would be good."
The List Goes On And On
Details for all the companies – local and farther flung – who have donated time, materials, and energy to this project is simply too long to include here. But Irwin is quick to mention many of them as she shows us through the space.
Scott Homes is another local builder who's been very generous with the Museum. "They're building our Good For You house and barn," says Irwin. "They've donated stuff to us in the past that we've used in the old Museum. They're a wonderful, green builder, and really like the Museum."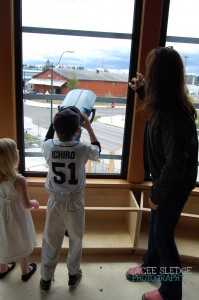 Another company involved with the old Museum and now contributing to the new one in a significant way is Lew Rents.
"They sponsored and donated tools for the old Museum in our tool shed exhibit. Now they are donating all of our equipment needs during construction of the exhibits here," says Irwin. "I just call them when I need a forklift or flatbed truck. They deliver it, leave it with us, and don't charge us. It saves a lot of money."
"It's an honor and we're really lucky," Irwin says of the outpouring of support from so many local companies. "There's so much talent and so many big hearts in our community. And to be able to showcase their work and their products and put their name on it, it just makes for such a rich facility and the support behind it. It's a lot of generosity and it's just really amazing. This space is just built on love, I tell you."
A complete list of donors can be found on the HOCM website. A recent Thurston Talk feature gives more details about some of the exciting exhibits in the works at the new Hands On Children's Museum.
Hands On Children's Museum
www.hocm.org
106 11th Ave. SW
Olympia WA 98501
360.956.0818
Hung Right Doors
www.hungrightdoorsllc.com
315 Capitol Way N.
Olympia WA 98501
360.753.2222
Windfall Lumber
www.windfalllumber.com
711 Tumwater Blvd. SW, Suite D
Tumwater WA 98501
360.352.2250
Christopherson Wood Floors
www.christophersonwoodfloors.com
2442-B Mottman Rd. SW
Olympia WA 98512
360.357.7919
Ketola-Targus Painting, Inc.
www.ktpinc.com
2840 Crites St. SW 112
Tumwater WA 98512