By Amy Rowley
It's every working parent's dream – a clean facility, caring teachers, and engaging play.  But, sometimes finding the child care center that is best for your children can be a challenge.  Enter Michelle Glacken and the Kiddie Academy.
"We offer education based child care.  Kids are learning from the time they first walk in the door," explains Glacken who will open the doors to the Lacey Kiddie Academy soon.  She is waiting for state agencies to grant the final approval.
Glacken is a certified teacher that was ready to try something new.  She recognized the need for child care in the Lacey community and jumped on the chance to open her own business.  The Galaxy Way drive building will be the third Kiddie Academy franchise in Washington.
The two-story space is a delight with rooms and toys geared for each age group.  Children as young as six weeks will be welcome at Kiddie Academy.  The space is licensed for 149 children, up to age 12, and will include before and after school care.
When classrooms for school-aged children aren't in use, Glacken plans to offer a preschool enrichment program.  This class is designed for parents who do not need full-time child care but would like their child to have a quality preschool experience in preparation for kindergarten.
Webcams throughout the facility help parents stay connected.  Glacken notes that checking in with the webcam is easy and especially helpful for deployed military parents and grandparents that are far away.
Pulling up to the parking lot, families are greeted by an outdoor space with play structures for each age group.  The classrooms are designed to offer center based play stations suitable for the child's interest and age.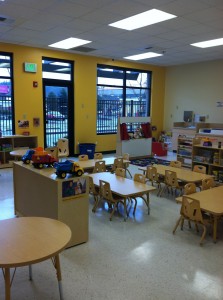 Glacken selected the high traffic Hawks Prairie location because of its central location.  "This is where everything is happening in Lacey.  There is a big need for child care, especially for military families," explains Glacken.
To get the financial backing she needed to start the new business, Glacken turned to Anchor Bank and Kasandra Jaquez.  Anchor Bank's lending decisions aligned with Glacken's business plan.
"When Michelle contacted me, it was an easy decision to finance the business," says Jaquez.  "We are a relationship bank that wants to help business owners from the beginning.  Our goal is to make sure they succeed all the way through."
Glacken echoes Jaquez's comments.  "I'm glad that we found each other.  I totally agree that Anchor Bank is a relationship bank.  Kasandra told me to call her at home or on the weekend and has stopped in a few times during construction," adds Glacken.
It's obvious that Jaquez is proud of the role that Anchor Bank has played to open the Kiddie Academy.  "Personally, I am so excited to see Michelle open.  To be able to watch the business from the beginning, when we were just talking about the idea, to see it grow has been wonderful."
With the aid of the Kiddie Academy, Glacken presented a complete loan package including a solid business plan.  Anchor Bank used a SBA 7a backing to help Glacken with the loan.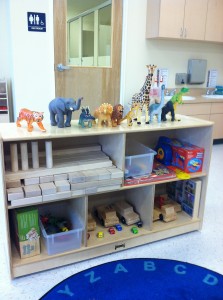 "When a start-up business succeeds, we all succeed.  We promote our customers inside the bank and are advertising their services with other Anchor Bank customers," adds Jaquez.
"This is how I like to do business – local and personal," summarizes Glacken.
To learn more about Anchor Bank and its lending team, click here.
1130 Galaxy Drive NE
Lacey, WA 98516
360.456.5700