Submitted by Cathy Johnson, Dandelion Gardens
Most of us spend hours in our car every week while we run errands, take our kids to school and numerous activities, and go to and from work.   As we drive along, stores, people, other cars, homes, and plants glide by.  It's easy to focus on the destination (and little else) when the foot is on the gas pedal, but if you take a moment to really notice your surroundings, you'll discover some attractive landscapes around you, compliments of the cities of Olympia, Lacey, Tumwater, and the State of Washington.  Many of the main thoroughfares have landscapes that look great year round, and we can take some of those landscape ideas and use them at home.
The traffic circles on Littlerock Road in Tumwater between Trosper and Israel Roads have dense plantings of ornamental grasses and spireas.  These plants are colorful, sun loving, drought tolerant, fast growing, deer resistant, and are very suitable for most home landscapes.  The dense planting technique discourages weeds and provides "instant gratification".
The thickets of Rugosa Roses planted alongside Martin Way near the I-5 ramps aren't my favorite in home landscapes but they work really well in this area.  The Rugosa Rose has large rosehips for visual interest in the fall and winter, is tolerant of deer browsing, slowly spreads by sending out side shoots (which also does a great job in erosion control), provides wildlife habitat and food, and flowers all summer long.  If you had a hillside or other area that you needed to control erosion or needed to densely plant, Rugosa Rose works well.  Rugosa Rose, however, can be difficult to remove because of its suckering growth habit.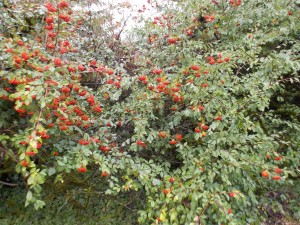 The Parney Cotoneasters planted along Deschutes Parkway near the old Olympia Brewery are particularly attractive this time of year.  This evergreen plant has bright red berries through the winter months, small white flowers in spring, a fountain like growth habit, and small green leaves.  These plants provide wildlife habitat, are colorful, drought tolerant, and cuttings from the plant make great wreaths, centerpieces, and container additions.  The grouping of the cotoneasters is a good example of clustering plants for maximum impact.  One or two cotoneasters wouldn't have had much visual impact as you are driving by at 25+ miles an hour.  The planting of the cotoneasters in front of the trees in this area also provides a nice layering effect.  The Parney Cotoneaster grows to a height of at least six feet with a similar width, so make sure you have the appropriate place in your landscape before you plant one at home.
The new traffic circles on Yelm Highway between Boulevard and Henderson are also interesting additions to the vehicle landscape.   The plants in the circles are suitable for the soil and sun conditions.  The hardscape/rock work in the traffic circles is also very appropriate for the sites.  The gravel and rock provide visual interest, reduce the plant budget, provide structure, and are tolerant of pollution and vehicle abuse.
The planting islands on the corners of Pacific and Martin Way and the entrance to Northbound I-5 at Plum Street are particularly attractive and well maintained.  The groupings of sun loving evergreen plants for year round enjoyment and structure are nicely done.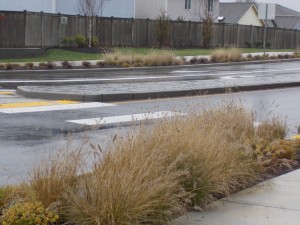 In addition to the evergreens, there is a great mix of herbaceous plants that bloom throughout the year for additional interest and color.  The cheery Brown Eyed Susans and Coneflowers are particular favorites of mine in these areas.   I also appreciate the layering of plant material  –  the taller plants are properly grouped towards the back/center of the islands with shorter plants in front.  The sedums and other short plants in the front of the planting islands provide great color and interest.  The plants also have a nice variety of leaf shape and color, so even when no flowers are blooming, the leaves provide great visual appeal.
The local and state transportation departments are kept busy building and maintaining our streets and highways.  An integral part of their job is installing landscapes to control soil erosion, reduce noise pollution, and help roads fit into their surroundings.  The departments do a great job in making our drives safe and attractive too!