Our local South Sound YMCA understands that parents need budget-conscious options for their children's extracurricular activities. "We are embarking on a new journey to make more programs accessible at affordable prices," explains Branch Program Manager Clara Santiago. You can sign up for month-long youth classes that meet one day a week for 45 minutes. The cost? $10.
These new YMCA offerings provide an introduction so you can decide if that was enough, or you want to keep going. When kids want to try something new, it's hard to know if they will like it or not. Who wants to invest when the interest may be short lived? Plus, it's fun to experiment and meet other participants.
Engaging, Evolving Fun Kid Classes Near Olympia
"There will be rock climbing, jujutsu, art, ballet and cooking, the whole gamut," explains Clara. How about the Pokémon Go Club or D&D (Dungeons and Dragons)? There are STEAM (Science/Technology/Engineering/Art/Math) classes and others that change regularly. "We are adding new ones, experimental ones," she continues. Pickleball and tumbling tend to fill up quickly. Read more about the possibilities on the YMCA's website under Youth Experience.
The $10/month price is offered to YMCA members. Non-members pay $40, which is still a great buy.
Clara has been working with the YMCA for over five years, beginning with youth sports. She moved to membership, helped with the opening of the Shelton branch and is enjoying being back in Olympia. Her degree in outdoor recreation from Western Washington University was fueled by her passion for the outdoors. "I grew up on a tree farm," she says. "Working with bringing nature into everyday life for kids and adults is really important to me."
Previously Clara worked on a dude ranch. The clientele opened her eyes to the lack of access to outdoors, which is common to many people. She strives to create ways for the community to gain understanding about nature. Clara gets excited the enriching programs that give tools for a successful life. "The YMCA has a high potential to redirect the course for life skills," she says. Look for more nature-related classes in the fall.
South Sound YMCA Volunteer/Paid Opportunities
"My challenge has been finding good instructors," explains Clara. Are you retired or want to make connections with youth? Do you have a passion for teaching or a skill you want to share?
Clara would love to talk with you about ideas for classes and opportunities to volunteer or even be paid for certain activities. You can contact her at robbinsc@ssymca.net.
Special Events for the Whole Community at the YMCA
Halloween Carnival
There will be a Halloween Carnival October 31 at Briggs Community YMCA. Come in costume for prizes and games. It's free to the community. It's also a no-fee joining day ($65.00 value), so bring your ID, register, and have a spook-tacular time!
Flick and Float
Bring your floaties and bob with pumpkins in the activity pool at Briggs Community YMCA! Join them on October 27 at 6 p.m. to watch "Hocus Pocus" while you relax in the pool. Registration is required for this event.
Schedule a Birthday Party
Many gatherings went by the wayside during the height of Covid. Now, new possibilities have arisen, and old favorites are being revived. The YMCA offers a desirable, competitive idea for a birthday party. You can reserve the pool or the rock wall, getting the space for an hour. Enjoy an additional hour in a separate room for cake, pizza, and presents. You bring all those goodies, but the YMCA has the fun space to utilize. The cost is $100. All parents are welcome to accompany their children and membership is not required. However, the person who reserves the space must be a YMCA member. What a grand time for 10-15 youth.
Kids Zone + Kids Night Out
"Kids Zone is a huge resource to utilize and to pursue a healthy lifestyle," says Clara. It's a drop-in childcare where members can leave their child for up to 90 minutes. That gives you time to work out and shower or simply sit quietly and read. No reservation is required. Kids Zone accepts children from 8 weeks to 12 years of age.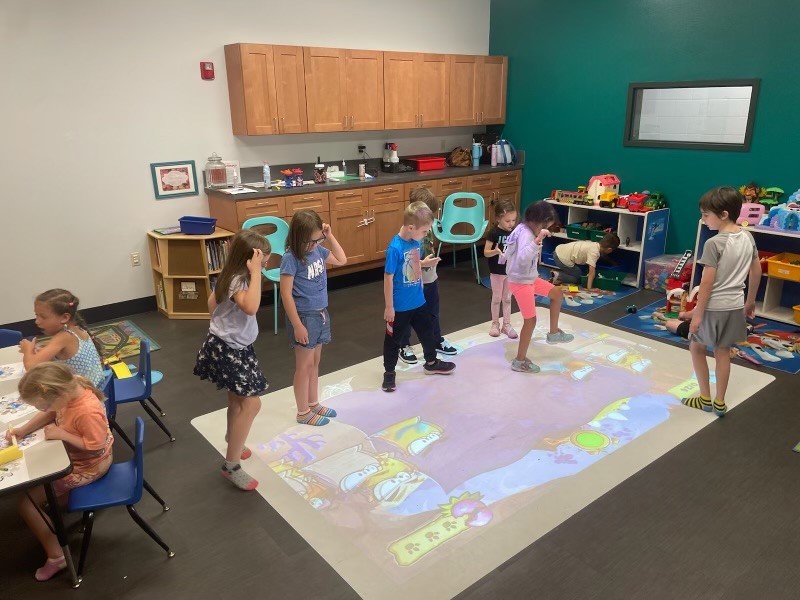 Kids Zone also hosts Kids Night Out, a twice-monthly event that allows parents three hours to go out, eat, play and relax. The kids stick around for fun and food, with new themes and activities each month. Registration is needed and children must be toilet trained.
Fun happens at your local YMCA. When you download the Y app you can keep up on classes and free community events. You and your family have an amazing resource to enjoy at your South Sound YMCA.
South Sound YMCA Locations
Briggs Community YMCA
1530 Yelm Highway SE, Olympia
Plum Street YMCA
505 Plum Street SE, Olympia
Shelton Family YMCA
3101 N. Shelton Springs Road, Shelton
Sponsored