From 1967 to 1970, Olympia viewers could tune into the "Cook's Tour" to watch local and regional home cooks and chefs share recipes. A studio TV show created by Telecable, it was hosted by Yvonne Hull, a local caterer and entrepreneur.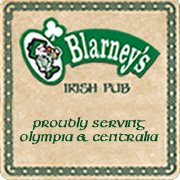 Telecable, Olympia's Cable TV Provider
American TV viewership was skyrocketing in the 1960s. Seeking to meet some of this demand, Telecable Inc. was founded in 1965 in Olympia, providing 12 channels. As part of a special promotion in February 1968 they offered free copies of "Cook's Tour: International Recipes" by Yvonne Hull to new subscribers, containing 53 recipes from the show's first year.
Debuting on January 30, 1967, the cooking show played at 4 p.m. on Mondays on Channel 10, the provider's local channel. Each episode featured guest cooks including local and regional chefs, home economists and housewives.
The program continued through April, relaunching as a new show on October 17, now on Thursday afternoons at 2 p.m. or 2:30 p.m. on Channel 13 KTVW. In the debut program, First Lady Nancy Evans and Mrs. Weber, Governor's Mansion cook, shared two of Governor Dan Evan's favorite dishes. "Cook's Tour" continued to air weekly through April 1970.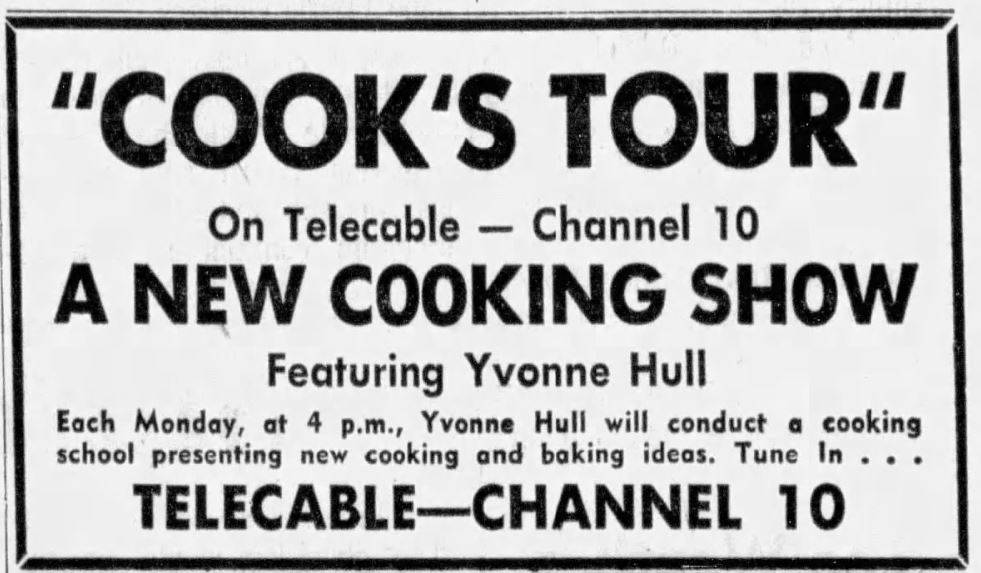 Yvonne Hull
But who was Yvonne Hull, the show's host? Born in 1918 to Edwin and Virginia Chevallier LaBree in Redding, California. Yvonne married Harold Hull in Oakland, California on January 19, 1937. The couple lived in Seattle before moving to Ellensburg to farm. They had three children: Roger, Madelin and Wayne.
The Hulls came to Olympia in 1965, where Harold and Yvonne opened R.S.V.P. Catering "Be a guest at your own party!" one advertisement promised, providing food for anniversary parties, club meetings and office gatherings. They sold the business to Gordon and Marilyn Angel in October 1969 but repurchased it in 1971.
'Cook's Tour: International Recipes' Cookbook
The 29-page "Cook's Tour: International Recipes" is a fascinating look at 1960's cooking. Selling for only $1.50, an ad in the book promised that "For Christmas, for special occasions this cook book is a much-appreciated gift. Your friends will be thrilled to receive such a fine collection of recipes."
Most of the recipes are labeled "American." No 60's book would be complete without Jello and Mary Claffy provided it with her whipped cream-lime-marshmallow-pineapple-cream cheese-mayo "American Party Salad."
While many recipes came from local cooks, other recipes were provided by companies. Lynden Chicken's home economist Betty G. Nelson used their products in recipes like "Tamale Pie Pronto," using canned chicken tamales and canned chicken "One-of-Those-Days Chicken" and "Hurry Curry." Pan-Alaska Fisheries' Coral Bush provided a recipe for "King Crab Stroganoff," using canned crab.
Local chefs provided other recipes. The Jacaranda Restaurant's manager-chef Bob Reeves Jr. shared a dough recipe for rolls as well as seasoning salt made with salt, coarse pepper, garlic powder, paprika and MSG that he used with chicken. Chef Ellis Vines of the Olympian Hotel shared his recipes for Russian beef stroganoff as well as "Bombay Dessert" of peaches and vanilla ice cream with fruit wines and blackberries.
As supervisor of the Olympia School District's lunch program, dietician Betty White shared a recipe for raisin bread and another one for "Frazzeline," a casserole made with macaroni, ground beef, green pepper, tomatoes, tomato paste, corn nibblets, Worcestershire sauce and onions.
With the reminder, "Use Washington Grown Beef," the Thurston County CowBelles contributed recipes for "Our Favorite Meatballs," "Busy Lady Beef Loaf" and Beef Rice Casserole.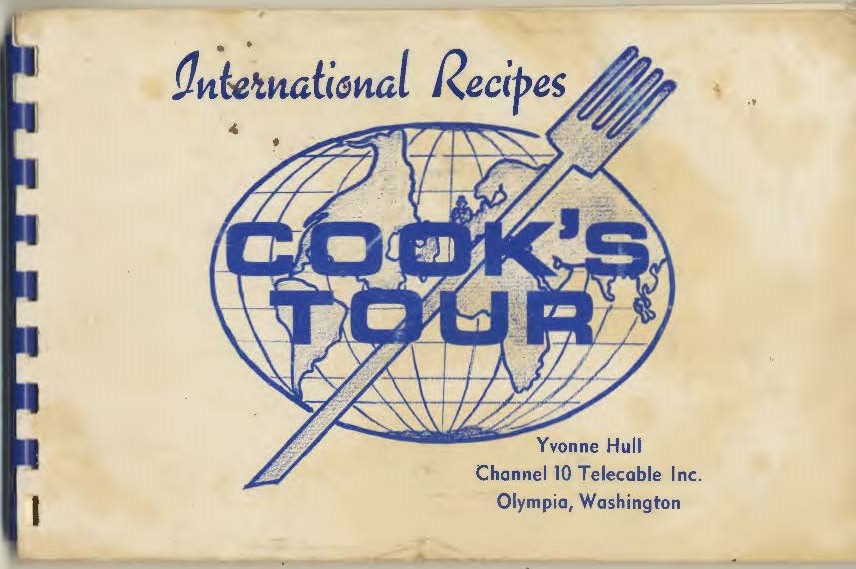 Members of the 4-H also participated, including contest winner Nadine Peterson with her beef-carrot-macaroni casserole and cornmeal batter bread.
Yvonne contributed a recipe for white fruit cake, made without alcohol. Her grandmother, Rose LaBree Capistran, had given her the recipe.
International Recipes
The cookbook's international section included Czechoslovakian, French, German, Greek, Indonesian, Japanese, Korean, Mexican, Norwegian, Filipino, Polish, and Russian recipes from local and regional cooks and chefs. Yvonne's mother Virginia, who was born in Lyon, provided a recipe for French cream puffs. There were Norwegian cookies, Greek meatballs, Korean barbecue, Japanese sukiyaki, Russian piroshki, and Indonesian curry, among other dishes.
The Hulls: Later Years
In 1970 Harold and Yvonne bought The Egyptian Beauty & Wig Salon at 1123 Sleater-Kenney Road. They expanded this business in 1973 by purchasing the Plaza Beauty Salon at the corner of Pacific Avenue and College Street and opening The Egyptian II at South Sound Center in 1974. In 1978 they opened Merle Norman Cosmetics at Capital Mall with Madelin Heintz.
Both Hulls were active in the community. He was with the Thurston County Cattlemen's Association and she was treasurer of the Thurston County CowBelles and led publicity for the state group. She promoted "Beef," the Washington State CowBelles Association cookbook, proudly presenting a copy to Nancy Evans at a meeting in 1970.
Yvonne was also active with St. Michael's Catholic Church, Tall Lady Elks, Soroptimists and was president of the Emblem Club. She worked at National Bank of Commerce and was office manager of the Vista Village for 22 years. Harold worked as assistant state director of agriculture and was an independent horticulturist. Yvonne passed away in 1999 and Harold in 2005.
"Cook's Tour" and its cookbook offer a window into 1960s cooking, a time of great change. Enterprising people like Yvonne Hull used television to bring new cooking ideas into America's living rooms.