Submitted by North Thurston Public Schools
North Thurston Public Schools (NTPS) recently hosted a celebration of Billy Frank Jr. Day in partnership with the Nisqually Tribe at River Ridge High School. Billy Frank Jr. was a beloved member of the Nisqually Tribe and an internationally renowned defender of treaty rights and the environment. He helped develop the Puget Sound Salmon Management Plan and worked with state agencies and other groups to protect treaty rights and salmon habitats and sustainably manage fisheries throughout the state. Since its official establishment in 2018, Billy Frank Jr. Day has been celebrated in Washington on March 9. NTPS began celebrating Billy Frank Jr. Day in partnership with the Nisqually Tribe in 2019. On March 8, more than 400 community members attended an evening of presentations and displays honoring the life, work, and legacy of Billy Frank Jr.
"The Nisqually Tribe is such a close partner because the district sits entirely on Nisqually land," says Jerad Koepp, a descendant of the Wukchumni nation and the district's Native Student Program specialist. "We celebrate the work and legacy of Billy Frank Jr. because we have all benefited from that work, native or not." Billy Frank Jr.'s work helped protect clean air, clean water, and a healthy salmon population. "This is an incredible opportunity to heal and look toward a healthier, more mutually supportive future," Jerad adds.
On the night of the event, NTPS students, staff, and board members joined Nisqually tribal members and others from the community to learn from dozens of displays prepared by classrooms in schools around the district and numerous community organizations. "The tribe and the district work closely to put together this event," explains Jerad. "It's unique because it provides the community an opportunity to engage with native people, but also see first-hand what's being taught in the schools about tribal history and sovereignty."
Display topics included treaty rights and advocacy, civil disobedience, and environmental stewardship, among others. The evening's program also included a performance of traditional Nisqually song and dance by the Canoe Family, led by a nephew of Billy Frank Jr., Hanford McCloud, as well as a short talk by tribal chairman and son of Billy Frank Jr., Willie Frank III.
Attendees learned about the statue of Billy Frank Jr. that will soon be displayed in the National Statuary Hall Collection in the U.S. Capitol in Washington, D.C. In 2021, Rep. Debra Lekanoff (D-Bow) sponsored House Bill 1372, which authorized the replacement of the Marcus Whitman statue displayed in the nation's capital with one of Billy Frank Jr. Haiying Wu, the Seattle artist who was recently selected by the Washington State Arts Commission to design the statue, also spoke at the event.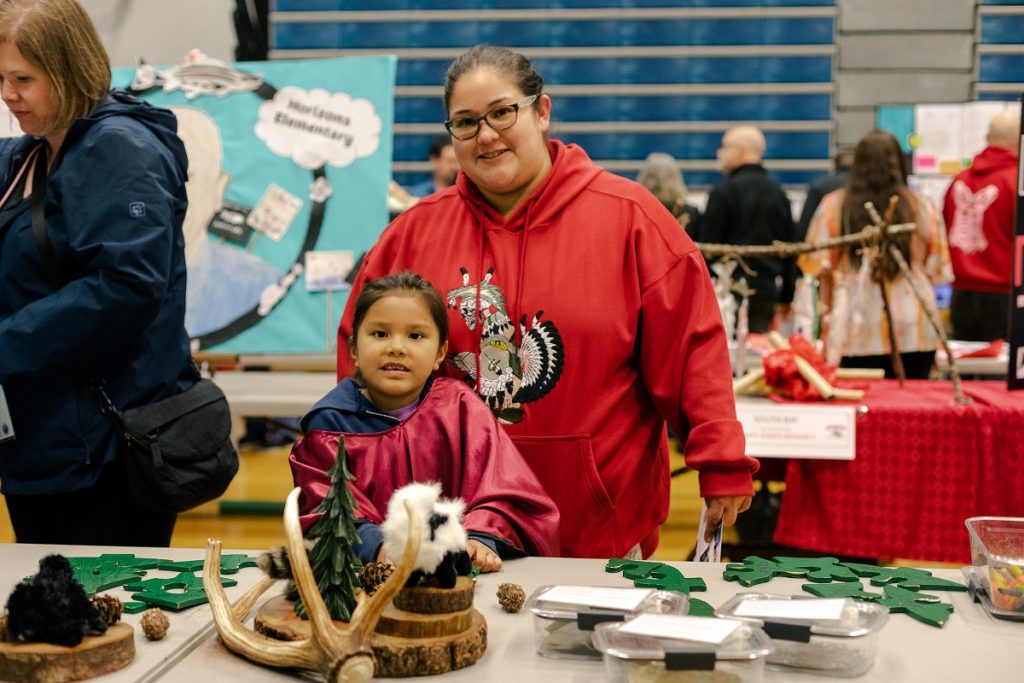 "The new statue better represents Washingtonians' love of the environment and how preserving its health and wellness is vital to native survival," says Jerad. The statue move will happen in 2024. This will be especially significant because it will mark the 50th anniversary of the Boldt Decision, a landmark case about tribal fishing rights that broadly affirmed a wider scope of tribal sovereignty, causes Billy Frank Jr. fought to defend.
"This day brings honor and joy and awareness," says Hanford McCloud. "It's a reminder of the generations of people and events that are important to us to celebrate. It's good for us to be in public schools so we can build on Uncle's work." He hopes the activism Billy Frank Jr. practiced has paved the way for more young tribal members to become more engaged in local government at all levels. "More kids will stand up and talk about our resources and our needs because we have his blueprints."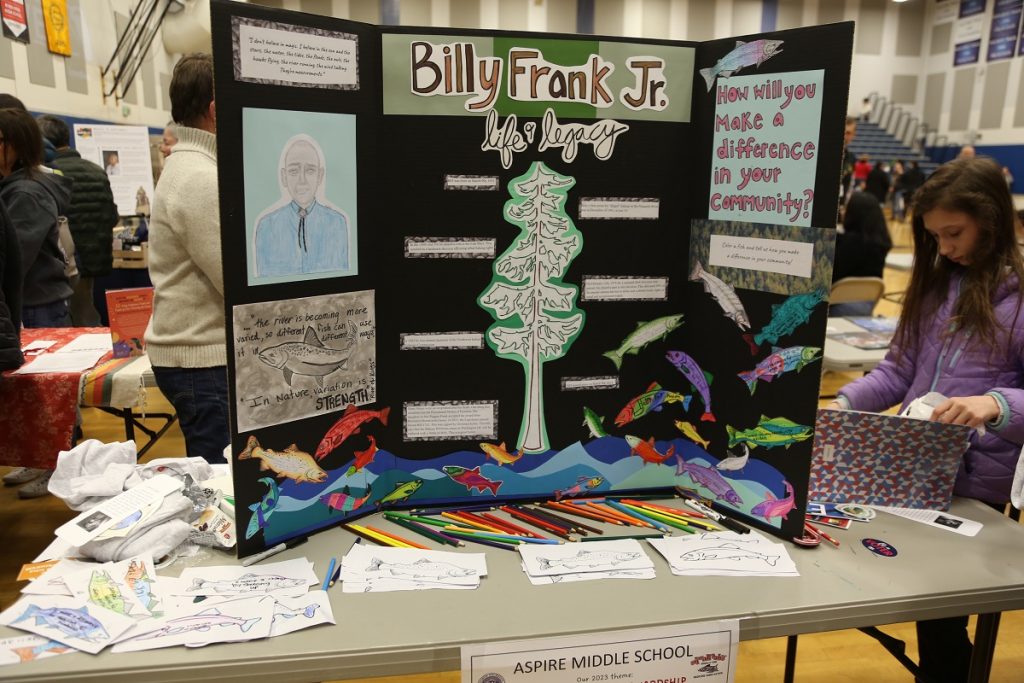 Events like the NTPS Billy Frank Jr. Day celebration are incredibly impactful to young Native Americans. Jerad's work supports roughly 230 Native American students around the district who represent more than 50 nations, bands and villages. "Not only do these kinds of events provide an uncommon experience in a school setting, but many native students have only learned about themselves in the past tense," says Jerad. "When you have events like this, not only do native students get to see themselves in a contemporary presence, but they get to see themselves being celebrated and respected in a community space. The representation is deeply inspiring, it's incredibly healing, and I think it builds a lot more trust and confidence not just in education but in one's own identity."
Learn more about NTPS's partnership with the Nisqually Tribe here.
Sponsored