Admit it, you love a great deal. Coupons, rebates, BOGOs, discount codes…they're addicting. And while saving $1 off your next latte is great, imagine saving hundreds on a full year of fun and activities. At Olympia Country & Golf Club (OCGC), join during April, May or June and they'll waive the initiation fee for yourself or your whole family.
But, I can hear you saying now, what if we don't play golf? No problem! OCGC is a family-friendly destination for games, fitness, swimming, classes, dining and waterfront views. Or make your love of the links a reality with golf lessons for any age or experience level.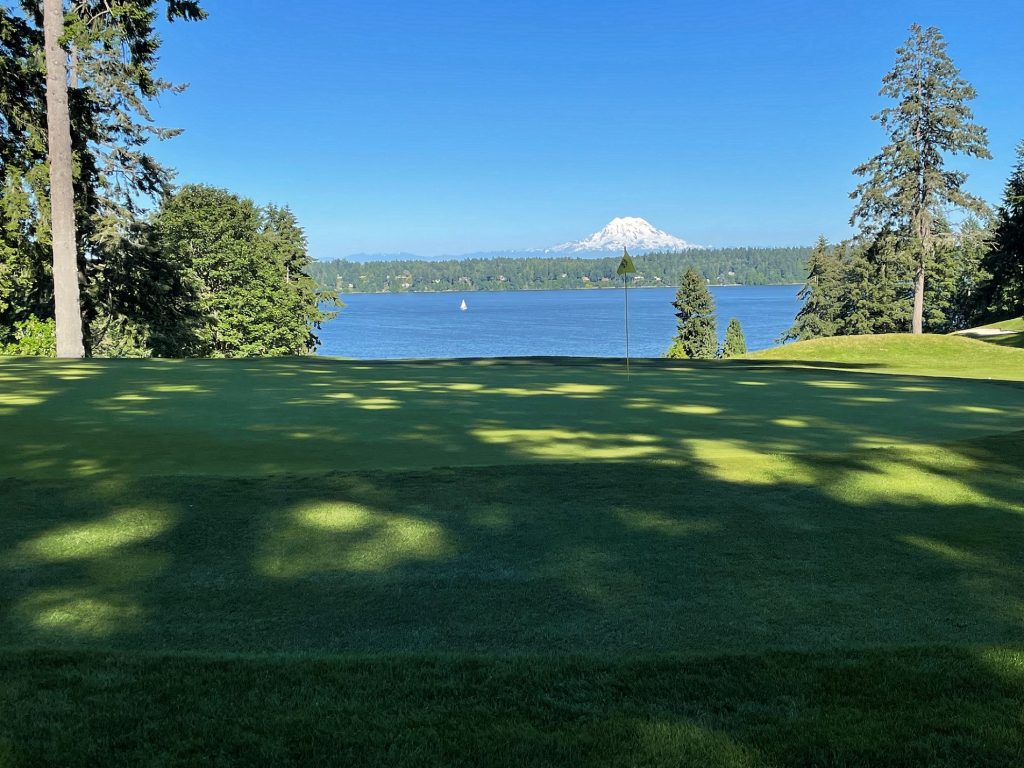 Spring Sign-Ups Save You Money at Olympia Country & Golf Club
Membership at OCGC isn't just a single tier, there are categories for every person, family and budget. For golfers, consider a single or family golf membership that includes social privileges for the spouse and children. Out of area options are even available when one adult lives 40+ miles from the club. Enrolling during the spring sale can save players between $500 and $2,000.
But it's not only about the green, save cheddar when purchasing a golf-free social membership for individuals or families. These include use of the restaurants, clubhouse, practice areas, waterfront swimming pool and fitness room for one person or their immediate family. The same amenities are available on a corporate level too, which allows up to four people to use the facilities.
A Full Calendar of Events at Olympia Country & Golf Club
Club CEO Josh Bridge is proud of all the club has to offer. "We have lunch and dinner specials every night, wine classes, holiday events, family events, a game room, outdoor pool and more," says Bridge. And he's making the club's goal for 2023 simple: fun!
Director of Golf Mark Jensen agrees. "Like Josh said we are all about fun around here," says Jensen. "For the golf side of things, we have a very busy schedule April through October." Monday, Wednesday, and Fridays they host a large group of men golfers who play regularly at 11 a.m. "They are very welcoming and receptive to new members that join," says Jensen.
Tuesdays find a ladies group enjoying 18-holes around 9:30 a.m. and then stopping for lunch afterwards. They're also a great group looking for more to join. On Thursdays a 9-hole group of ladies play at 9:30 a.m. and stay for lunch as well.
Saturday morning is a large group of men that play from 7 a.m. to 9:30 a.m. and Sunday is packed with couples playing in the afternoons. "For both men and women, we have many fun competitive events throughout the year," says Jensen. OCGC's Junior Golf program runs Monday mornings from late June through August for kids 5 to 13 and is limited to members. The student to teacher ratio is only 3:1 and combines learning fundamentals, rules, etiquette and play time on the course.
Olympia Country & Golf is More Than Just Golf
Feeling sporty and wanting to try something new? Try out OCGC's pickleball court or sign up for one of several 2023 tournaments. There is regularly scheduled weekly play and men's, women's, or co-ed team opportunities.
Warm up or cool down in the club's fitness center which comes fully stocked with treadmills, elliptical machines, recumbent bike, cable weights, medicine balls and Swiss balls. There are classes in yoga, core, stretching and nutrition and the center is open seven days a week from 6 a.m. until 9 p.m.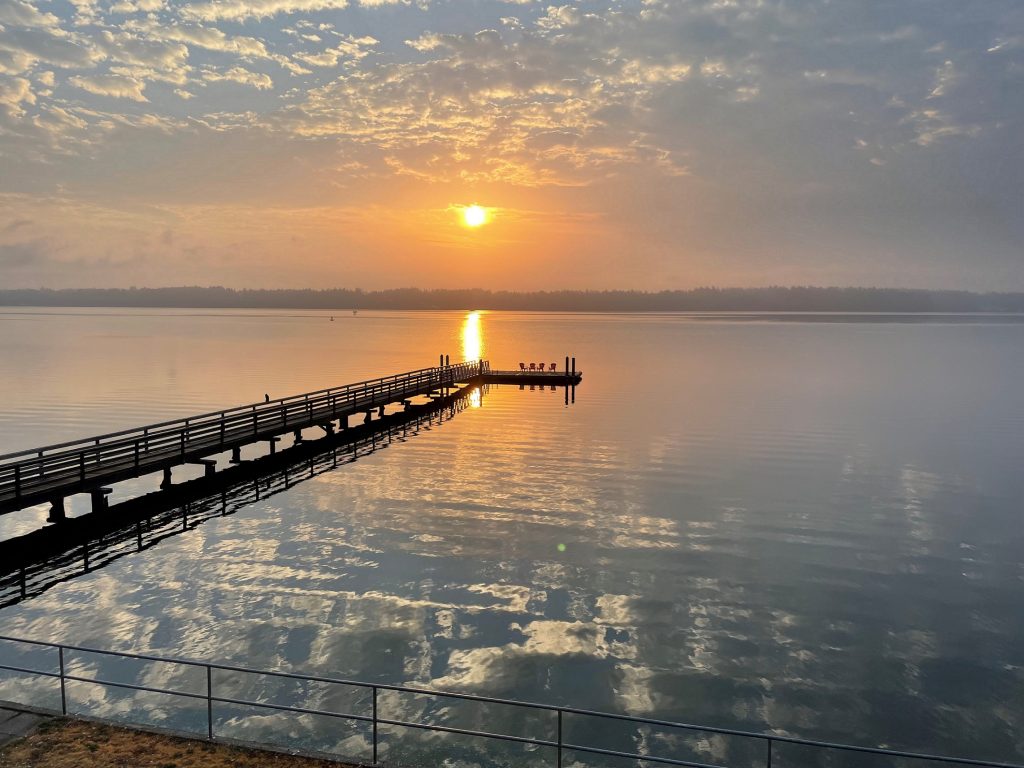 Then head over to Terrace on the Green for a variety of fresh, delicious, hand-crafted options including Northwest Cioppino, pastas, 45 day dry aged steaks, pizza, burgers and a bar menu for tasty bites. Their lighter On the Go options are perfect to grab and dash. Reservations for Terrace on the Green can be made through OpenTable or by calling 360.350.0929. Ask about their new retail wine sales and pick up red, white or rose to take home. The restaurant is open from 11 a.m. until 8 p.m. Tuesday through Thursday, 11 a.m. until 9 p.m. on Friday and 8 a.m. until 9 p.m. on Saturday. Check out unique dining experiences on their monthly calendar of events.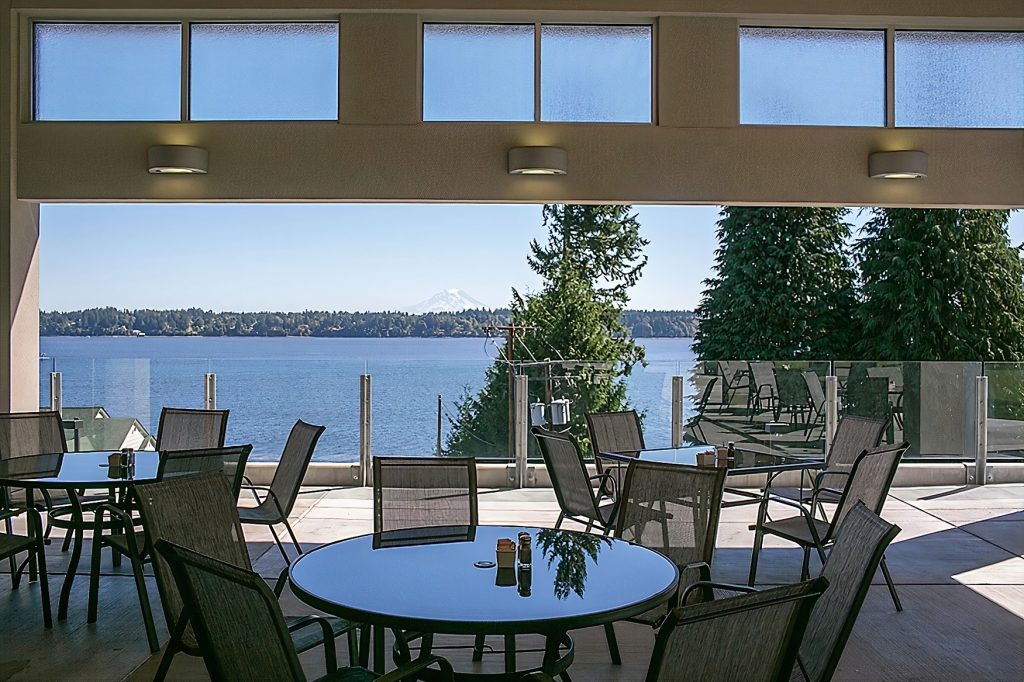 Know a couple or business, group, or organization looking for a venue to host the perfect venue? OCGC can turn your wedding, reception, family reunion, office party or birthday into an affair to remember. The club's catering and events team can handle it all. Call 360.972.9958 to get started.
To start the membership process, download the application then drop it off in person, by mail, or email to josh@olygolfclub.com. Contact Josh or the club with questions at 360.866.7121 and get in on the hottest deal in town while you can.
Sponsored