Middle school years are more complicated than they were in the past, with today's multiple pressures, an abundance of options, and the weight of expectations, all happening during the ups and downs of adolescence. And if you are a highly capable or gifted student, these stresses may feel even more challenging. But for the past three decades, NOVA Middle School in Olympia has been transforming these important years into a unique and exciting path to success for its students.
And you can join current and former students, staff, faculty and parents to celebrate NOVA's 30 years as an accelerated independent middle school combining academic rigor with social and emotional learning. On May 19 NOVA will hold an alumni quiz bowl for all ages. And on May 20 the school will host a 30th anniversary celebration for 21+ with food, music, activities and auctions.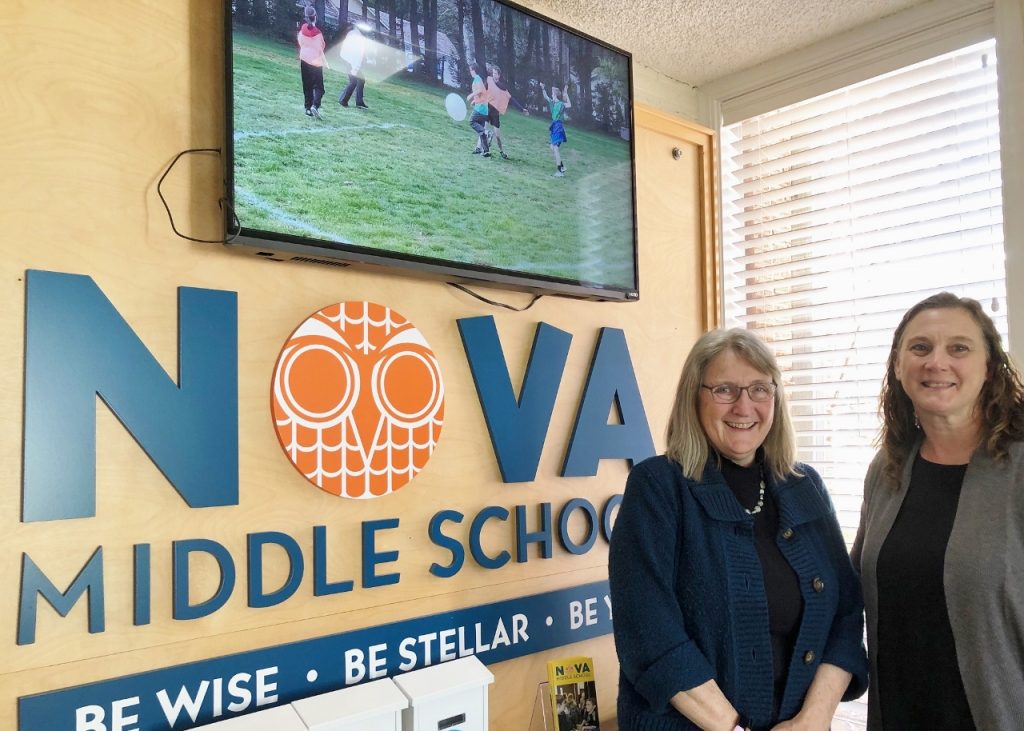 NOVA is a Welcoming and Transformative Middle School for Highly Capable Students
"One of the things research shows is that students who are highly capable need highly capable peers," says Tiffany Price, head of the private school. "They want to have conversations with them. It's often here that they find their 'tribe.' They become super confident in being themselves."
NOVA focuses on making students' middle school experience a transformative time, not lost years. The school's small classes target that goal. "For us, being in a small enough school means everyone gets to know everyone, teachers and staff as well," says Price. Price notes that students often describe NOVA as "welcoming" as well as "kind," "accepting," "supportive" and "respectful." "I stand outside and welcome kids every morning," she says. "Some of the kids join me. One kid often says to others as they enter the school, 'Don't have a good day – have a GREAT day.'"
NOVA Serves the Whole Middle School Child With Academics Plus Social and Emotional Learning
The middle school in Olympia offers programs for highly capable learners, who are students demonstrating academic advancement in one or more areas. NOVA curriculum features rigorous core academic classes in language arts, math, social studies and Spanish, plus multiple enrichment classes and extracurricular programs, activities and clubs. Students also learn emotional wellness and personal development. At NOVA, this means providing academic instruction is just as important as teaching students how to learn and how to get along with people.
"It gives students agency and self-confidence, and the ability to self-advocate, to make sure their needs are being met, that they are being noticed, and that they are being successful not just in academics but also social and emotional and nonacademic ways," says Price.
"They have a class on social-emotional learning, and that is incorporated into all classes all day," she adds. "They learn how to apply it to other places." Long-time NOVA math and PE teacher Linda Manning helps implement this objective. "We work on how to communicate, listen, work as a group, and come to decisions," she says. "We teach them how to be humans."
NOVA's philosophy is to teach the whole child, using a strengths-based approach. Price says some students may be gifted or exceptional in some areas but not in all subjects, or may have some additional challenges such as dyslexia. "We say, 'that's cool.' We will work with you to make sure you are successful," she explains. Staff and faculty help students become well-rounded.
"We also recognize that they are middle schoolers," adds Manning. "There is no expectation that they come in as perfect students, but they will be really solid people when they leave."
NOVA also offers enrichment classes in visual arts, French, songwriting, robotics, cartography, photo manipulation, crocheting, theater, chess, exploratory programs, physical education and more. "We are not just science based, or just arts," says Manning. "We offer all programs to all kids. They can dabble in something and find out if they are passionate about it. They can explore more deeply, and explore who they are."
Private Accelerated Middle School in Olympia Prepares Students for High School Success
NOVA is a 501(c)(3) nonprofit with a volunteer board of trustees. Each year NOVA serves up to 108 enrolled students in small classes supported by 18 faculty and staff. The school has graduated 763 students since it opened as an accelerated private middle school in Olympia in 1992, and its students go on to attend area high schools. Price says NOVA alumni report that the school gave them great tools for future success. "We have very specific alumni stories saying, 'I went to high school, and I could not believe how well-prepared I was,'" she says.
While there is a 2023-2024 school year waiting list for sixth grade, spaces are still available for seventh and eighth grade. Visit the website to learn more about the NOVA accelerated middle school for unique learners in Olympia, arrange a tour or sign up for 30th anniversary quiz bowl or celebration.
Sponsored