Olympia High School (OHS) alum Maggie Bean is the 2023 Athletic Hall of Fame inductee at OHS, receiving the Great Respect of Winning Legends lifetime achievement award. Bean's experiences span coaching and teaching physical education, as well as 1970s-era volunteer fire service to becoming the first woman firefighter in the City of Lacey. As a team player, a leader and a role model, she has accumulated an admirable list of accomplishments of which she is very humble and doesn't hesitate to attribute her successes to those who supported her along the way.
Maggie Bean was Always Into Sports
Sports were a focus from an early age. She started playing softball at 12-years-old and then joined the Port Angeles Blue Angels while in high school. Without an organized softball team at OHS, she played on community teams. Competing nationwide with the Yakima Webbcats, she was an All-American and catcher for Hall of Fame softball pitcher Billie Harris. Bean continued athletics, lettering in gymnastics, field hockey and basketball at Central Washington University.
Tumwater Fire Department Volunteer and Olympia High School Teacher
Her former physical education teacher Gwen Williams invited Bean to be interviewed for a job at Olympia High School. She got it. After taking a class at the Tumwater Fire Department, she felt a calling for fire service. Though women were uncommon in the field at that time, she went full steam ahead, becoming a dedicated volunteer firefighter in addition to teaching and coaching.
"I never mentally thought of it as a challenge," Bean says. "I kept thinking, 'This is the greatest job in the whole world, and I'm really accomplishing something.' There is no feeling that can match going into a building that everyone is running out of and being able to help people and then come out of that thinking, 'Wow, what a rush.' And it is."
For 18 years, Bean taught high schoolers; coached sports in the evenings and on weekends; attended Tuesday night fire drills in Tumwater; and remained on call as a volunteer firefighter.
Bean brought drive, determination and competitive college sports experiences to coaching volleyball, swimming and basketball at OHS. She also brought gymnastics to a competitive level at the school. Without an organized softball team, Bean coached her students in a community team, the Darnell's. Winning state and regional tournaments, they went on to the national tournament in Texas.
"All of the times where the kids did really well in sports, it was because of them," Bean says. "It wasn't me. I was tagging along, and they were just making me look good."
Rewarding Career at Tumwater and Lacey Fire Departments
In the winter of 1985, a paid position at Lacey Fire Department 3 moved her towards the fire service career she loved. Hired as the first woman firefighter in Thurston County, she engaged full time in fire service. She can recount stories upon stories about helping people. Following up on an injured boy with casts on his legs, Bean and her crew rigged up a wagon for his mother to transport him. Holding a tiny newborn in the palm of her hand while performing CPR and seeing the baby begin to breath was a particularly frightening and moving event.
"Over all the years, things happened that were initially a horrible thing that turned out with a good result," Beans says. "Or, if the result wasn't exactly what you wanted for them, you could at least help them and get through it. I can't describe the way people look at you and the way they respond when that happens. When you walk in and say, 'The fire department is here. It's going to be okay.' When you show up and you can see that they are relieved and you can do something to help them, that's the reward."
Bean also witnessed changes and advancements in life saving techniques. Responding to an accident scene with her partner Steven Henderson, they carried the first defibrillator in the county on their aid unit, and saved a man's life with it.
Maggie Bean: Olympia High School Athletic Hall of Fame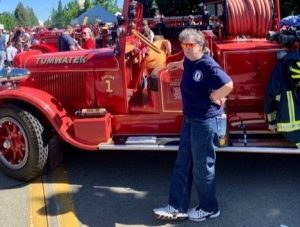 Many who have gone above and beyond and contributed to OHS sports are honored in its Athletic Hall of Fame. Bean credits the skills and hard work of the players she coached. She also attributes her success to those from whom she learned and received support along the way, including her parents, coaches, teachers and coworkers. She values lessons learned from Harris, a softball legend and her teammate. Williams, her P.E. teacher and eventually her coworker at OHS, was a mentor for her. And, lessons learned alongside fellow firefighters during 32 years in the fire service are all a lattice of support.
"I didn't get this by myself," Beans says. "There's a lot of people standing behind me who said, 'Okay, kid, you can do it?' It goes back to everybody who helped me along the way."
Maggie Bean will receive the GROWL award at the 2023 hall of fame dinner and auction on March 25 at the Olympia Ballroom. A plaque honoring her contributions to OHS sports will hang in one of the gym foyers. She feels very lucky to have had two solid careers that made her happy to get up and go off to work every day.