Exciting news! Alliance Athletics in Olympia has grown from 800 to 1,600 square feet. "We consolidated to one space. Everything is under one roof," says Scott Drapeau, owner/operator. It's literally a big change that gives more room for equipment and for members to move around. Over the past few years, he has been growing his business side by side with growing his clients' physical and mental muscles.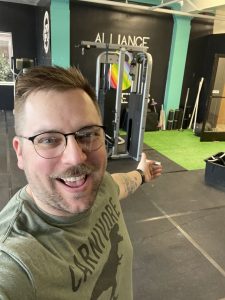 Olympia Gym Promotes Inclusive Atmosphere
Alliance Athletics, a black iron gym, is "old school iron with new school acceptance," explains Scott. The gym community is consciously geared toward acceptance, respect, dignity and safety for everyone. "There's no bullying, no bigotry, no bad vibes," he adds.
Not every gym is a place where people who identify as LGBTQIA plus (lesbian, gay, bisexual, transgender, queer, intersex, and asexual people) can feel welcomed. It is also welcoming to anyone who has not felt comfortable in a gym before. More than one person has told him his gym is the only place they have felt truly safe. Alliance Athletics is great if you're a hardcore lifter. It's fine if you are brand new. You can grow in strength both inside and out.
"It's a night and day difference from a corporate gym," explains Scott. Many gyms can be joined online and then you show up. The doors at Alliance are locked so non-members cannot wander in. Interested individuals set up a personal interview to meet with Scott. You will get a tour of the gym, learn about its programs, and discover if it's a fit. Once enrolled, you'll have 24/7 access to the gym. There is an online reservation system to make sure there is adequate space for you to do your workout. You won't need to wait for machines at Alliance.
Three Program Offerings from Alliance Athletics
Basic Gym Membership
$69/month

This gives you all-hours access to the gym through the reservation system. This is works well for anyone who is accustomed to working out or has previously had coaching.
In-person Coaching with Training
The Founding 40 (the first forty people who sign up) get a locked-in price of $369/month. After that the price increases to $469/month.
"We specialize in brand new lifters," says Scott. You need no experience, only the desire to participate fully. You will get a personalized workout plan with specific sets, reps and weights.
Once a week you get a session with the trainer. It can be hard to assess your own form, but you don't have to with the Founding 40! "You can take your own videos to submit for form feedback," he adds.
Your plans will keep you from aimlessly walking around wondering what to do next. "You'll really know what you'll do at the gym," assures Scott.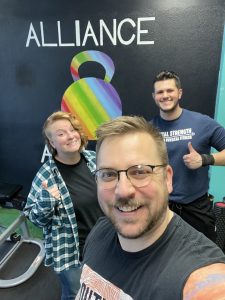 Hybrid Option/No Physical Contact
$199/month
You get personal attention with remote help. Set goals, have accountability, and make progress wherever you do your workout.
Scott's intention is that coaching is a temporary situation. "You don't need us forever," he says. Coaching is a way to learn what your workout is doing for your body.
Massage Therapy in Olympia
Alliance Athletics has a private massage room. In addition to being a powerlifter, Scott is a LMT (Licensed Massage Therapist.) He fully understands the body, what's happening when you work out and how massage can relieve soreness and speed healing. He wants your body to recover optimally.
Weight Training in Olympia with a Focus on You
Alliance Athletics puts customers and employees first. "We pay our employees better wages," he says. "The customer experience is absolutely important," emphasizes Scott. "They are the stake holders." Money goes back into the business for improvements and expansion.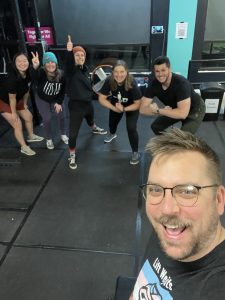 Alliance Athletics keeps its eyes on the future as well as its members. The building has space for continued expansion. There are plans to offer classes, add more equipment, install showers, an infrared sauna, and provide daycare. In the meantime, you can connect with Scott and trainer Andrew Murrow. Kim Rush has been a competitive power lifter and is joining the coaching team as well.
People lift weights – we used to call it pumping iron – for many reasons. Some people compete. Some think its fun. It is way to gain strength in body and mind. You might meet like-minded people. "We meet people where they are," says Scott. It doesn't matter if you are young or old, what your body weighs or how you look. "We want you to gain confidence."
"I care about everybody that comes in," says Scott. He likes to check in with everyone, using his knowledge and experience to support others to find passion for strength training. "It's a huge reward for me," he says about watching people progress.
Alliance Athletics is a place where you come as you are. "We want to get a barbell in everyone's hands," says Scott. Schedule your No Sweat Intro here.
Alliance Athletics
514 Adams Street SE, Olympia
360.233.3355

Sponsored