The Easter Bunny signifies so many good things – including the budding of flowers and the ushering in of better weather – which makes it the perfect time to preserve a lasting memory of your child or entire family with a professional photo. Get your Easter Bunny photos in Olympia at the Capital Mall March 25 through April 8, 2023.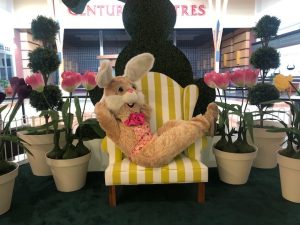 Easter Bunny Photo Reservations Make Planning a Breeze
Kids grow up so fast! Getting professional photos that you can cherish forever is important, and the Capital Mall makes it easy with the Easter Bunny! You can just show up and wait in line between the hours of 11 a.m. and 7 p.m. Monday through Saturday and Sunday 11 a.m. to 6 p.m., or make reservations online. Reservations guarantee you a time slot so no need to wait! (Please note that the Easter Bunny takes a 15-minute carrot break at 1 p.m. and 5 p.m. Monday through Saturday, and at 2 p.m. on Sundays.)
Online reservations are easy via the photographer's website. Just pick your day and time and pay the $20 deposit. The deposit holds your spot and is a $20 credit towards a print or digital photo purchase. Photo options include prints, digital high-res downloads along with specialty items including key chains, Easter snow globes, 5-inch by 7-inch painted wooden frame, 5×7 lighted wooden frame and 5×7 resin frame. Items are available while supplies last and photos are not included.
Those without reservations are taken as time allows, so it is best to schedule a time now!
The Easter Bunny will be located at the Macy's Court. The closest parking is by Century Theatres. Then just follow the bunny feet to his springtime garden!
Fill Your Easter Baskets at Capital Mall
The Easter Bunny is so busy, sometimes he needs a little help. Come early, grab a coffee at Northwest Grind and do some Easter basket shopping. The stores at Capital Mall have something for everyone. Small lotions and sprays from Bath & Body Works hide beautifully in colorful artificial grass. Video games from GameStop or card games from PLAYlive Nation or Go! Calendars also fit well. Find tiny blind boxes, fun pens – including cute bubble tea topped pens for those into the boba craze – and other trinkets to nestle in the basket at BoxLunch, Koneko Kafe and Hot Topic. Hot Topic and Claire's are also great places to shop for pieces of jewelry that your kids are sure to find fun and popular! Stop by the Pop It Toys kiosk for fidget spinners that also tuck perfectly among the chocolate bunnies. If your filling baskets for an older crowd, gift cards from any store are great too!
Of course, you can't have an Easter basket without sweet treats! So, after your photo head over to Cost Plus World Market for unique easter basket treats you won't find anywhere else, plus all your traditional favorites. Don't forget a plush bunny or two!
Hop on over to the Capital Mall this spring to get your Easter all in one basket! No need to drive all over town. You can get your Easter Bunny photos in Olympia and your must-have Easter basket fillers all in one space.
Sponsored