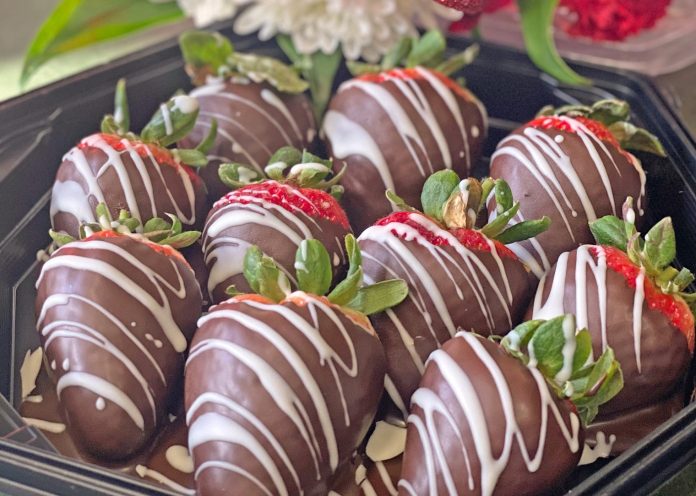 Americans are predicted to spend $26 billion celebrating their love this Valentine's Day. That's an increase of nearly $2 billion over last year's spending alone. Whether you plan an ornate night on the town or some stay-at-home snuggling, let Ralph's and Bayview Thriftway stores provide exactly the right gifts for your special someone – even if that someone is you!
Cupid's just around the corner so if you're wanting a customized bouquet or freshly baked delicacy, don't wait too long. Many of Thriftway's departments offer bespoke treats but require advance notice to craft the perfect item. For those who tend to be last minute shoppers, never fear. There will be plenty of grab-and-go options that your loved ones will adore.
Valentine's Day Flower Bouquets
Thriftway's Floral Manager Becky Eliason says that leading up to Valentine's Day they'll be receiving a wide variety of bouquets along with azaleas, jasmine hoops and roses. "We should be getting in some fabulous vases too," she adds. "Custom orders the week before are greatly appreciated!"
To place a custom order, call the floral department at 360.943.9921 as early as possible and they'll be able to craft a beautiful blend of colors and scents enhanced by the perfect vase or accessories.
Both the Floral and Housewares departments will also be stocked with unique gifts for everyone on your list. Classic items like boxed cholates and soft, heart-bearing plushies can accent special finds around every corner.
Surf and Turf with Chocolate Strawberries? Yes Please!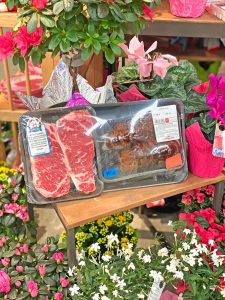 Check your electronic wallet's shopping balance through February 6 because you'll receive one point for each dollar spent until that date. Earn 400 of these Cupid Points and redeem them for a free surf and turf dinner for two. Dinner includes two Painted Hills NY steaks and a pair of lobster tails. Simply add butter, salt, pepper and love and you'll be your special someone's chef extraordinaire.
Steak and lobster pickup begins Tuesday, February 7 through Tuesday, February 14 until 10 p.m. that night, says Marketing Director Ashley Peterson. They'll also offer heart shaped steak cuts on February 13 and 14, be sure to check the butcher's case for sizes and specific cuts.
Finish the meal with freshly dipped chocolate covered strawberries, a beloved Thriftway tradition. These in-house dipped and decorated beauties are available while supplies last on February 13 and 14. Or stroll back to the bakery for Valentine's cookies and pastries which are the ideal gift for teachers, coworkers, friends or yourself on the drive home.
Get Shopping, Get Planning, Get Gifting this Valentine's Day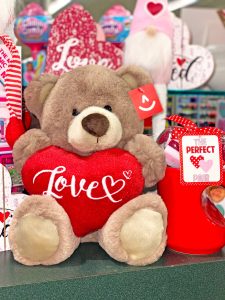 Both Thriftway locations are holiday headquarters, with Ralphs's open 24 hours a day, seven days a week. Swing by and let inspiration strike or call ahead to order flowers and baked goods. No problem if you're more of an add-to-cart type. Their online shopping experience is quick and easy and counts towards your accumulating Cupid Points balance.
When shopping through the website, you can search for showcased sale items, previously purchased favorites, or simply browse by store category. You can even leave things out, limiting results to those which are gluten free, organic, vegetarian or EBT eligible to name a few. Then schedule a pick-up time that's convenient and head home to prep for the perfect Valentine's dinner, date-night, brunch, office party or school card exchange.
Are you one of the many romantics planning to tie the knot on February 14? Consider Bayview Catering when it comes to planning your reception. Their seasonal menus will help turn any occasion into one to remember. From buffets to appetizers and finger food, dinner to dessert, there's something for everyone.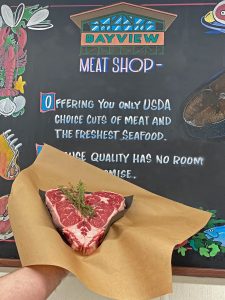 Or pull up the Bayview School of Cooking's class schedule and wow your honey with a homemade meal. Online registration is easy, and each session includes tastings that are sure to inspire. Call 360.754.1448 with questions or to register by phone. Follow them BSC on Facebook for delicious photos and upcoming classes.
Valentine's Day brightens the winter doldrums with a flash of color and hit of sweetness. Now that the holiday decorations are stowed away for another year, brighten things up with a trip to Ralph's and Bayview Thriftway stores for items to make your home, family and loved ones feel special and cherished. Steak, lobster, chocolates, wine, flowers and dipped strawberries always set the mood perfectly.
Sponsored