SW Washington is known for its trees, beer and coffee. And not necessarily in that order! Whether you live and play here or are visiting Olympia for the weekend, you would be remiss to not check out the amazing coffee shops in Olympia's Downtown Historic District.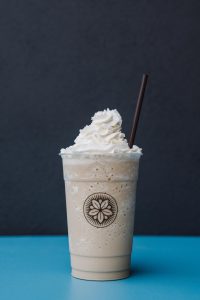 Dancing Goats Coffee Downtown Olympia
550 Capitol Way S, Olympia
360.786.6717
The coffee shop formerly knowns at Batdorf & Bronson serves up incredible drinks featuring their own blend of fresh-roasted coffee beans. Dancing Goats Coffee offers elevated espresso drinks as well as fresh coffee by the pound, so you can take a taste of the Pacific Northwest with you.
Burial Grounds Coffee Collective
601 Capitol Way S, Olympia
360.890.4597
Want coffee with an edge? Burial Grounds Coffee is not your mom's coffee shop – unless your mom is a cool biker chick that cares about the planet and is fine with NSFW item names on the menu. They have drinks you won't find anywhere else – like the Chupacabra, which is a raspberry mocha with Ibarra mocha and chipotle. You owe it to yourself to try this place at least once.
They are also a vegetarian and vegan paradise! Burial Grounds Coffee in Olympia offers an assortment of vegetarian and vegan fare, including scrumptious vegan empanadas made fresh from Alfajores Olympia. You'll want to finish with a Blue Heron Bakery sweet.
The Owl's Nest Coffee and Pastries
116 Capitol Way N, Olympia
360.584.9085
The Owl's Nest Coffee and Pastries in Olympia is a vegan restaurant that pairs the owner Shelby Haggard's made-from-scratch vegan recipes with Trailhead Coffee Roasters coffee. Some of her selections are gluten free as well! You can often find local artists featured in her shop with artwork on display.
Ember Goods
422 Washington St SE, Olympia
360.338.0315
This unique coffee store has sweet and rich espresso paired with a fun shopping experience. Ember Goods' drinks are crafted using their own freshly-roasted coffee. Something rare they offer is vegan caramel for your coffee that's out of this world and a rare treat for the dairy-intolerant. The shop side features items for your next adventure including hats, clothing, soaps and other necessities.
Bar Francis
110 Franklin Street NE, Olympia
360.292.5446
The Bar Francis is a simple, locally-owned coffee shop in downtown Olympia that is perfect for those looking for a quiet place to grab a quick coffee to go, or to sit and read for a bit. From delicious donuts to cold brew that will give you the kick start you need, they are worth a visit!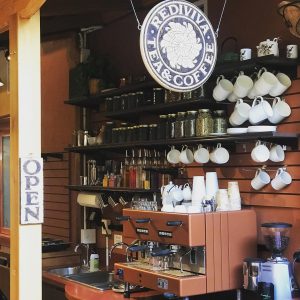 Rhythms Coffee
210 4th Avenue W, Olympia
360.706.2717
If you like local talent with your coffee, check out Rhythms Coffee in Olympia. Almost every night their stage is booked with either local music or open-mic poetry. They serve local area Blossom Coffee and have treats from the Bread Peddler that pair well with their house-made syrups.
Olympia Coffee Roasting
600 4th Avenue East, Olympia
360.753.0066
Olympia Coffee Roasting, as the name implies, serves up handcrafted drinks made with their very own coffee blend. If you like strong coffee, give them a try! Full of rich notes, their coffee pairs great with the pastries they offer in case you are in need of a bite to eat.
Revival Motors & Coffee Co.
412 4th Avenue E, Olympia
Like the sound of a roaring engine? Check out Revival Motors & Coffee Co. This unique place to get coffee in Olympia has a garage that restores and repairs all manners of motorcycles. The café serves Caffe Umbria coffee from Seattle and offers community classes on motorcycle topics like maintenance tips.
Rediviva Tea & Coffee
704 4th Avenue E, Olympia
360.915.7921
If you are looking for a unique atmosphere to accompany your favorite coffee drink, try Rediviva Tea & Coffee. It feels a bit like an old-timey western saloon, but instead of hard liquor and tobacco, you're treated to incredible coffee and unique drinks.
San Francisco Street Bakery (Schwartz's)
124 4th Avenue E, Olympia
360.688.1853
The San Francisco Street Bakery's downtown Olympia location is full of every type of baked good you could be craving – from Danishes and scones to cookies and pies. They serve up Dancing Goat espresso drinks that pair perfectly with their freshly made goods.
Sponsored