Bold signage identifying the Olympia Brewing Company and its "Visitors Welcome" message greeted travelers passing through Tumwater. People took up the offer to stretch their legs, tour a brewery and sample Olympia beer. Preparing for an even greater influx of visitors with the 1962 Seattle World's Fair on the horizon, the Olympia Brewing Company remodeled its guest lobby and business offices. Now, 92-year-old Jack McBride, lead architect with Douglas Bennett Design, has donated his architectural drawings from the Olympia Brewing Company 1961 lobby remodel to the Schmidt House.
Olympia Brewing Company Architectural Drawings Surface After 60 Years
McBride's son-in-law, Bob Embrey, attended a continuing education council meeting at the South Puget Sound Community College (SPSCC) and Heritage Distilling Company building in Tumwater. When Embrey discussed his recent trip, McBride recalled still having original architectural drawings from the Olympia brewery lobby remodel. A colleague from the conference connected Embrey and McBride with the Schmidt House in Tumwater.
McBride's hand drawn work, 11 sheets, each measuring 24 inches by 36 inches, were handed over to Karen Johnson, curator of the Schmidt House. Once the home of Olympia Brewing Company founder Leopold Schmidt, the nonprofit that cares for it has received many donations over the years, becoming a steward of archived materials.
"Anything we can get from the public or an institution is great," Johnson says. "It all helps preserve the history of the Schmidt family and the brewery. For decades the brewery was the biggest employer around. Anything we can do to preserve that legacy is great. I love when people call and say, 'I have a knick-knack that I got from the gift shop in 1970.' Although we have plans, photos, and documents from the old brewery, we could always use more. Sometimes those blueprints or photographs are the only things that remain."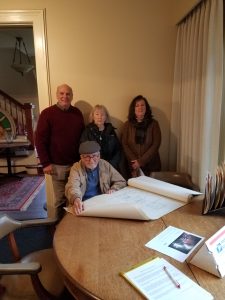 McBride's drawings will be archived and safely stored along with the 1,500 to 2,000 construction drawings, photos and records from the 1896 and 1933 breweries. "I hope to find a way to share them with the public, either photos or on display," Johnson says. "There is no point to collecting if we don't share it."
Olympia Brewery Remodel Designed by Washington Talent
Jack McBride showed design talent from a young age. His family still has a detailed perspective drawing he sketched at around 7 years old as well as drawings of planes and commercial building elevations he did while working for an architect in Longview during high school.
"I knew what I wanted to do when I was 14 years old," McBride says. "I knew I wanted to be an architect. I got into architecture through my uncle, Alfred Ybarra, who was an architect and artist who created the set design for John Wayne in 'The Alamo.' He took an interest in me, and I'm glad he did. He would come up to Seattle with his wife, my dad's sister, and he would sit down with me, and we'd make sketches and drawings."
After graduating from the University of Oregon in 1959 with a degree in interior architectural design, McBride went to Seattle for work. He was hired on the spot by Douglas Bennett and assigned to his first job as lead architect on the brewery remodel.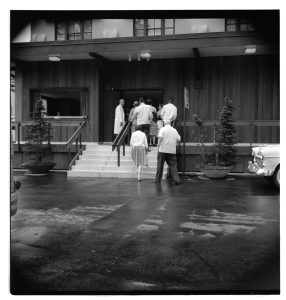 "It was a major job," McBride says. "The biggest problem I had was connecting that building to the old building to the other building with big beams and creating a porch area where you could walk in. I learned a lot about how they received people and took them through."
Olympia Brewing Company Tours Drew One Million Visitors
Guests passed through the lobby in droves, and the brewery logged its one-millionth visitor on August 14, 1962 and expected 250,000 for the 1962 year alone. Visitors signed in and picked up complementary postcards and brochures while they waited for one of the frequent tours to start.
"It was joy and happiness," Paul Knight, former head brewer at Olympia Brewing Company, says of the lobby atmosphere. "People had heard about the brewery giving a good tour, so they were expecting a good one and weren't disappointed. The friendly atmosphere going in and the beautiful environment of the reception room were really inviting. The tour guides were happy to see the people. It was an enjoyable time for them, and it got them off the road because a lot of them had been driving for hours and were happy to get out of their car."
Olympia Brewing Company publication, "It's the Water" News, included floor plans and photos of the remodeled office and lobby in its September 1962 issue. Photos showed ends of beer kegs mounted on the walls featuring encircled historic scenes. Brewery welders and regional and local manufacturers created the new staircase. McBride describes a personal touch in the design saying, "It was a teak wall in the visitor's center, and behind it was red velvet. The teak wood was spaced apart. It was dimensional, and it really looked nice."
McBride continued his career in architecture, designing interior spaces, office and dorm furniture and even the furnishings of the Bellevue library. His donation to the Schmidt House is not only part of the Olympia brewing legacy but a sample of his talented career.
Though lost to fire in 2018, the lobby remains a popular memory of company history and hospitality.