Fire Prevention Week began October 9, which means autumn is a great time to update and practice your family's fire evacuation plan. "If a fire strikes in your home, you won't have much time to react," explains State Farm Agent Melanie Bakala. "Prepare now so you can act quickly in an emergency."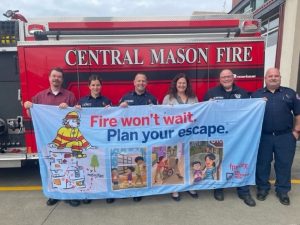 State Farm's Bakala Strongly Recommends Creating a Fire Evacuation Plan
Preparing your family with safe escape routes and instructions may be a lifesaver in the case of an emergency. Bakala says getting out and making sure everyone is safe is the crux of a fire evacuation plan. She notes that it doesn't have to be complicated. In fact, simple is better and fast is key. She offers these helpful tips.
Sketch a map of your house.
Familiarize your children with the map by pointing out the location of each room. Pasting photos of family members inside their bedrooms on the map may help younger children.
Draw two escape routes from each room — one out a door, one out a window, in case the primary route is blocked.
Designate a meeting spot a safe distance from the house, such as the mailbox.
Post the evacuation plan on the refrigerator or a bulletin board to keep it fresh in your family's mind.
Bakala Says Practice Periodic Fire Drills
A fire drill every few months will get children interested with the change in routine and keep adults in practice as well. Rehearse exactly as you'd do it in real time. Bakala says define, step-by-step, what you expect your children and other household members to do.
Start by sounding a smoke alarm so everyone recognizes the beep as an early fire warning.
Leave everything behind and follow the escape route.
Stay low to the floor when smoke is in the room. Move on hands and knees. Cover faces with a pillowcase or shirt.
Crawl to the door and touch the doorknob. If it's not hot, exit to the outdoor meeting place. If it's hot, go to a window and wave a shirt.
Stop, drop and roll if your clothes are on fire. This safety tactic prevents serious burns.
Repeat the drill until everyone masters it.
Talk next steps, like calling 911.
As always, make sure your detectors are also in working order. To contact Bakala and her team, visit the Melanie Bakala State Farm website, call 360.426.2428 (Shelton) or 360.972.7905 (Lacey).
Sponsored