Mom's apple pie. Grandma's secret recipe fudge. Slow-simmered apple butter with just the right combination of sweet and spice. We all have a favorite flavor, that treat full of memories we love to share with co-workers, friends and family. But bringing a new food to market is more complicated than just whipping up batches from home. This is where commercial kitchens are vital. These safe, clean hubs allow mom-and-pop entrepreneurs to cook, package and store their goods. Thanks to Olympia's Capital Mall, you can now make product 24-hours-a-day in their LOC-OLY Grown Commercial Kitchen for rent.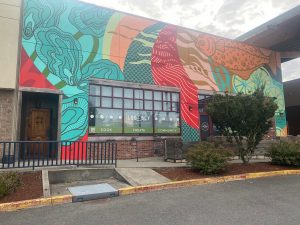 Commercial kitchens are a great way for start-ups to take the plunge without investing thousands of dollars up front in a brick-and-mortar location or a roving food truck. Items can be made safely and legally to test the waters before signing a restaurant lease, for example. The LOC-OLY Grown Commercial Kitchen comes fully stocked and is open day and night for availability before and after work, school or family commitments.
Capital Mall Provides Equipment, You Bring the Inspiration
Kitchen gadgets are often specialized and expensive. When you rent the LOC-OLY Grown Commercial Kitchen, it comes pre-stocked with equipment galore. On-site you'll find 1,000 square feet of non-cooking prep and workspace as well as everything needed to craft, package, create and clean up for the next folks.
"The community has been eagerly awaiting the opening of the LOC-OLY Grown Commercial Kitchen," says the Mall's Marketing and Business Development Manager Stef Cicerello. "Thurston County has such a large local maker community that the commercial kitchen needs outweigh the available options for local makers. We are thrilled to provide a space for these community members to create and follow their dreams."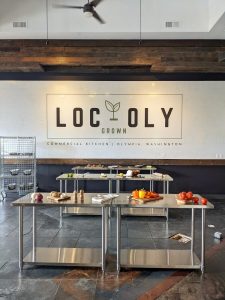 Though the kitchen is private and selling directly isn't allowed, later this year Capital Mall will be opening the LOC-OLY Grown Dining Room, which will be attached to the kitchen and will provides the perfect space for events or client tastings, says Cicerello. Until then, the marketing team is happy to work with clients on their new retail opportunities.
Designing the LOC-OLY Commercial Kitchen for the Community
"This project has been a year in the making," explains Cicerello. "A local business owner came to us and asked if we had a kitchen he could use after hours and explained the need for more commercial kitchen space in our community, especially space that is open 24 hours a day, 7 days per week. We listened, spoke to other local food-based business in the county, and decided this is an area where we can make an impact."
Cooking in a mall sounds like a strange pairing, and Cicerello agrees. "I have over a decade of industry experience, and I've never seen a commercial kitchen in a shopping center, but Thurston County is a unique area and Capital Mall must find unique solutions to best serve this community. We are so proud to open the doors of LOC-OLY Grown Commercial Kitchen to Thurston County's entrepreneurs and dreamers. We hope the space inspires them as much as they inspire us."
Commercial Kitchen Space For Rent by the Hour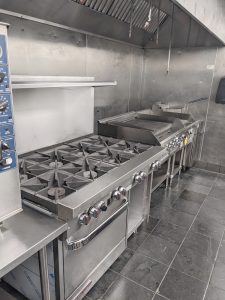 The LOC-OLY Grown Commercial Kitchen is rented out in one-hour increments, up to 90 days in advance. When hourly reservations are made, customers can add on individual equipment items all the way up to freezer, cooler and dry storage space, which are rented by the month. Cicerello is even happy to arrange a Capital Mall Pop-Up event. Call 360.754.8098 for pricing and details.
Last-minute equipment needs can be added, if the item hasn't been reserved by someone else, but must be done so at least 24 hours in advance. The kitchen is opened by keycard so budding chefs can come and go as their schedule allows. Email info@capitalmallolympia.com with questions about specific pieces, weekly availability or help selling your goods. Follow the Mall on Facebook, Twitter and Instagram for the latest news and updates.
When you're ready to get started, there are some paperwork basics you must have in order to proceed. To rent the kitchen you must have a certificate of insurance, Washington State business license, Thurston County food handlers permit, signed off on the rules and releases and provide a security/cleaning deposit. Then it's time to tie on that apron and get to work. Olympia's foodies are eagerly waiting!
With more than 100 specialty shops, restaurants and its 14-screen theater, Capital Mall has been a fixture in the community for many years. Open seven days a week, it could be just the springboard for your first—or next—culinary adventure. Thanks to the LOC-OLY Grown Commercial Kitchen, the world will finally get to taste your signature showstopper. For more information, visit the Capital Mall website.
Sponsored