Bill Beattie has been a high school head football coach for 35 years, making stops at Tenino, Elma and Olympia before taking over the reins at his alma mater, Tumwater, in 2017.

Odds are he's been asked the same question before the start of every season no matter the location: "How many starters do you have coming back?" And while the inquiry is routine, it's likely his answer this year is quite unique. "Three," said Beattie, a slight smile appearing on his face.
A natural follow up question would be, "Is that on offense or defense?" And his reply will be equally unique "No, that's total starters," Beattie added. "It's by far the lowest number we've had since I've been here."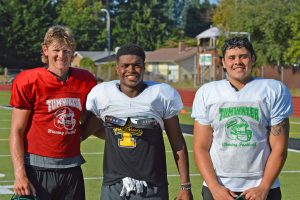 Tumwater is a program that has prided itself over the last four decades of being able to reload instead of rebuild, and it's hard to argue against that being the case considering the Thunderbirds have three times as many state championships (6) as they do losing seasons (2) since 1980. But it's a credo that will certainly be tested this year.
"No one is going to feel sorry for Tumwater football only having three starters back," Beattie said with a chuckle. "And we aren't either."
No, they're not. Not after the historic run the T-Birds have been on, which includes 11 state championship game appearances since 1987 with the most recent coming last season where Tumwater lost to Lynden, 21-7.
Lost from last year's roster was a talented senior class headlined by co-conference MVPs Ryan Otton and Austin Terry, who are now playing at the University of Washington and Boise State University, respectively.
However, if you're going to return just three starters, its likely Tumwater has the right three in running back Carlos Matheney, quarterback Alex Overbay and offensive tackle Lolomana'ia Hafoka.
"We don't believe in the word 'rebuild,'" said Beattie, who is 50-8 during his five seasons at Tumwater. "These kids have grown up in the youth programs, the middle school programs. The faces change, the standards stay the same. We're going to have some growing pains. But the same standard is expected when you hit the field."
It's a standard that's been on full display the last three seasons as the T-Birds have played in two Class 2A state championships with a victory in the 2019 title game, posted back-to-back undefeated seasons in 2019 and 2020 and strung together a 21-game winning streak, which represents the second longest streak in the program's history.
All those games, many coming in blow-out fashion, led to reserves receiving an abundance of valuable playing time, something the team will benefit greatly from this season.
"Just because we only have three starters back doesn't mean we have kids who haven't played," Beattie said. "A lot of these guys have got a lot of varsity playing time. They've fortunate to play 14 weeks in each of the last 3 years."
The T-Birds will reply heavily on the play of their three returning starters as the youngsters develop during the early non-conference portion of the schedule.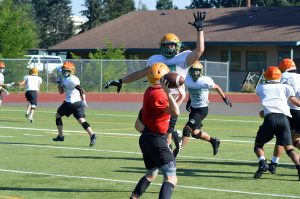 Matheney, a University of Idaho commit, will be the workhorse in Tumwater's run-heavy Wing-T offense, a year after leading the team in carries and earning first-team all-conference honors.
"He's definitely going to set the tone for us on the offensive side," Beattie said about the 6-foot, 195-pound Matheney.
Matheney admitted to recently watching last year's state title game for the first time, a viewing that left a sour taste in his mouth and added more motivation for him this year.
"I was just in disbelief when I was watching it. I was really ready to get back out here after seeing it for the first time. We want to get back to the mentality of being state champs again," Matheney said. "We're really young, but there's a lot more energy than what I've been around. Everyone is trying to get a starting job. Everyone out here is fighting for it. During practices it's just super tough and it's so great to be around."
While the team knows what they will get in Matheney and in veteran signal caller Overbay and a first-team lineman Hafoka, the rest of the positions are all up for grabs, a scenario the T-Birds don't view as a concern, but as opportunity.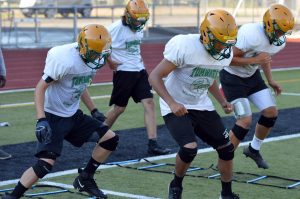 "And it's an exciting opportunity," Beattie said.
"We have a lot of talent in the younger classes. So it's great to see them move up and be rewarded with this responsibility," Overbay said. "We've talked a lot about how there's some low expectations right now from people outside the program. It motivates us more to beat up on some teams."
Tumwater opens its season with a non-league road contest at Burlington-Edison on Friday, September 2 before hosting North Kitsap in its seasonal home opener on September 9. The T-Birds will kick off its 2A Evergreen Conference slate on September 23 at Centralia.