As a 55+ active living community, Harbor Heights provides exceptional opportunities for residents to stay connected and active well into their golden years. Transitions like retirement or downsizing from the family home can feel isolating, but Harbor Heights provides ample ways for residents to get together and stay active and engaged. Harbor Heights's new Sales and Events Manager, Elizabeth Keith, is eager to create unique and inviting experiences for residents that help them stay vibrant and healthy.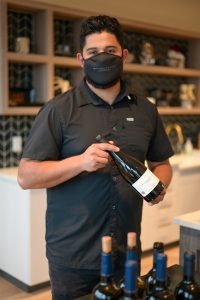 As an active military spouse, Elizabeth has lived in various parts of the country where she worked primarily in the hospitality sector on catering events that provided cuisine for large scale events like weddings. After living on the east coast for some time, her husband had the opportunity to be stationed at JBLM again, so they eagerly accepted and returned to the Pacific Northwest. "The opportunity to be a sales manager with event planning opened with Harbor Heights, so I jumped on the opportunity to branch out more in the local community," recalls Elizabeth. "It has been such a refreshing experience since I have an old soul myself and really identify a lot with the pastimes of this generation."
55+ Living Community Events
Harbor Heights opened in the midst of the Covid-19 pandemic so opportunities to host large-scale events were limited until recently. In February, they kicked off their event season with a chef demo by celebrity chef and Vice President of Food and Beverage for Columbia Hospitality, Roy Breiman. Since then, Harbor Heights has planned even more exciting events for the residents. "We have been doing Wednesday wine nights that have become quite popular," shares Elizabeth. "It's the last Wednesday of the month and is open to our residents and prospective community members considering Harbor Heights as their future home, so it is a great way to get to know each other and experience the community." Harbor Heights continues to seek out partnerships with local businesses and has worked with Bittersweet and Willamette Valley Vineyards for past events.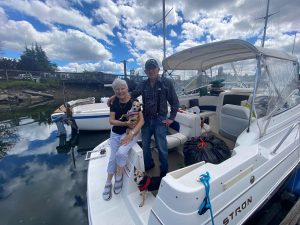 In April of this year, Mud Bay relocated into the commercial space below the Harbor Heights residential suites at 500 Columbia St. NW and Elizabeth began planning an event that would support their services and welcome them to the community.  "We are a pet-friendly facility, so at least half of our residents have dogs or cats," Elizabeth says. "Mud Bay is a great addition to our local community, especially with their delivery services for our residents." Together, Harbor Heights and Mud Bay are organizing a charity walk through downtown Olympia for residents called the Pup Parade, which will be held on the morning of August 13. The cost to participate is $25 and all proceeds will go to local charity Concern for Animals, which was chosen through popular vote by the residents. Vine Street, the ownership group for Harbor Heights, will be matching up to $1,000 of the proceeds to support this wonderful cause.
The Pup Parade will be a full morning of fun, with a mixture of fresh air, exercise, and some delicious desserts. "We will have two routes for our residents, a longer one around Capitol Lake and a shorter one a few blocks around the community," shares Elizabeth. "It is open to residents even if they don't have a dog and just want to join the fun and support the cause!"
The walk also highlights Harbor Heights' prime location, nestled on the waterfront in downtown Olympia, with many businesses and local attractions within safe walking distance. After this particular walk, Sofie's Scoops Gelateria will be serving up complimentary frozen treats for the residents while Mud Bay will be featuring a pup sundae bar for all the pets to enjoy a dessert of their own.
With great events like these, residents of Harbor Heights are easily able to stay active and connect with their neighbors and local business owners. "We stay in tune with the things our residents request for activities." Elizabeth shares. "We want to make sure we have plenty of variety for our residents and give them opportunities to try new things." Harbor Heights recently put out a survey to the residents to gauge what their interests were and what activities they would like to see in the community. Based on this data, Elizabeth saw a need for some group exercise and brought in a local yoga instructor to teach a varied-level yoga class out on the Sky Terrace. "The residents were very receptive and happy having it, and cannot wait for the next class."
As we move into summer and fall, Harbor Heights is eager to continue to bring fun and exciting activities to the residents. Currently, Elizabeth is exploring options for an internal paint and sip night with a local artist, as well as a silent movie night at the local cinema. Her vision is to nurture resident health socially and physically while fostering deep connections with our local business community. Through her inspired events, this mission is quickly becoming a very rewarding reality. Harbor Heights is thrilled to see their mission for active senior living being executed with such passion in the Olympia community.
If you are a local business owner and wish to provide a service or promotion to Harbor Heights residents, contact Elizabeth at elizabeth@harborheightsliving.com.
Sponsored