We've all heard that a journey of a thousand miles begins with a single step. When thinking in an eco-friendly, green, sustainable way, change can feel daunting, expensive or complicated. But thanks to Thurston County community partnerships, the upcoming Sustainable Steps EcoTour & EXPO on August 13 is a great way to get moving towards a healthy future for everyone.
The EcoTour & EXPO are the result of a cooperative, grassroots effort. Over the years, local organizers have produced events that showcase green homes, but the EXPO focuses more on sustainable living as well as building processes.
Co-coordinator Jill Williams is excited for the inaugural kickoff event at the Percival Landing Pavilion. "The EXPO is an opportunity to connect with environmental experts, businesses, and organizations, to explore local resources to help make your homes and lives more sustainable," she shares.
This year green builders and sustainable businesses and organizations, some new and some that have participated in green tours in the past, says Williams, are coming together to showcase new and existing eco-friendly sites to share with the community. "This year we will have a mix of sites from a Passive new build and an ADU to a backup battery-powered Solar Homestead," she adds.
The EXPO features booths hosted by local groups and businesses like OlyFed, Puget Sound Energy, Habitat for Humanity,  OPOP and Built Green. Booth space is still available so if you're interested in presenting a table, fill out the online form today. Attendance and booth space are all free, but the deadline for table sign-up is August 8.
The Future of Green Building
Rousa Cassel, co-owner of The Artisans Group, strongly believes in this future of green building and sustainability. "The best time to plant a tree was 20 years ago, and the second-best time is now. Green building is fundamentally about our relationship with our natural environment, and we believe in the human capacity to innovate and improve while working with our environment instead of against it."
Their company has a passion for this work, especially design and building of passive houses. "We are optimists who believe tomorrow is worth investing in instead of spending like credit," says Cassel. "At the heart of Artisans Group is a thriving passion for improving lives, those that use our spaces, those that use our earth, and the generations that have yet to use either. As architects, we advocate for healthy, equitable, transformational spaces, and soulful sustainability at every scale of project. Driven by good building science, we put things on the planet with great care. Better buildings make a better planet, this isn't just a popular passion for us, it's a root tenant of our firm as a whole."
And green building doesn't have to be the stuff of millionaires, DIY TV or inventive tech geniuses. Barbara Whitlow, AVP residential relationship manager at OlyFed, says that their commitment to home ownership means there are loans and mortgage programs geared towards sustainable home purchase or renovation.
"At OlyFed we live out our values by offering a wide selection of Green Choice Loans to help our community members buy, build and/or retrofit green so they can enjoy the many benefits eco-friendly living," says Whitlow. "In addition, we recognize the economic challenges of today's housing market so we've created an Affordable Loan Program that provides a host of cost savings advantages for low-to-moderate income households in Thurston and Mason counties."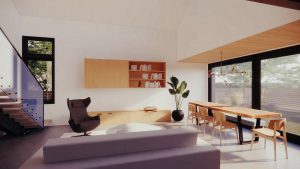 "Partnerships are absolutely critical to helping our community grow stronger and healthier, which is why we love to collaborate with so many different organizations in our area when it comes to sustainable building and energy efficient living," Whitlow continues. "When we choose green products and practices, we help improve our local ecosystems, habitats and our overall quality of life. Partnering with others allows us to pool our tools, resources and expertise to deliver more robust education opportunities to our community, helping more of our neighbors save money, gain efficiencies and advance their overall living conditions."
This can be seen in the recent Artisans Group townhouse project with Habitat for Humanity, a much-appreciated contributing EXPO sponsor. "The leadership of Habitat's doing really cool things," says Cassel. "Habitat is moving away from single family homes to those with increased density and transit access like townhomes and cottages because we need to scale up to achieve impact in affordable housing." They even partner with OlyFed for their lending on the project.
"Maps of the EcoTour sites with addresses will be available for pick up at the EXPO," says Williams, or attendees can sign up to have a map emailed to them the week of August 9. The EcoTour is a self-guided display of Olympia's finest green-built homes, farms, businesses and organizations.
It all comes down to that first step. Whether it's something simple like replacing standard lightbulbs with high-efficiency ones or planting native, environmentally-thoughtful gardens, we can all help. At the EXPO you'll see updates and upgrades you've never seen before and that's a good thing. "Awareness creates demand," says Cassel, "and access to resources helps build better buildings."
For more information, visit the Sustainable Steps EcoTour & EXPO website.
Sponsored