4-H is all about learning, loyalty, service and better living for its members as well as their communities. Eva C-M, now 19, participated in Thurston County 4-H for seven years as a member of the 24 Carrots 4-H Club. This year, she is back from New Mexico State University – where she has been using her 4-H skills to teach others about animal husbandry – and working the office at the Thurston County Fair.
During her years with 24 Carrots 4-H Club, Eva did rabbits and creative arts. "I first got involved with 4-H after receiving my first rabbit for free," she explains. "I named her Snuggly. My mom thought it would be a great way to learn how to take care of my bunny while getting me involved at a young age."
That it was. 4-H teaches kids not only about animal husbandry, but leadership, cooperation, respect, responsibility and discipline. The youth are responsible for raising, training, handling and providing the daily care their animal project needs. Non animal projects also require care and commitment, and include everything from produce and flowers to robots and performance art, and everything in between.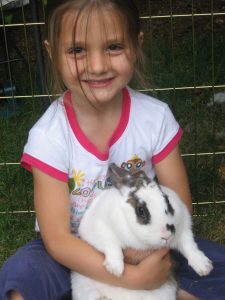 When Eva was a member showing at the Fair, her favorite part was educating the fairgoers.  "I loved being able to educate people about my rabbits," she shares. "Explaining to them the breeds and characteristics of each, and taking our animals out of their cages for young kids to pet and gaze upon up close brought me a lot of joy."
Part of that education included helping future rabbit owners really understand what it its like to own one, and how best to house and care for their own bunny. "I also enjoyed educating people on raising rabbits," she adds. "There are a lot of misconceptions out there, especially with the rise of social media, about the conditions that rabbits are supposedly supposed to be raised in. Being able to explain to prospective 4-H members and their families that they didn't have to raise their rabbits indoors and risk destruction of their carpets and 'new home smell' allowed me to advocate for the animals that I have grown to love."
Eva was also a teen leader in her older years at 4-H. Again, education was a main part of what she did. "As a teen leader I assisted kids of all ages who were either just starting on their rabbit projects or were just needing practice getting their knowledge down," she shares. "I also assisted in getting kids connected with breeders for the rabbits they wanted."
Working The 2022 Thurston County Fair Office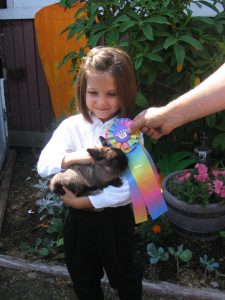 Eva is a student at New Mexico State University, where she has completed her first year studying agricultural business and economics. She works as a student aide within the New Mexico Department of Agriculture. While at school, she has continued to advocate and educate for rabbits and other animals. "Through various clubs such as the NMSU Dairy Team, I've been able to advocate for larger industries," Eva explains. "I've gone from showing kids my 10-pound rabbit, to bringing a dairy heifer onto campus. Kids came from all over campus to see a heifer in person for the first time in their life."
Eva explains she wants to help show people another side of the animal industry, a better side, that is often slated by animal activists. "They saw a happy animal, that went completely against the 'abused and stripped from her mother' narrative that self-proclaimed animal activists put out. 4-H gave me the confidence to stand up for not just the livestock that I raised in my backyard but livestock raised by all farmers and breeders that love and care for their animals as much as I do."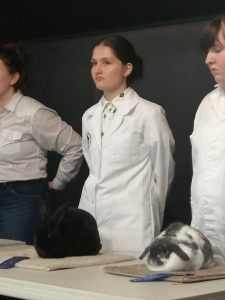 She came home for the summer, but like a true, hard-working 4-Her, she is not spending her summer sitting in front of the TV. Instead, she is working at the Thurston County Fair and loving every minute of it. "Learning the inner workings of my County Fair looked like a great opportunity and I'm very grateful for Kari and Theresa for welcoming me into the intense process of planning a fair," She shares.
And seeing all the entries come in is an added bonus. "I love helping people with entries," Eva adds. "I love seeing what everyone brings in. From baked goods to frogs, it's always a fun surprise."
She says she is looking forward to problem solving during the County Fair and taking on anything that comes her way. We are sure with her 4-H training, nothing will be too much for her to handle.
Be sure to head to the Fair July 27-31. For more information about joining 4-H, visit the Washington State Extension Office website.