Registration is now open for Girls Rugby, a flag-rugby program open to children in grades second through eighth that offers fall leagues based in Thurston County. The seven-week season will run September 12 to October 29 with teams practicing 1-2 weeknights per week and playing at Garfield Elementary School on Saturdays.
"At Girls Rugby we are trying to provide a different sporting experience for young people that focuses less on competition and more on the sport itself and the experience of those participating," says Girls Rugby COO & Co-Founder Erin Kennedy, a former player who has worked for USA Rugby and served as a consult with Rugby America's North (RAN) and Rugby Canada before working for the International Olympic Committee on the Youth Olympic Games.
Cost is $175 for new players and $120 for returning players and includes the full season, two jerseys, shorts, socks, rugby playbook and rugby ball.
"We started our Girls Rugby program in Thurston County in the fall of 2019 after a very passionate mother wanted to offer more opportunities for her daughter," Kennedy says. "The success of our first couple of seasons was proof that this model was perfect for Thurston County. We have since tripled in size from our first season and the success can only be attributed to the amazing volunteer coaches who are delivering an impactful program and our Program Coordinator and Girls Rugby parent, Shaina, who is marketing the program in the community and building something special."
Lacey teams will practice at William A. Bush Park, while West Olympia teams will practice at Garfield Elementary. Both locations will hold its first practice on Monday, September 12 with the season concluding with a Family Day event on October 29.
The league substitutes the tackling aspect of the sport by utilizing a flag to better introduce the participants to the fundamental skills of rugby. No experience is needed.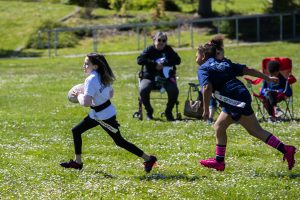 "We understand that there are many misconceptions and stereotypes about the game of rugby, and we are here to help ease any concerns that parents/guardians may have," Kennedy explains. "In our Girls Rugby programs, we use the non-contact, flag form of rugby to introduce the sport in a safe and fun way for children to learn. In flag rugby, a flag pull replaces the tackle, making it safe for all ages and ability levels. Our coaches are trained to introduce the game in a fun, safe manner where participants can build a foundation of skills while being active and having a blast."
One of the goals of Girls Rugby is to, "empower more girls to see themselves as leaders and help them build confidence."
"In the United States there are more opportunities for boys to participate in sports than girls," says Kennedy. "When we look at rugby, that gap is even greater. At Girls Rugby we believe in giving our participants a chance to try something new and unique, while learning the skills that they need to be successful in life. To be able to offer flag rugby to girls at younger ages truly affords them with more opportunity — something that can only benefit them in today's world.
"Our programs are delivered using a values-based curriculum that combines basic rugby skills with core values and leadership skills that all participants can benefit from," Kennedy adds. "Each week the coaches introduce different values and skills that players can develop and apply on the rugby field, but also in school, at home, and other areas of their lives. We have been able to show incredible impacts through our programs such as increases in teamwork, leadership, confidence, friendships, and enjoyment. It is our hope that playing flag rugby can be the vehicle to our players growing and developing themselves as people, not just as rugby players."
More information about the program and registration can be found on the Girls Rugby website or by contacting washington@girlsrugbyinc.com.
"Rugby has a unique and powerful culture and community that truly brings everyone in for life," shares Kennedy. "Inclusivity is a pillar of the sport, welcoming every type of person. There is a place for you in rugby, on the field or off. We know that sports can teach young people so much and helping to introduce young girls to a sport that will not only welcome them to a community, but also help them develop themselves with the skills that they need to be successful in life is crucial. Rugby is that sport and at Girls Rugby, we are purposeful in the things that we want to teach our young participants."
Sponsored