Nothing says summer like biking riding. Enjoying the fresh air, sunshine and exercise with your kids is one of the joys of the season. Since bike riding in urban settings has become so popular, Olympia area organizations want to make sure you and your kids are playing it safe. Roll your way to Isthmus Park on July 30 from 11 a.m. to 2 p.m. for the Great Olympia Bike Rodeo. It's free!
The Great Olympia Bike Rodeo is an organized by Intercity Transit's Walk N Roll Program, Child Care Action Council's Safe Kids Thurston County Program, Olympia Police Department, Target Zero Thurston County and Olympia Parks Arts & Recreation, with funding from the Washington Traumatic Brain Injury Council. The goal is to teach kids traffic safety, make sure they have properly fitted helmets and have some summer fun while doing it!
"The first Great Olympia Bike Rodeo was planned for 2020, but it was canceled due to the pandemic," shares Kerri Wilson, Intercity Transit Walk N Roll program supervisor & employee transportation coordinator. "In 2021, due to the pandemic, we modified the event. Instead of an in-person bike rodeo, we installed pop-up traffic gardens at two Olympia elementary schools. Families were invited to visit the traffic gardens on their own time. This is the first year we are holding the actual in-person bike rodeo event."
Also in 2021, they distributed over 250 bike helmets through Great Olympia Bike Rodeo sponsored events, adds Danielle King, grants manager, special projects, and Safe Kids Thurston County Coordinator for Child Care Action Council.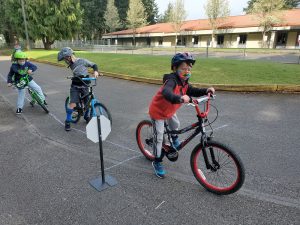 This year, they are so excited to finally be having their full event, including helmet giveaways. Helmets are available for children, while supplies last, for families who cannot afford to purchase this important safety gear. Volunteers will be on hand to train caregivers the proper way to fit a helmet, adds King.
Fun Bike Activities for Kids in Olympia Teach Safety
The Great Olympia Bike Rodeo is giving families an afternoon of fun with tons of activities for kids on bikes and scooters. No bike or scooter? "We will have a few extra scooters for youth to borrow," shares Wilson.
Along with help fitting bike helmets, there will be Bike Safety Education taught by Intercity Transit's Walk N Roll Program and the Olympia Police Department. They will teach rules of the road, such as stopping at stop signs and riding the same direction as traffic, hand signals, look left-look right when entering or crossing the street, be visible by wearing bright and reflective clothing and more. Kids will learn through fun games and activities that they will enjoy and remember!
Then, kids can maneuver their way through the Bike Skills Course! Weave through cones, toss a bean bag, and practice those newly-learned safety skills like hand signals and stopping at stop signs.
Finally, check out the Pop-Up Traffic Garden. These miniature street-scrapes were very popular last year and will be even more fun during the full-fledged rodeo event! Have fun playing on the street with safety in mind as you traverse mini roads with intersections and stop signs. "Youth in wheelchairs and/or other means of transportation can also be accommodated on the Traffic Garden with caregiver help," shares King.
"All ages are welcome, but the event is most focused on preschool and elementary aged youth," says Wilson.
Check the air in those bike tires and mark your calendars, because you won't want to miss the free and fun Great Olympia Bike Rodeo, July 30 at Isthmus Park. Check out their Facebook event page for up to date information.
Great Olympia Bike Rodeo
July 30: 11 a.m. – 2 p.m.
Isthmus Park
529 4th Avenue W, Olympia
Sponsored