You're loving the sunshine coming through your windows, but then you notice fingerprints and filmy streaks and wonder, "How did they get so dirty?" Rain, pollen, birds, kids, and time leave their marks on your windows. They worsen over time until one day you see clearly—or maybe not—that your windows need a thorough cleaning. Drew Fremantle is the owner of Maid Perfect, a cleaning service in Olympia. He has cleaned thousands of windows and offers a few suggestions that might make your job a little easier.
Tracks
"Pipe cleaners work well," says Drew. Tracks fill with dust, dirt and bugs. "A white eraser will take off scuff marks." Some windows that slide across to open can be popped out of the track for more thorough cleaning. "Slide it all the way over, grab the frame, lift up and pull gently," shares Drew. You can also use a toothbrush. This is the perfect reason to give yourself a new brush and demote your old one for your window project.
Frames
Use your blue scrubby sponge with a little soap along with your magic eraser to clean frames. If you recently painted, you can remove the overspray.
Screens
"When you keep screens clean, they keep your windows cleaner," shares Drew. It's common for the screen tab to break off, so you might use a small fork to pop out your screens. They are kept in place with a spring that is usually a little metal strip in the shape of a half oval. Press the frame to compress the spring.
Use a wet washcloth with soap to wipe the screen clean. If you having trouble getting the screen back into place, make sure the spring is centered.
Hard Water
Many people have hard water, which has minerals like calcium in it. Windows can get scaley or even permanently etched. "Don't keep scrubbing," warns Drew, because it won't make it better. You can save yourself future grief by making sure your sprinklers are not watering your windows when you do your flower beds or yard.
Squeegee Technique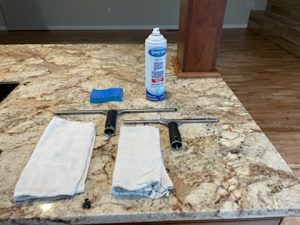 Use a 12- or 18-inch squeegee. Spray down the window and wipe the top of the window with a dry washcloth to prevent drips. Go around the inside of the frame to remove any extra liquid. You can go straight up and down or side to side but keep the angle the same all the way down using the same pressure. If you are getting squeaky sounds, you don't have enough solution on the glass. If you miss a dirt spot, you don't have to re-do the whole thing. Spray the spot, scrub, then wipe with a towel. Drew likes to use an old-fashioned cloth diaper. You do want to avoid wiping any more than necessary because streaking is more likely. Use the squeegee as much as possible. To see how well you did, step away from the window but instead of looking straight on, you'll need to peer upwards or from the side. Hopefully, you'll get more skilled after each window.
Frequency
Cleaning your windows every six month is good. There is less build-up. You'll love the extra light. "People say it's so much brighter," reports Drew.
Homemade Solutions
Mix ¼ cup white vinegar, 2-3 teaspoons of Dawn dish soap water and fill the rest of your spray bottle with water. Be careful with vinegar, as it can damage wood floors. Maid Perfect recommends you use your spray bottle inside and/or the foamy spray cleaner and a bucket of solution when you are outside.
Different Types of Windows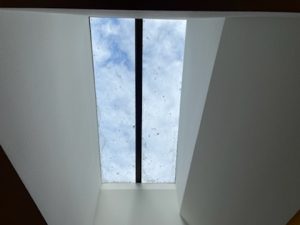 If you have sky lights, you'll need to get up on the roof—do you really want to do this?! Drew uses a Ninja bucket on a belt, which holds all his equipment to keep his hands free. "Don't use any abrasive materials on fiberglass windows," reminds Drew. Garage windows can be plexiglass, so no abrasives on them either. The small windows within a door are best cleaned with spray glass cleaner and a dry wipe. Choose your microfiber cloth with care. They can be dusty.
I've watched my windows cleaned by a professional. It appears to be able to be done speedily, tidily and without streaking. My personal experience has shown me it's not quite that easy. Maybe after I've done 10,000 windows like Drew, I'll have better results. See how it goes for you with these helpful tips from Maid Perfect. I find it's much faster and easier to make a phone call. Maid Perfect will be glad to shine up your windows. The team can also clean your home, office, construction site or rental. Just give them a call at 360.402.6248.
Maid Perfect
360.402.6248
Sponsored