Summer Splash! at the Hands On Children's Museum (HOCM) offers a summer-long series of events and activities for making extraordinary family memories. The Summer Splash! Festival of Fun presented by WSECU runs June 25 through September 5 with a calendar so varied you'll want to keep coming back for more.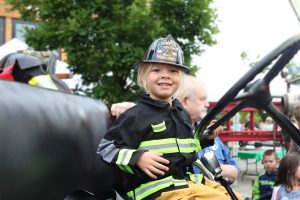 "We are super excited for our summer programming," says Beth Garson, HOCM marketing & communication senior manager. Hands On has been diligently planning to offer stimulating and creative activities to keep children's minds and bodies engaged through the summer vacation.
The Fire Rescue Spectacular is Back
Summer Splash! sets the tone with a favorite event, the Fire Rescue Spectacular June 25 from 10 a.m. to 3 p.m. Sparky the Fire Dog and Smokey the Bear will be greeting visitors as they explore vintage fire trucks along with a lineup of first-responder vehicles including several of the Olympia Fire Department's fleet of trucks, police car and motorcycle, and ambulance. The public will have free access to the showcased vehicles on Jefferson Street, blocked to traffic between the museum and LOTT. Children can get their hands on real hoses at the spray gallery and take the Junior Firefighter obstacle course challenge.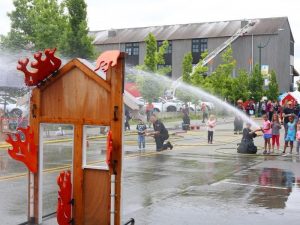 The street event is free to the public and there will be festival food for purchase. Free Ice cream will be handed out at 12 p.m. and 3 p.m. Mary Bridge Children's Hospital and Health Network in partnership with the Olympia Fire Department are bringing this program to our community
Experience more hands-on fun inside the Museum. Kids can learn the proper protocols and procedures for fire safety, practice building campfires and explore wilderness first aid with the Olympia Mountaineers
HOCM's own Dr. Science presents a Fire and Ice show at 11 a.m., 1:30 p.m. and 3:30 p.m. Climb aboard a vintage fire truck in the Outdoor Discovery Center. Test your skills on a self-guided scavenger hunt and silkscreen a poster for free or 2 bandanas ($12) in the Art Studio. Maybe you'll win a door prize.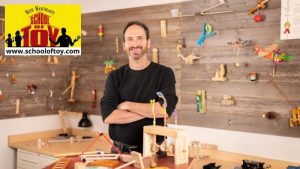 The Fire Rescue Spectacular kicks off the Summer Splash! Festival, and things keep heating up every day.
Scientists in Residence, sponsored by Mary P. Dolciani Halloran Foundation, brings a variety of special guests. Children can design and build a toy with Rick Hartman and his School of Toy on July 23 and 24.
Magician Jeff Evans combines science and magic for his shows for Summer Splash on July 9 and August 28. "My 'Science Magic' show uses scientific principles in ways that look like magic," says Jeff. He'll even be sharing how things are done, since it's science, and adds, "The best part is that several of the demonstrations in my show can be replicated at home."
Castles & Keeps LEGO building with Dan Parker happens all day on July 30 and 31. The collaborative medieval-themed build will happen in the outdoor discovery center.
Artists in Residence, sponsored by the City of Olympia, has intriguing opportunities. Join String and Shadow Puppet Theater to build puppets on July 25-28. You'll have one to take home.
Isobel Coney teaches kids how to make paint using fruits, vegetables, and other organic materials in nature painting on July 29 and 30.
Printmaking with Mimi Williams is on August 18-20.
Native storytelling with Itsa Shash is on August 24 and September 2 thanks to the Nisqually Tribe.
Summer Splash! is packed with Adventures, sponsored by Small to Tall Pediatric Dentistry.
"By far one of the most popular activities is the treasure sluice," says Beth. The set-up is a replica of a mining sluice. Young miners get a bucket of rough to sift through with the help of water. Lucky finders may discover fossils, gemstones, or a shark tooth! "It's wet and sandy and such a hit!" says Madison Peters, assistant manager for visitor engagement.
Other adventures include a sailboat regatta, sponsored by Dairy Queen, where young sailors can make their own boats and sails from recycled materials on July 15-22. The boat-building materials are sponsored by the Olympia Yacht Club.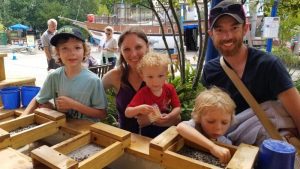 Visit a petting zoo with domestic and farm animals on August 5.
Test yourself on the challenges of a 25-foot climbing wall on August 12 and 13.
Paint a giant modular castle all July and until August 11, sponsored by Coldwell Banker Evergreen Olympic Realty.
Mudpie Mondays, sponsored by Lucky Eagle Casino & Resort, will find children creating personal mudpies in their own tins. Garden flora and fauna and stones provide decorations and then the pies get to bake in the sunshine. "Kids get their hands dirty and can decorate their pie as fancy or plain as they want," says Beth, "they love it!"
New this year is Kitchen Tool Tuesday, sponsored by Mary P. Dolciani Halloran Foundation. Future chefs explore fruits and vegetables by chopping, grinding and grating. Their endeavors will end up feeding the composting worms.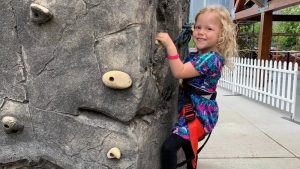 The Summer Splash! Gala, sponsored by OlyFed is the highlight of the Museum's summer events. The annual Gala themed "Alfresco Fun!" is the primary fundraiser for the Hands On Children's Museum's free and reduced Access Program. The Gala is on August 26 from 6 p.m. to 10 p.m. Event Chairs are Alexis and Justin Erickson. There is limited space available. If you want to attend email hoehler@hocm.org. Even if you don't go to the event, you can still participate by bidding on a fantastic variety of silent auction items on August 19-27.
Check out the Hands On Children's Museum website for all the details so you can mark your calendars for all the fun days ahead. The museum has 26 different programs to assist families with entry fees. Those with EBT cards get the first two people free and additional family members are $2 each. The first Friday night of each month allows people to visit from 4 p.m. to 8 p.m. for only $1 apiece. For families with a stimulation sensitive child, there is a low sensory, quiet room, available Friday through Sunday and the Museum opens early for Sensory Friendly Hour at 9 a.m. on Sunday mornings, presented by Premera.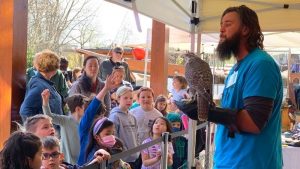 Bring your friends and visitors to Summer Splash. "The museum delights kids every single day, and even offers adults the chance to play," says Small to Tall's Dr. Ben Ruder. See what treasures await you.
Hands On Children's Museum
414 Jefferson NE Olympia
360.956.0818
Sponsored