There's really no measuring stick for how long it should take a franchise to successfully settle into a new league, but by all accounts, the Oly Town FC men's team is well ahead of the curve.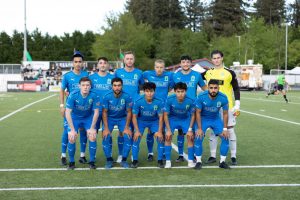 Less than a month after debuting in the highly-competitive United Soccer League, the Artesians notched their first victory in their new surroundings with a 2-1 triumph over visiting Portland in a League Two Northwest Division match on June 18 at Black Hills High School.
Oly Town received a goal from Sebastian Navarro in the first half to go into the intermission with a 1-0 advantage before Gilbert De La Luz provided what proved to be the eventual game winner in the 67th minutes to lead the Artesians to the win.
Goalkeeper Sawyer Price, a former Olympia High School standout, made a pair of saves to pick up the win, while Trevor Thompson assisted on Navarro's tally in the 14th minute.
The historic victory comes a week after Oly Town posted a 1-1 tie against division-leading Ballard FC, which entered the contest with an unblemished 4-0 record and a No. 2 ranking among all USL teams.
Capital High School grad and former The Evergreen State College all-conference player Jordan Zimmermann provided the loan Artesians' goal against Ballard in a match that co-owner Ryan Perkins said helped lay the foundation for the team's future success.
"All our players play with a high-level of intensity, and they knew they could have and should have won against Ballard," Perkins said. "Ballard was the No. 2 team in the USL across the nation. They came to town undefeated, and we outplayed them in a lot of respects. It was nice to see the energy from the players, but you can tell they weren't satisfied with a tie. They wanted that win."
The Oly Town players, however, did not have to wait too long to experience that feeling as they put away Portland to improve their home record to 1-1-1 on the season, which is an excellent mark given the lightning-fast turnaround the club went from playing in the Evergreen Premier League to moving over to the USL.
"Most teams had at least a year to make the move to a new league," Perkins said. "We basically had a month."
The Artesians, who started as an indoor club in 2014 before expanding to include outdoor soccer in 2017, announced in late January it was joining USL League Two in 2022 for its inaugural season, becoming the first Washington-based club to compete in the league.
From piecing together a roster and hiring a coaching staff, to securing community sponsors who make the entire team possible, Oly Town had plenty to do before making its USL debut on May 21, which turned out to be a 3-2 home setback against Capital FC.
"There's definitely been a lot to do," Perkins said, "but it's been fun. This is where we want to be."
And it's certainly a league where the players want to participate, with the USL regarded as the top pre-professional soccer organization in North America. "The opportunity to play against better competition was a big selling point for us," said Perkins about one aspect that drew players to the team. "For us to get talent we had to go to the USL. Olympia is in this island between Seattle and Portland in terms of sports. There's no Division I schools around here. We have to recruit players in from other programs and colleges and other clubs and playing in the USL definitely helps with that."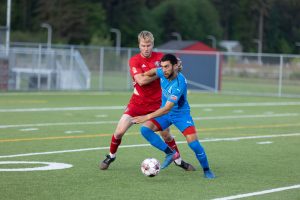 According to Perkins, the team's transition to the USL has also provided players far more exposure than past seasons as every USL match is broadcast to both a national and international audience, drawing the attention of professional organizations and scouts, as well as college programs.
"Take Sawyer Price," Perkins said. "He's an Olympia kid. He plays college ball at Northwest Nazarene University in Idaho. He made an amazing save on a PK against Lane United FC and it spread across the internet. He's now being looked at by all these different clubs and organizations from around the world. That likely wouldn't have happen if we aren't playing in the USL."
The Artesians will now look to continue their home winning ways during a season-long three-match stretch at Black Hills High School. Oly Town will kick off the home series against visiting OVF Alliance on Sunday, June 26 before hosting Lane United FC on Saturday, July 2.
The regular season home slate will end on Thursday, July 7 against Ballard FC.
"Oly Town has always put a lot into the game-day experience. We've always tried to make it special for the fans," Perkins said. "Our main goal has always been to engage the community and more importantly, local youth soccer players. Olympia is 60 miles from Seattle. Because of Oly Town you don't have to drive all the way up there to see professional athletes play soccer. We have it right here. That's a big thing for us, to have local kids come watch us play and get excited about the sport of soccer."
Sponsored