It's that time again! Time for hot dogs, barbecue, sparklers and fireworks! There is nothing more summer than the Fourth of July and we've got plenty of fun things to do right here in our county. Here's the information on the 2022 July Fourth Firework Displays in Thurston County.
Planning on having a firework show at home? Be sure to check out the Washington State Patrol's guidelines and information resources on which Thurston County cities have firework bans and/or restrictions.
Lacey Fireworks Spectacular
Sunday, July 3
Rainer Vista Park
4 p.m.
Free
The Lacey Fireworks Spectacular is back in full swing for Fourth of July 2022! Join in all the fun starting at 4 p.m. at Rainer Vista Park in Lacey on July 3. Groove to the music of Beat Frequency at 5 p.m. and Good Vibrations, a Beach Boys tribute band at 8 p.m. Eat your fill of yummy local food vendors and then sit back and enjoy the fireworks, which will start with a bang at 10 p.m. This year, be sure to pick up your free 3D glasses courtesy of Lacey Collision Center for a firework show like you've never seen. For more information, visit the Lacey Parks Culture & Recreation website.
City of Tumwater's Independence Day Parade
Monday, July 4
Tumwater
11 a.m.
Free
The City of Tumwater's Independence Day Parade is back for 2022! Happening at 11 a.m. on July 4, this year's theme is "Aloha 4th." The parade begins at the corner of Capitol Boulevard and Lee Street. It then moves south on Capitol to Israel Road, turns west (right) on Israel Road, past City Hall and ends at Linderson Way and Israel Road. Want to join in on the fun? Entries are accepted until 5 p.m. on June 17. For more information, visit the City of Tumwater website.
Thunder Valley Fireworks Show
Monday, July 4
Tumwater Valley Golf Course
6 p.m.
Free entry. Parking $10/car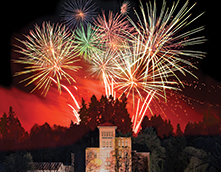 After the parade, head to the Thunder Valley Fireworks Show at the Tumwater Valley Golf Course on July 4. This year it's taking place in conjunction with the Artesian Family Festival. Head over to the driving range for music, food, games and more as you wait for the sun to go down so the firework display in Tumwater can begin! For more information, visit the City of Tumwater website.
Food Trucks & Fireworks
Monday, July 4
7 p.m. – 11 p.m.
Cowan and Memorial Stadiums
Free
If you are a DOD ID card holder, you can attend this special Fourth of July event at JBLM. Held at the Cowan and Memorial Stadiums, there will be food truck starting at 4 p.m. Pick up your prism glasses to watch the fireworks with and get ready for an evening of fun! Be sure to park in authorized spaces only. For more information visit the JBLM website.