Being able to grow your own flowers, herbs or vegetables is something many urbanites dream of doing. However, even those with homes may find they don't have the room for even a small garden bed. Because of this, community gardens are getting increasingly popular. They provide a place for community members to not only grow their own food, but to come together and socialize. It's these very reasons that inspired Tumwater community member Deb Williams to create the first Tumwater community garden at United Methodist Church.
"I was inspired to start the community garden from reading about them and seeing the unused space at our church," Deb shares. "We are fortunate to have a large enough church property to do a variety of things. The project came from prayer and a calling to reach out to the community to provide connection and help sustain our community through food production."
But just like gardening, it took digging in and some hard work to make her dream a reality. Sandy Ward, a pastor at the United Methodist Church was eager to help. Deb also received help from a church garden committee that was formed to bring the idea to fruition. The committee decided to develop the garden in three stages: first raised beds, second a food bank garden and third an orchard.
The garden is named Gayle's Garden, after Eleanor Hintz's daughter. Eleanor is a member of the church and also one of the gardeners. Her daughter passed away before she could use her garden bed, so the committee thought it was a fitting tribute.
The City of Tumwater also lent its support for the new community garden. "The City will be reimbursing us for our new fence that was just installed to keep the deer out," shares Deb. Councilmember Angela Jefferson also attended the April 2, 2022 launch day of the first stage of the garden, which includes four raised beds that were donated to them.
How a Community Garden Works
There are several ways a community garden can be organized. In some cases, the entire garden is communal: everyone works on it and the crops are divided evenly among them. For others, like Gayle's Garden, community members reserve their own section of the garden—in this case their own raised garden plot—and can grow whatever they wish, with some restrictions. "We ask for $20 to reserve a garden which is refundable at the end of season," explains Deb. "Garden members can grow whatever they want with some restrictions on large or invasive plants as this can impact the neighboring garden. Also, we promote organic gardening and provide some suggested methods for pest control."
In addition to growing their own food and flowers, community members that participate in the community garden get friendship, socialization and knowledge sharing. Gayle's Garden will have workshops, like tomato planting and flower arranging, for its members to attend. "The community garden is a place to connect with others for friendship and a sense of belonging," shares Deb. "There are no more friendly or hopeful people than gardeners, in my experience."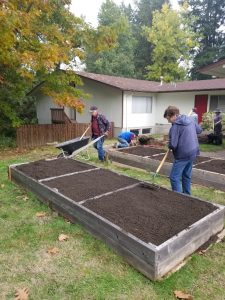 Starting or Joining a Community Garden
Know of some unused space? Starting a community garden near you may not be as hard as you think! "Everyone I've contacted in my journey creating our garden has been very helpful and friendly," says Deb. Now, she is willing and eager to pass on the knowledge she has gained in creating Gayle's Garden with anyone else interested in starting a community garden. You can email her at tumwatergarden@gmail.com. You can also get in touch with her about joining Gayle's Garden, if space is available.
The Thurston County website also has a list of other community gardens you can reach out for planning advice or to inquire about joining.