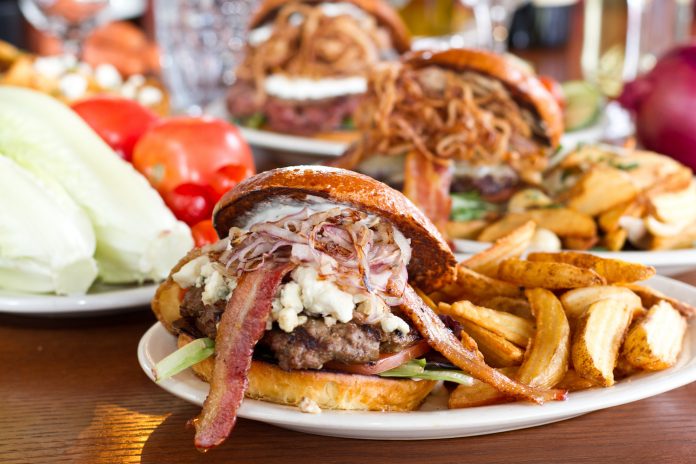 Christian Skillings reminisces about the opening of the Iron Rabbit in 2005. "Back then, there weren't a ton of eating-out options for quality food for a family," he remembers. At that moment in time, he was single. Sixteen years later, you can still get a remarkable burger—or other delicious option—at this Olympia restaurant in a casual and welcoming setting. Christian now has a family of his own, including his wife and daughter. Many things change over time and yet, some things remain consistently familiar and satisfying, like eating at the Iron Rabbit.
"It was really me and my boots," says Christian, about those early days. The Iron Rabbit transformed what had housed a Skippers. With a scratch kitchen concept in mind, Christian wanted a restaurant where a family felt totally comfortable. He worked on a menu filled with quality food that was skillfully prepared. You could call it gourmet comfort food. "That mattered to me," says Christian.
His business places high value on the importance of team. Christian collaborates with his chefs and bartenders to imagine and tweak dishes and beverages that bring people back again and again. "The team is always a part of the evolution," says Christian, adding, "I start with an idea, run it through the grinder and listen to guests. Then it gets refined."
Kristi Lewis, lead bartender and Wade Keiffer, manager are members of the leadership team for the Iron Rabbit and Cynara Restaurant and Lounge. Wade has been in the industry for over 20 years and has spent three years as a line cook. "I love coming to work," he says. He confirms that the restaurant and its recipes are always developing. Kristi, who works more on the front side of the business, loves the guests. "We live by our mission statement," she says. Guest satisfaction is essential.
Christian believes in keeping a well-compensated staff. The Iron Rabbit understands what is means to get a living wage, benefits and training. Pandemic restrictions have played havoc with schedules and hours, and Christian is happy to say team members have remained throughout.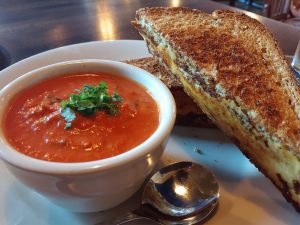 Naturally, having a restaurant is about feeding people, but from the beginning Christian envisioned a bigger picture. It is about upholding values. For example, the restaurant uses locally-sourced ingredients. This supports other businesses, the greater community and increases the freshness and nutrition of the ingredients. You'll find meat, cheese, produce and spirits from our area.
The ecological footprint also comes into play. Tending to environmental stewardship means using compostable take-out boxes, minimizing food waste and, recycling within the restaurant. Sometimes businesses don't do these things because of additional costs and time, but these things are important at the Iron Rabbit.
The ambiance of the Iron Rabbit encourages people to drop in for a fun time with family and friends. It's a place to relax and eat. Many diners go straight to the burgers, such as the Iron Burger. It is a feast of Royal Ranch beef, Tillamook white cheddar cheese, burger spread, spring greens, tomatoes, garden fresh pickled onions and cucumbers on a brioche bun. Kristi favors the Drunken Sailor, cod spiced with a rum cream sauce, and the Chicken Cordon Who with a mustard cream sauce. When spirits are used in a recipe, they come straight from the bar. You don't have to eat meat to find a great choice. Try a salad entrée. "Some menu items are so popular it's hard to change," reports Christian. "We do add interesting ingredients, like figs," he adds. The Iron Rabbit is proud that dishes, including desserts, are made from scratch. You'll taste the difference.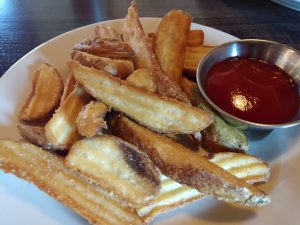 The Iron Rabbit makes a point to pay attention to the experience of the diner an encourages feedback, whether it is about the service, the food or something else. The top core value within the restaurant is to exceed the expectation of the guest by gracious and professional service.
The priority of health and safety of everyone, both team and guest, have always been important. Pandemic considerations have brought this value to the forefront, especially when rules have been quick to change. The Iron Rabbit keeps up to date and acts all appropriate precautions. You want to enjoy your time out, worry-free.
The Iron Rabbit is a long-time, familiar spot on the westside of Olympia where you can pop in with a date or your clan. Bring the kids, bring your partner, bring your friends. There's a full-service bar with imaginative specialty cocktails. You can dine in the high-ceilinged, airy restaurant or order on-line for touchless curbside pickup. Cheers!
The Iron Rabbit
2103 Harrison Ave NW, Olympia
360.965.3661
Sponsored