Submitted by North Thurston Public Schools
May is National Mental Health Awareness Month. While North Thurston Public Schools continues to act as a leader in supporting the social and emotional wellness of youth in our community year-round, the month of May has served as a special opportunity to engage with students and lift their voices around this critical topic.
The mental wellness of our country's youth has been a growing concern, but the pandemic has made it even more dire. According to the CDC, one in three high school students experienced poor mental health "most of the time or always" during the pandemic. That said, persistent feelings of sadness or hopelessness and suicidal thoughts and behaviors were less prevalent among students who felt close to others at school and were virtually connected during the pandemic.
"The district is committed to continuous improvement when it comes to supporting the mental wellness of our students," says Leslie Van Leishout, the district's director of student support. These efforts are rooted firmly in the district's strategic plan (Goal 2). "Academics are a priority, but we know that proactively supporting their social and emotional well-being gives students a better chance at success," Ms. Van Leishout explains.
North Thurston Public Schools has a growing number of programs in place to support the social and emotional well-being of its students. Social and Emotional Learning (SEL) curricula at both elementary and secondary levels have been foundational in supporting students during the pandemic era. Last year, a 24/7 Crisis Clinic hotline was established and widely promoted among the community in conjunction with free suicide prevention classes the district offered for students and their families.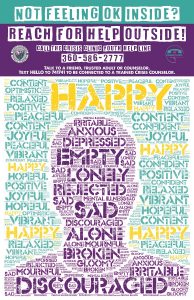 School counselors at every level have redoubled their efforts to connect with students and ensure they have the resources and support they need to work through the unique challenges young people face today. The district also has 12 mental health specialists as well as a dedicated social worker who acts as a bridge between families, the school, and community resources who assist families in need of support. "These individuals represent key components in how we assist students who have a mental illness, past trauma, and who are overcoming the trauma caused by the existential crisis of the pandemic," Ms. Van Leishout says.
In line with broader district-wide efforts to care for the mental and emotional well-being of its students, North Thurston High School (NTHS) organized a variety of programs around the theme "Know Your Worth" to make sure students feel safe, empowered, and resilient at NTHS. "Students have expressed wanting more opportunities to talk about these issues," says Katie VandenBerg, a counselor at the high school. "We wanted something authentic that was school-wide and promoted student involvement, and that gave students an opportunity to share their voices and talk about mental health."
On May 6, NTHS hosted a mental health-focused Community Resource Fair at lunch. Later in the month, speakers from Crisis Clinic and Community Youth Services (CYS) hosted optional presentations during club time followed by small group discussions to dig deeper during the lunch hour. During advisory, teachers covered SEL lessons connected to mental well-being and knowing one's worth. Finally, student clubs and classes collaborated to create projects such as QR code resource posters and a kindness wall.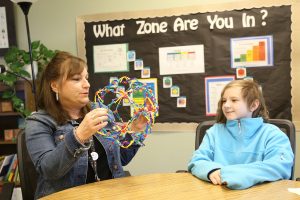 NTHS's efforts are just one example of how North Thurston schools celebrated Mental Health Awareness Month. Many others incorporated conversations and presentations into classrooms and school-wide activities to help everyone understand their inherent worth, build resiliency, and cultivate inner peace.
NTPS is ready and eager to initiate and support programs that foster connectedness and mental wellness among students, staff, and the greater community. Every member of the community can play a role in supporting the collective well-being, and NTPS is proud to be a leader in this movement.
If you or your child is currently in crisis, call the 24/7 Crisis Clinic Youth Helpline at 360.586.2777. Adults may call 360.586.2800. Text "HOME" to 741741. No crisis is too small!
Sponsored