We all did some funny things during the Pandemic. I fussed with hair color, and then cut it all off. Friends of mine bought expensive outdoor toys like quads or indoor fitness equipment. Others spoiled themselves with big TVs. Anything to pass the time. For one local family, COVID presented an entirely different opportunity: a horse. And it proved to be the best thing they could have done for their daughter, Morgan Summers, who is now embarking on the fun Junior Rodeo circuit.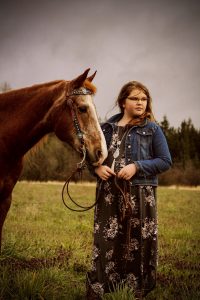 Morgan, now 12, actually started riding before COVID, in 2018. That summer she went to a Girl Scout camp, where she spent a week doing all kinds of fun things, but the highlight was horseback riding. "She spent a week there learning some of the basics and fell in love," shares Joan Summer, Morgan's mom.
If you've ever met an equestrian, you know that love is really more of an obsession. Something about horses just gets into your soul and it never leaves. And while most little girls love horses, some of us never grow out of that love. For Morgan, the Girl Scout camp sparked that obsession into a full out blaze. "The Camp started the, "When can I ride again? When can we get a horse' questions," shares Joan. The Girl Scouts had lessons available off season from camp. She stared taking weekly lessons. Riding a mix of six different ones. Then she found the right one. The one that melted her heart and was her first love."
That horse was Scout.
Then COVID hit. Everyone was affected. Nonprofits suddenly found themselves unable to fundraise with their usual, in-person events. People lost jobs and were unable to give as much as before, if at all. The Girl Scouts were no exception and their funds soon dried up. They made the decision to lease out the lesson horses on care leases—meaning the people that take them in pay for their care—to help with costs.  "The director of the program was the person giving Morgan lessons," shares Joan. "She asked if we would be interested in leasing Scout."
Would a little girl's dream come true? The family had to think about how a care lease would work for them, and while they were discussing it. Tragedy struck. Joan's mother, Morgan's grandmother, passed away. While the death was not related to COVID, suffering a loss during an already stressful time was difficult on the family. "We were devasted," shares Joan.
And then another message about Scout. This time to say the Girl Scouts had decided to sell the horses outright. Would they want to buy Scout? "Because of everything going on in the world and our life we needed to have something new and exciting," Joan shares.
It turned out that Scout was the best therapy money could buy. "I would have never imagined how Scout would help us through the COVID stress and grief of losing my mom," adds Joan.
And for Morgan, well she got her first love. When asked what she loves about riding, Morgan replies, "I don't know, everything. It's a stress relief, fun."
Junior Rodeo
The family took Scout to board at Blue Mountain Stables, where Morgan continues to take lessons. It was here that she got her first taste of rodeo events. "Linda Bulpin and Winston Farber who run the facility, were focusing on breakaway roping," explains Joan. "Because we had no idea what we were doing with owning, training and caring for a horse they took us under their wings. Morgan wanted to learn everything she could from them." So, after about seven months of riding lessons, Morgan started to learn how to handle a rope. And she was addicted.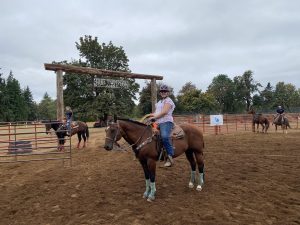 Just as she started to get the hang out if, however, Scout, a 22-year-old Quarab started to slow down. So the family did what all horse families do and got another horse, Hoby, a 22-year-old quarter horse to be Morgan's mount for her Junior Rodeo Dreams.
This will be Morgan's first year in Junior Rodeo, where she will compete in pole bending, barrel racing, breakaway roping, steer dobbing, and goat tying. As anyone whose been around horses at all knows, this kind of competing isn't inexpensive. Morgan is working on getting sponsors to help cover her costs. "We have some local businesses that sponsored her by 'paying for advertising,'" explains Joan. "For example, a company logo on her rodeo shirt, and company banners posted around the horse panels where Hoby will be put when not competing. We also have had very generous family and friends donate to Morgan."
It's not about the ribbons or money she may win, though. Instead, her goals are simple. "Have fun, learn new things, make new friends, prove to myself I can do it!" Morgan says.