If you missed the motion picture and music industry red carpet parades of stars but want to celebrate something, then get out your tux or evening gown, settle in at home or a fun location with friends, and jump online to participate in the 15th annual benefit auction for Truly Motivated Transitional Living (TMTL).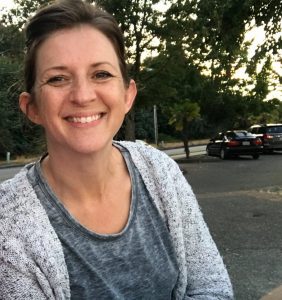 TMTL's fundraiser, "A Night on the Red Carpet," opens its virtual silent auction on May 29 at 8 a.m., running until June 4 at 8 p.m. The companion virtual live auction starts at 6 p.m. on June 5. Register for the online events here.
"We wanted it to be a big 'ta-da!'" says TMTL founder and director Carmin Long. "It's kind of a Hollywood theme. We are making our residents the stars on the red carpet."
TMTL is a nonprofit organization in Yelm providing a clean and sober residential community. TMTL offers supportive assistance to residents in their transition from inpatient treatment back into the community, and from addiction to active recovery. Long says TMTL has been operating for 17 years, and it has held a fundraising auction for 15 of those years. In 2022, like in the past two years, the event will be online.
"We will have a red carpet," Long says in describing what bidders will see when they click on the link to the June 5 virtual live event, which will be broadcast from the Crossroads Community Covenant Church. "We will have four residents throughout the event share their stories, and they will be wearing tuxedos or gowns, and we will have cameras flashing and applause. We want to make them the stars. They are doing the heavy lifting of changing their lives."
Registrants watching the June 5 red carpet event will not only hear positive personal stories, but can also bid remotely on a wide range of items. Items will include a hot tub; Seattle Seahawks tickets; Tacoma Rainiers tickets; a day at the Point Defiance Zoo; four tickets to the Woodland Park Zoo; a Traeger smoker; a sunset hot air balloon ride; a catered Steele Barrel BBQ for 100; a two-night stay at Sun Mountain Lodge in Winthrop; a custom hardwood floor installation; 12 monthly massages from Sara Renee's Hands of Serenity; a rock fire pit from Eli's Paver Patios; and many other large and small items, including gift cards. Long says the event's popular dessert auction is also back, giving bidders the opportunity to purchase several delicious treats. The auction catalog is continually updated so Long says interested persons should check back regularly to see new choices.
TMTL will use funds raised during the auction for general operating expenses. "We are doing the auction to support the mission," Long says. TMTL has four sober living homes that are within walking distance of each other and with access to a community meeting hall and dining room. Up to 23 residents live there and work on their recovery and life skills, and there is a plan to build another home. While the actual cost per person is more than $1,400 per month, TMTL only assesses $500 to residents, making up the difference through other means such as donations and the annual auction fundraiser.
TMTL often receives referrals from inpatient facilities that need a place for their patients to continue treatment for addictions. "We are a next step after inpatient treatment," Long says. TMTL partners with treatment programs and community organizations and agencies to provide a continuum of care on the individuals' road to recovery.
Five TMTL staff work directly with residents. "That's what sets us apart," says Long. "We are a staffed program that works with people in their journey with processing and counseling in their first year of sobriety." Staff help residents in the healing process to identify and address what things happened in their lives that caused the addictions. "All behaviors have a driver," Long says. Then, staff teach life skills to help manage triggers and stressors as the residents prepare to move on.
While program participants range in age from their 20s to their 60s, Long says the average age is typically in the 30s. "People have seen a lot of wreckage at that point and people are ready for a change," she says. All residents must be adults.
Long established the program after her own recovery in California many years ago in a setting that was a supportive community with houses for residents, which is why she wanted to bring that concept to her hometown of Yelm.
More information on TMTL and the silent and live online auctions is available on Truly Motivated Transitional Living website. See this page if you can't attend, but want to support TMTL by donating an item or funds.
Sponsored