Looking back over the past 50 years is quite an experience. Gas was 36 cents per gallon, President Nixon introduced the space shuttle program and bell-bottom jeans were all the rage. It's also when Olympia Orthopaedic Associates opened its doors for the first time. Today gas prices have gone up, space is a tourist destination and Oly Ortho is still going strong and planning for a bright future.
Oly Ortho cares for bones, muscles and joints. Over the years they've included many different doctors and staff to keep Western Washington in motion. Dr. Stephen Snow, now retired from the practice, joined the team in 1992 and spent 30 years caring for the community.
"Olympia Orthopaedic Associates was born in 1972 with Jack Coker, Al Roser and Jerome Zechmann Sr in an office on Ensign Road," says Snow. "Ken Partlow joined shortly after. In about 1989 Pat Halpin joined Olympia Multi Specialty Clinic. I joined Pat in 1992 and in 1998 Dr. Clyde Carpenter joined us."
"The three of us formed a West Olympia orthopaedic group," Snow continues. "Shortly thereafter, in 1999 or 2000, we combined the Oly Ortho eastside group and the westside group. This combined group kept the Olympia Orthopaedic Associates name and consisted of Ken Partlow, Al Roser, Brodie Wood, Jerome Zechmann Jr, Tony Agtarap, Pat Halpin, Steve Snow and Clyde Carpenter. In 2001, when the Memorial Clinic disbanded, four more orthopaedists joined Oly Ortho: William Peterson, Dennis Smith, Tom Helpenstell and Ghalib Husseini."
Along with staff members, locations changed over time as well. "In the early 2000's, to accommodate the growth of doctors and surgical volume, the eastside doctors moved into a new medical office building adjacent to St. Peter Hospital," says Snow. "In 2001, a new office and surgery center was also built in Tumwater along Highway 101. In 2012 with continued growth in doctors, physician assistants and volume, the group built a new surgery center, clinic, MRI imaging center and physical therapy in West Olympia."
But the team wasn't done growing. "The next big milestone was performing outpatient spine and total joint surgeries in the surgery center starting in 2015," Snow explains. "With our hospital partners, we could do these surgeries as hospital outpatients and now patients had further choice of where to have these procedures." Neurosurgery, pain management and non-operative/sports medicine care were added as the group recognized the need for these services in the community In 2017, Oly Ortho opened the first Rapid Orthopaedic Care (ROC) clinic which provides no appointment needed care for urgent bone, muscle, and joint injuries.  The ROC is now located in the same building as the Westside Clinic.
Despite the pandemic, they kept expanding to meet the community's needs. "In 2021, the new spine center and administration building opened in West Olympia," says Snow. "Today Oly Ortho has 25 doctors, 22 physician assistants and nurse practitioners, and over 350 employees. This growth has been possible due to the evolution of an extremely strong and robust administration. The hallmark of the group has always been the ability of the doctors to come together and get along."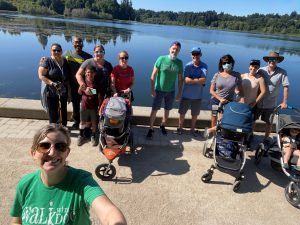 Their success, says Snow, truly comes from that feeling of partnership. It's thanks to "doctors who get along and can come to a decision as well as an administration that executes the decisions, the support and confidence of our patients and hospital partners, and opportunities due to the changing healthcare industry."
Working with the Oly Ortho team and Thurston County community for so many years was a blessing, says Snow. "My time there was special because of the comradery with my partners and staff," he says. "My patients were a source of joy and challenge. It was a privilege to serve them. The Oly Ortho journey occurred in a period of incredible opportunities and change. The digitalization of healthcare, the advent of outpatient surgery and surgery centers, the era of men and women's sports combined with an active aging population, the technological advances in orthopaedic implants and instruments have all made a non-stop, ever-changing journey that will go on to the future."
And that future is bright. The team is celebrating their 50th anniversary all year long with celebrations and remembrance. Has Oly Ortho helped you or kept someone you love on their feet? Submit a Life in Motion success story by emailing a 200-word account to marketing@olyortho.com and it will be shared with staff and the public on social media and the web.
Much has changed since 1972. But we can all appreciate organizations dedicated to quality, caring and the success of staff and patients. Don't spend another day in pain or with limited mobility and range of motion. Let Oly Ortho put their experience to work today. Schedule an appointment online or call 360. 570.3460 and celebrate your next anniversary with a spring in your step.
Sponsored