There is a new West Olympia farmers market to shop and support this season! Starting May 7, the Saturday Market at the West Central Park will offer up to 17 different farm, food and craft vendors, including live entertainment. The market will occur every Saturday from 9 a.m. to 2 p.m. through October 29.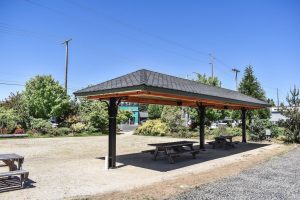 "This market was created for the west side, by the west side," says Alicia Elliott, who is a board member of the Saturday Market at the West Central Park. Most of the vendors are from the West Olympia area, and all of them are from Thurston County. From locally grown flowers, fresh produce, and unique crafted goods made by local artists, there is something for everyone at the market. Local vendors that are scheduled to be at the market include ParkSide Cafe, Prairie Oak Farm, Maumasi Fire Arts, Cedar Flats Flower Farm, Folk Bread, Mushroom House Farms, Little Pots of Love, Ryo's Wicked Pickles and many more. A full vendor list is available on the Saturday Market's website.
"Ever since I founded the park, I thought it would be a great space for a market like this," says Elliott. Elliott created a market committee last October and discovered there was significant interest among local farmers and artists for a market to be held at the West Central Park.
"The Saturday Market is carefully curated so shoppers will have a complete shopping experience so they can get everything that they need," adds Elliott. It is also intentionally designed so there isn't competition amongst products being sold by vendors. For example, there will only be one vendor selling lettuce.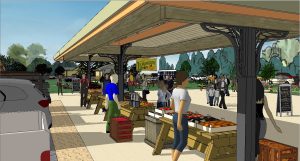 "This market is a brilliant opportunity for community gathering and meeting your neighbors," says Elliott. "Once I started the park, I wanted to build upon the community." Elliott believes the Saturday Market will continue to build and help the local community by supporting local small businesses. It is also another opportunity for the community to gather at the West Central Park and for neighbors to connect with each other.
You can also expect live entertainment at the Saturday Market. Theo Ragan and Moonscooter will be performing on May 7, with other local artists scheduled to perform throughout the summer.
West Central Park is located in West Olympia between Harrison Avenue, Cushing Street and Division Street. Along with West Central Park, the neighborhood center is home to The Marie Bed & Breakfast, Phoebe's Pastry Cafe, ParkSide Cafe and  The Rolling Pin.
You can follow the Saturday Market at the West Central Park on Facebook and Instagram to stay updated on market updates, vendors, and live entertainment. Market goers are encouraged to bring cash or checks, as it is not guaranteed that all participating vendors will have card readers.
West Central Park
1919 Harrison Avenue NW, Olympia
The parking entrance is located on West Fourth Avenue, with additional street parking available on Cushing Street Northwest.
Sponsored