The South Puget Sound Community College (SPSCC) men's and women's basketball programs will have to wait a little longer for conference play to begin. The Northwest Athletic Conference, in consultation with the men's and women's basketball committees, representatives from the NWAC Sports Medicine Advisory Committee and the NWAC Executive Board, decided to postponed the start of league play from January 5 to the week of January 17.
"We believe this decision is beneficial to our student-athletes, coaches and the athletic support staff, as the cancelation of games within the NWAC and across the athletic landscape continues," said NWAC Executive Director Marco Azurdia. "Our goal is to get our league games played as they are the most important games on the schedule, give our student-athletes a sense of normalcy as they work towards a championship opportunity, while being a safe as possible."
The SPSCC men's and women's teams were originally slated to begin NWAC West Region play on December 5 at Tacoma Community College. Those games, along with the Clippers' home games against Green River College (December 8) and Lower Columbia College (December 12) and road contest at Pierce College (December 15) will each be rescheduled with dates to be determined.
The NWAC based the schedule changes on several COVID-related reasons adding, "in light of the new variant it gives the Sports Medicine Advisory Committee time to review and adjust safety protocols for basketball."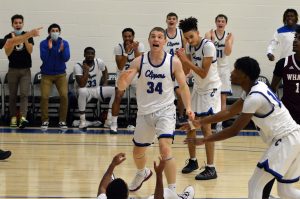 In addition, this decision gives NWAC student-athletes returning from the holiday break more time to get tested, follow through on safety protocols, and if needed isolate and quarantine. The delayed start to conference games may also help eliminate or reduce the number of games canceled due to COVID-19 issues as region games canceled because of COVID-19 will result in a forfeit loss for the team unable to play.
The scheduling change has not currently affected the 2022 Men's & Women's Basketball Championship Tournaments, which will still be held March 17-20 and March 26-27 at Everett Community College.
The Clippers will now kick off their West Region schedule with a double-header against Highline College on Wednesday, January 19. The SPSCC women will play at 5:30 p.m. followed by the SPSCC men's game at 7:30 p.m.
Both programs recently had three-day holiday tournaments, which were to be held December 28-30, cancelled due to inclement weather.
When the Clipper women do return to the court they will look to build on their 4-3 record.
Offensively, SPSCC is paced by freshmen Sharay Trotter (19.0 points per game), Jennie Goldsberry (12.3 ppg), Payten Foster (10.3 ppg) and Kayla Jackson (9.4 ppg).
The SPSCC men's team are 2-9 on the season as first-year head coach Jonathan Willis's young roster features just one sophomore in forward Mekhi Speller-Hale, who leads the team in both scoring (15.6 ppg) and rebounding (7.8 rpg). Speller-Hale, along with freshman forward Dahntay Tillman, has appeared in all 11 games this season for the Clippers and is second on the squad in minutes, averages 27.2 minutes an outing, which trails only the 27.5 minutes a game freshman guard O'Shae Barquet is logging this year.
Speller-Hale has scored in double digits in 10 games, striking for a career-high 23 twice.
Local product Justin Hicks, a freshman forward out of Black Hills High School, ranks second on the team in scoring (12.6 ppg) and rebounds (5.6 rpg). It hasn't taken Hicks long to adjust to the college game as he registered his first 20-point effort in just his fourth appearance, scoring 21 points in a win over Whatcom. He later scored his first double-double in the second meeting against Whatcom, scoring a career-high 23 points and pulling down 14 rebounds in a December 7 matchup.
Hicks has reached double-digit scoring in five out of his last six games as he also went for 21 points in a win over Blue Mountain College on December 16.
Sponsored