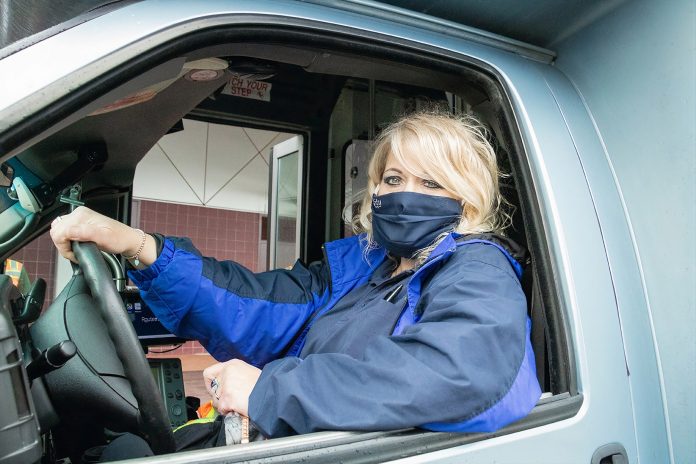 Many of us have the family we're born into, our chosen family, and our work family. But most Americans change jobs so frequently they don't always develop that much needed support system at work, where we spend so much of our time. The Bureau of Labor Statistics reports the average worker has been at their current job just 4.1 years. At Intercity Transit (IT), employees are practically family, with some nearing 40 years on the team. There are lots of open positions, consider joining the IT family today.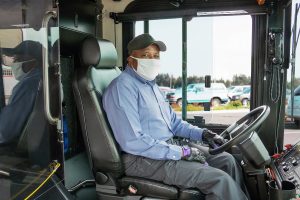 Intercity Transit has over 400 employees. "We have employees that have been recently hired to some with nearly 40 years with IT," shares Heather Stafford Smith, Intercity Transit's administrative services director, who has been at IT for just over 10 years. "Our employees enjoy an inclusive culture, competitive wages and a full benefits package that includes low employee contributions for a comprehensive healthcare plan. IT has budgeted for 473 employees for 2022: this includes 278 Operators and nearly 200 other employees in positions in Maintenance, Human Resources, Finance, Planning, and other roles that support in providing transit services to our community."
Director of Operations Emily Bergkamp, who has been with IT for over 17 years, is proud of their atmosphere and retention. "The Operator with the most seniority, David Rood, has worked here for 39 years and 10 months—coming up quickly on 40 years. That speaks volumes about longevity. 40 years, wow!" Catching up is Joy Gerchak, a customer services manager who's been with IT for more 29 years.
Bergkamp believes IT is a special place to work. "We strive to truly make sure everyone feels included in the structure and fabric of Intercity Transit. Our various committees are areas that we show our dedication to being inclusive because anyone can be involved in them and bring their unique perspective to the table. For example, the Operators Communication and Policy Committee (OCPC) provides a platform for Operators to report issues and explore solutions while maintaining a shared purpose with agency leadership. The Employee Recognition program celebrates and supports employees through recognition for exceptional service contributing to the agency's goals. We have multiple avenues for Operators and other staff to share comments, concerns, suggestions for improvement, and be recognized for the good work they do every day in our community."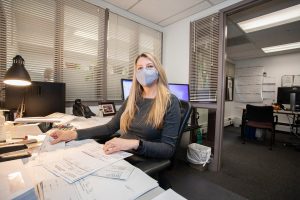 IT also believes in training and advancement opportunities for anyone wanting more. Entry-level Operators, for example, can apply for on-site internships in positions like Operations Supervisor, Dispatch Specialist, Travel Training, Customer Service Representative and Operations Scheduler. "A member of HR started as an Operator," recalls Stafford Smith, "as well as two in our finance team. We support and value training and personal growth to increase skills for their current position and for advancement opportunities. Each department has their own budget for job-related training, and we have a tuition reimbursement program for those taking vocational or secondary coursework." Bergkamp herself was a recipient of the agency's tuition reimbursement when she earned her MBA and has been promoted two times during her tenure at IT.
Current openings and applications can be found online, and questions can be directed to humanresources@intercitytransit.com. "If you've ever thought about driving for IT, we'll train you, no worries," says Stafford Smith. "If you have experience providing exceptional customer service in any industry or environment, we want you! Some of our recent hires have come from grocery stores, caregiver settings, hardware stores, former office workers, retired firefighters, retired military, as well as some returning to the workforce after years of raising children at home."
Operator Van Davidson loves IT's positive environment and coworkers who have tremendous pride in what they do. "I have been here 16 years and it seems as though I started yesterday. I think what keeps me here is the family atmosphere and the caring we show for each other. The inclusiveness, the emphasis on respect, communication, and adherence to the idea that everyone has a voice is also very important to me. I enjoy our involvement within the community and the services we provide. It makes you feel good to be a part of that."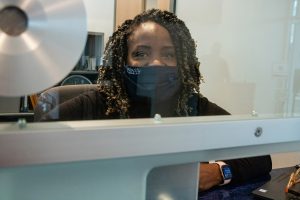 Fellow Operator Jeana Allen agrees. She's been on the team for five years and her mother retired from IT service. "She was always telling me that I needed to apply and how much they had to offer," says Allen. "Having worked mostly in retail for 15 years, I was so nervous about such a drastic change that I kept putting it off. Finally, after more thought I went for it, keeping my current job through training until I passed my CDL and feeling confident it was the place for me."
Taking the leap was scary but Allen's glad she made the switch. "It's a great career step that I didn't think I could do. I thought driving a bus would be intimidating, but the training department was so supportive and thorough with the way they conduct training. The company also offers great benefits. There are always opportunities for furthering your career."
Lois Thomas was part of the corporate world before becoming an IT Operator. "I wanted to leave the corporate world and do something more for my community," she explains. "I appreciate being able to give back. The wages are good, but the benefits are excellent! Among drivers, there's a lot of support for each other; we look out for each other."
Come be part of the Intercity Transit family. They welcome newcomers with open arms, solid benefits, training, and a welcoming smile. Join the family, they'll be glad to have you.
Sponsored