Even before COVID-19 hit, TVW was busy remotely delivering free civics instructional resources to educators and students from its Olympia studio on Capitol Way. And nowadays, with the pandemic—plus the online flood of information about government—these online resources are even more essential.

TVW is Washington's nonpartisan, nonprofit public affairs network. TVW provides access to proceedings in all three branches of state government. TVW's studio is conveniently located just down the street from the Washington State Legislative Building.  "Teach with TVW" offers two civics education programs for educators and students. The first is Capitol Classroom, where students meet with lobbyists and participate directly in the state legislative process including by testifying on bills. The second is Connects, a new program where students interact with state government and media leaders in a Q&A format via Zoom.
TVW's Education Director Brett Hansen and Education Specialist Stefani Smith run both programs. Hansen says there is a big need right now for civics instruction and delivering that information about Washington State government fits squarely within TVW's mission. "It's a huge pillar of what we stand for," he says. "We cover the Legislature gavel to gavel, looking at both sides. Everybody has a voice. That principle is totally the heart of TVW."
Capitol Classroom's 10-week program pairs middle school and high school classes with volunteer lobbyists throughout the legislative session. Hansen says the program is student-centered and hands-on. Students choose a bill to advocate for or against, then work the bill with the help of their lobbyist. "Some of the stuff that's so amazing about the program is that being paired with a lobbyist, they know how (the legislative bill process) is supposed to work, and how it does work," Hansen says. "The students get to see lobbyists work as professionals and hold professional conversations. They get to see strategies." Hansen says that the program also teaches students that they need to listen to both sides of an issue to find common ground if a bill is to move forward.
"As far as Capitol Classroom as a program, we are not aware of other areas around the country (having a similar program)," Hansen says. "We get really great feedback."
Nisqually Middle School social studies teacher Jennifer Montgomery is one of the educators using these TVW resources. Montgomery teaches U.S. and Washington history to seventh and eighth graders. She uses Capitol Classroom to make state government come alive for her students, and the program requires them to carefully analyze information. "They can use more critical analysis and be involved. They can be engaged and anticipate their civics life as an adult," Montgomery says. While COVID-19 has presented challenges—students have not been able to engage with legislators or their assigned lobbyist in person—students can still communicate and learn remotely using TVW's resources.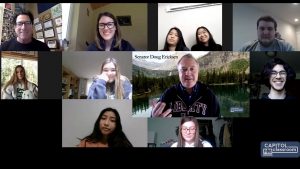 In the 2021 legislative session, some classrooms including Montgomery's tracked House Bill 1273, a bill signed into law and requiring schools to provide free menstrual products. Some students followed another enacted bill, House Bill 1372. That new law will replace the pioneer missionary Marcus Whitman statue in the national statuary hall collection with a statue of Billy Frank Jr., a Nisqually Indian Tribe member. Frank was well-known for protecting the endangered salmon and tribal treaty rights. Montgomery says tracking HB 1372 with her students assisted her in teaching state history. "It fit in really well with the study of the Marcus Whitman story and who should be honored with a statue," she explains. Montgomery says she anticipates utilizing Capitol Classroom during the 2022 legislative session.
While Capitol Classroom has been available for more than 10 years, Connects is new. "It started during COVID," Hansen says. "It came out of the lockdown. The concept is having a guest meet remotely with students in the community."
Connects is made for broadcast on TV and social media. Students submit pre-recorded questions to be presented to the guests during the Zoom interview and discussion. Connects invites some students to ask their questions directly to the guest during the live recording.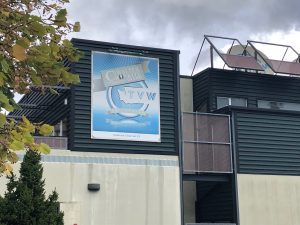 Connects' guests are state government leaders and media representatives covering government. Past guests included Washington State Supreme Court Chief Justice Steven González, Northwest News Network's Olympia Correspondent Austin Jenkins, Seattle Times Political Reporter Jim Brunner and Washington Secretary of State Kim Wyman. The most recent invited guest is Washington State Governor Jay Inslee. Teach with TVW encourages classes to participate in these Connects events live or watch posted episodes.
Hansen says TVW tries not to be too prescriptive with these two civics programs. Instead, Teach with TVW enables teachers to design their own classroom participation while TVW provides guidelines and resources such as education modules, speakers, documentaries and helpful links to information about government and civics.
Educators interested in learning more about Teach with TVW may contact Hansen or Smith.